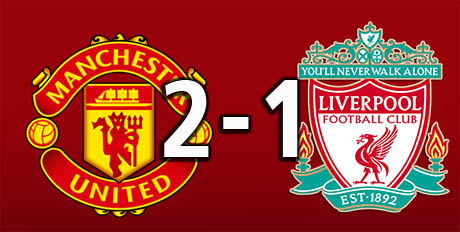 This was exactly why every Red I know was dreading this game. It's bad enough any time we have to go there but this one had "let down" written all over it. It seemed like everyone was tipping us to win and somehow we were even favourites with the bookies.
Why? The game was at Old Trafford, United were above us in the table and we haven't been able to lay a glove on Mourinho since he went there. Of course the bookies are only reacting to where the money is being placed, which tells me there are an awful lot of people who haven't been paying attention. Fools and their money are easily parted.
Of course we were capable of going there and winning, but I think most of us feared there was a good chance that it would play out exactly like it did. For us to have any chance of winning the game we needed to score first, so when we gifted them an early goal that they barely had to work for, we were in trouble.
To then do virtually the exact same thing again (seconds after Van Dijk fluffed a fucking sitter at the other end) was unforgivable and that sealed our fate. Coming back from two goals down to a Mourinho team? At Old Trafford? Not going to happen.
The only surprising thing to me based on how we played was that we managed to get one back, but even that was a total fluke. If you're reading this hoping for some sort of pick me up 'we go again' type rallying cry then you may as well stop reading now. I can't do it. I'm not in the mood. I take no positives from this at all as I thought it was abject and demoralising.
It means nothing in terms of the bigger picture and this result shouldn't affect anything between now and the end of the season. It doesn't make us any worse a team than we were before and if anything it might actually help if it knocks a little of the cockiness out of us. We're good but maybe not as good as we sometimes think we are.
The reason I'm so down about it is because it's THEM, and it's HIM. I'm sick of seeing us play Mourinho sides and look nothing like our usual selves. Part of that is credit to him and what he does, but I also feel like there's a mental block on our part. We play right into his hands. Every fucking time.
The way I see it, we didn't deserve anything from the game. It doesn't matter what United did or didn't do and whether you think they deserved anything, I'm just saying that from a Liverpool perspective we got exactly what we fucking deserved - nothing.
If you give away shitty goals like we did and you create fuck all at the other end, I don't care how much possession you have or how it may look like you're on top, you don't deserve anything. Maybe I'm being harsh and in a few days I'll calm down and soften my stance, but right now I'm just pissed off and hugely disappointed with how we played, especially because we had to know what to expect. Yet we weren't prepared for it. We got beaten by a couple of alehouse balls up the middle from the goalkeeper.
It's not altogether surprising though, The warning signs were there all week as we seemed a little too chesty in the build up and I hate that because it usually leads to a massive reality check.
This is just a teaser, click here to view the full report
Please note that Match Reports are only available to website subscribers. Subscriptions cost just £2 a month (you need to register first) and can be purchased here. If you are not currently registered on the site, sign up for free and receive a FREE no obligation trial subscription, which gives you access to all the members only content for ONE MONTH.