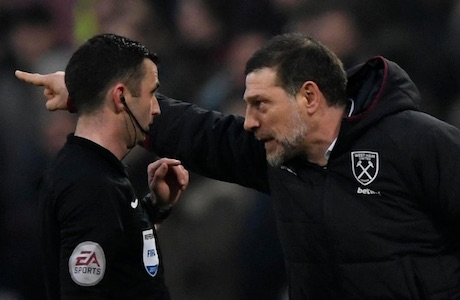 What a difference a win makes, eh? I wouldn't go so far as to say I was relishing writing this week's round up, but recently I've looked forward to these things with all the enthusiasm of a man on bog cleaning duty at Fat Sam's house after he'd been on a "pie and ale night" at his local.

Us beating Spurs meant all the other results going against us didn't ruin the weekend. Chelsea dropped points but at this stage that's neither here nor there as unless they pull some sort of choking dog act then the occasional draw isn't going to mean anything. Both manc teams winning and Arsenal picking up a spawny, Clattenberg assisted win over Hull would have been catastrophic for us if we hadn't beaten Spurs, but we did beat Spurs so no harm done.

I'll kick things off at the foot of the table though with rock bottom Sunderland. Having won 4-0 at Palace last week, the Mackems completely killed any momentum they might have had by crashing 4-0 at home to Southampton. They must have really fancied their chances after doing so well at Selhurst Park but they were woeful and were lucky to get nil really.

Southampton have been erratic as fuck lately and it's almost impossible to predict their results these days. That Gabbiadini looks a useful player though. He got the first two goals but it's not just that, he just looks like a player. His movement and balance and just the way he carries himself screams out "good player". He's only played two games but he's already close to "my boy" status.

His brace meant Southampton led at half time and they added another couple in the dying minutes of the game as Denayer put through his own net before Shane Long grabbed his customary goal off the bench. By the time those goals went in the stadium was almost empty and I can't remember ever seeing so many empty seats at a Premier League game (not even at Villa). It looked like a ressies game by the end, and those who stayed booed vociferously.

While I'm on the subject of Sunderland, I can't believe I forgot to mention this last week but Jack Rodwell's winless streak was finally broken when they beat Palace. The best thing about the streak was that Moyes actually admitted it was on his mind when he was picking his team and it made him think twice about picking Rodwell. He's great Moyesy isn't he? All those things that other managers might think but would never, ever admit to, he doesn't give a fuck, he just says it, no matter how negative or morale sapping it might be.

Last week's win just looks like a complete fluke really, as there's such a severe lack of talent at Sunderland that I can't see any way they stay up. The only thing they have going for them is that they are in this situation every year and so far have always pulled it out of the fire. If they did it again, with this team and that manager, it would be a minor fucking miracle.

A few weeks ago I'd have said the same about Hull, but that fella they hired who I'd never heard of (and still couldn't tell you his name) has completely transformed them. He's even got Markovic looking decent. They played really well at Arsenal but they got Clattenberged.
This is just a teaser, click here to view the article
Please note that PL Round Ups are only available to website subscribers. Subscriptions cost just £2 a month (you need to register first) and can be purchased here. If you are not currently registered on the site, sign up for free and receive a FREE no obligation trial subscription, which gives you access to all the members only content for THREE MONTHS.