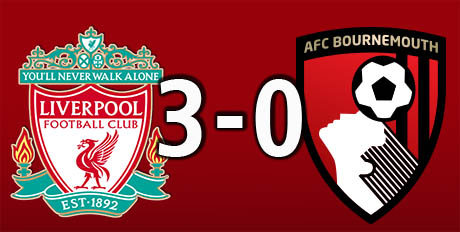 This was great. Considering the week we'd had there had to be a danger that we'd suffer a bit of a hangover and make hard work of it against Bournemouth. I knew inside five minutes that wasn't going to be the case though.
The lads were right at it from the start and didn't let up until they got a little leggy in the last ten minutes and Bournemouth finally created a couple of chances. And even then they sucked it up and went again, shutting it down at the back and scoring another goal at the other end. It was a brilliant display all things considered and it's no wonder Klopp was positively beaming afterwards.
Bournemouth have been doing really well since the turn of the year and they're no pushovers. I think they played pretty well considering, as most teams would have been completely blown away by us in this kind of form. They hung in there though, and credit to Nathan Ake who really had his hands full with Mo as he was usually left isolated one on one against him. He did better than most would in that situation.
Salah should have scored in the first few minutes from a brilliant cross by Trent, but he couldn't quite divert the ball inside the post. He also had a tame shot saved by the keeper after being fed once again by the lively young full back. Alexander-Arnold's passing and crossing was on another level all day. He's taken a massive leap forward the last couple of weeks and looks a legitimate star now. There are stars all over the team though.
In between those two chances Trent created for Salah, Mané had given us the lead when he scored at the second attempt after Begovic had saved his initial header. Nice ball in by Hendo, who was brilliant in the first half. The skipper was everywhere and his passing was crisp and positive, always trying to get us on the front foot.
Some of the football in the first half was terrific but it was when we didn't have the ball that we were most impressive I thought. Bournemouth are a side who like to get the ball down and play football but they just couldn't do it because our lads swarmed all over them every time they had it.
Klopp was raving afterwards about the counter pressing. He's the expert of course, but even untrained eyes like mine could see how good it was. Bournemouth weren't in the game at all and Karius was a spectator.
This is just a teaser, click here to view the full report
Please note that Match Reports are only available to website subscribers. Subscriptions cost just £2 a month (you need to register first) and can be purchased here. If you are not currently registered on the site, sign up for free and receive a FREE no obligation trial subscription, which gives you access to all the members only content for ONE MONTH.