Saturday Feb 3…

"If you could bring Bill Shankly back into the club now and ask him 'are you happy with fourth?' because he was a fantastic football manager he would have seen that this is the only way we can go. You need to do what we are doing to be in a position to win something one day.

"To just want it more desperately than other clubs doesn't make it more likely to happen. That's how it is. You need to do all your homework and when the time comes, you have to catch it.

"Bill would have seen that 100% – but unfortunately I never got to know him as a person and that's really a shame because we are doing the same job."

Kinell, you're on dodgy ground there Jurgen. Accepting the reality that fourth place is an achievement of sorts is one thing, but being 'happy' about it? Nope. That's Arsenal behaviour that.

As fans, harping back to our glorious past all the time doesn't do us any favours, but we shouldn't just disregard who we are because 'the game is different now' either. Ripping into our midfield for not being scary bastards like Souness is daft, because you're not allowed kick people anymore. Dismissing the 'first is first, second is nothing' mantra though, sorry I'm not prepared to go there.

If we finish fourth this year we've done pretty well. If we finish third we've done very well. Second? That would be excellent and would suggest we're heading in the right direction. It's still not good enough though and the second you start thinking it is, you find yourself taking dressing room team selfies without a trophy.

Meanwhile, at Old Trafford….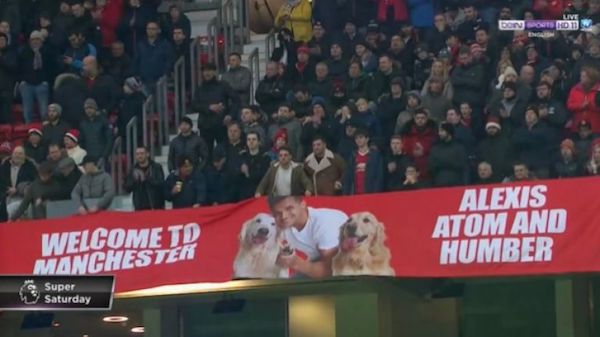 Stupid mancs, can't get anything right. It's meant to be a dog with two dicks, not the other way around.

Sunday Feb 4…

L 2 Spurs 2 Struggling to think of a time when we got shafted more by an official than this. It probably involved Howard Webb, but generally it would be one decision and one official. This time it was was two of the cunts involved, and two decisions they conspired to fuck up. Throw into the mix the rampant fucking diving from the Spurs players and it all adds up to one steaming fucking pile of pissed off.

Fuck Spurs. Prior to today I was rooting for them to join us in the top four at the expense of United or Chelsea. I still hope they get in over United, obviously, but I'll take Chelsea over Spurs all day now after this. I hated Deli All anyway even before today. Massive cunt, we all knew that. Hate him even more now.

I knew Kane was a twat as well, but I'd kind of forgotten it. I won't make that mistake again. His card is marked now for the rest of his career, the gormless big chinned slobbering fucking gimp. Apparently he said afterwards to the camera as he left the field 'can't give me two chances'. I say apparently, because I couldn't lip read due to the fact the cunt talks like his teeth are superglued together. That's what he's meant to have said though.

He gave a speech to his team-mates afterwards too, not about their impressive performance or them coming back to steal a point, but about him reaching the 100 goal milestone. Bet that was riveting. Probably went something like this…

This is just a teaser, click here to view the full article
Please note that 'The Week that Was' is only available to TLW website subscribers. Subscriptions cost just £2 a month (you need to register first, registration is FREE) and can be purchased here.