Last summer we decided on the four founding members of the TLW Hall of Fame (or the TLW 'Mount Rushmore' if you like) and then added four more inductees as the 'Class of 2017'.
 
Every summer four more legends will be inducted and we need your help to do it.
  
HOW IT WORKS 
 
The voting panel consists of representatives from TLW, the media, the former players association and also a popular fan vote, which is where YOU come in, by voting below.
 
Each year there will be a group of ten nominees, from which four will be voted in. The six who don't get in will remain on the ballot for the following year and beyond, until they are eventually selected. Those voted in will be replaced by four new names for the following year. 
 
Last year Ian Rush, John Barnes, Billy Liddell and Ian Callaghan were voted in to join the four founding members; Bill Shankly Bob Paisley, Kenny Dalglish and Steven Gerrard. 
 
There will be a separate category for managers & coaches (with one inductee every two years), but for now we're just concentrating on the players. 

The six remaining candidates who did not get in last year will now be joined by four new nominees.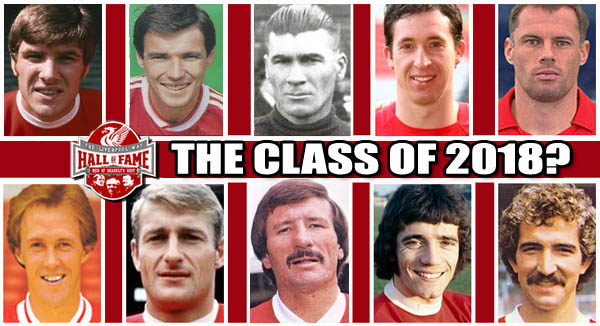 As explained last year, it was not just a case of picking the ten greatest players, which in itself would also have been incredibly difficult. Other factors come into it, although only great players will be considered. For example, few would claim that Phil Neal was one of Liverpool's ten most talented players of all time, but nobody can match his medal haul so how could he not be in there? 
 
We also felt that it was important to have a mix of players from across several eras rather than just selecting the greats of the 70s and 80s for example. None of us saw Elisha Scott play, but discluding him on that basis wouldn't be right. Some missed out on the initial ten as a result of the decision to spread it across all eras, but over the coming years they'll all be added to the mix, usually when someone from their generation has just been voted in (eg if Roger Hunt goes in, he'll likely be replaced by Ian St John or Ron Yeats next year. Jamie Carragher's spot would go to Sami Hyypia and so on). 
 
While it's easy to argue for the inclusion of some not on the list, we feel it's not so easy to argue against those who are on it, with the obvious exception of Graeme Souness, for obvious reasons. We could have left him out, but rather than make that call ourselves we decided to include him in the ten and leave it in the hands of the voters whether he gets in or not. 
 
We would really appreciate your support and participation, both in terms of voting and spreading the word by telling your friends and sharing on social media. Hopefully this can pick up momentum and grow each year. 
 
So without further ado, here are this year's nominees...
 
---
JAMIE CARRAGHER

Second on the appearance list behind Callaghan, Bootle's finest represented the Reds 737 times over a 16 year first team career, winning everything except the league title. Brave, loyal, committed and talented, Carragher's finest hour was his courageous display in Istanbul when he fought through severe cramp in both legs to help keep AC Milan at bay and secure number five.
---
ROBBIE FOWLER

The most natural goalscorer to pull on the famous red shirt. Toxteth born Fowler burst onto the scene as an 18 year old and for the next few seasons took English football by storm, becoming the quickest Liverpool striker to reach 100 goals when he achieved the milestone in only his 165th game. A succession of injuries prevented him from sustaining that blistering form, but in two spells with the club Fowler amassed 183 goals and is one of the most loved players in club history.
 
---

ROGER HUNT

Dubbed 'Sir Roger' by the Kop, Hunt formed a lethal pairing with Ian St John to help inspire the Reds resurgence under Bill Shankly in the 1960s. He was part of the England squad that won the World Cup in 1966 and left the club in 1969 as Liverpool's record goalscorer with 285 strikes to his name.  
---
 
KEVIN KEEGAN

When Bill Shankly paid fourth division Scunthorpe £33,000 for an unknown 20 year old in 1971, no-one could have foreseen that within a few years Keegan would be one of the biggest stars in world football. Described by some as Liverpool's answer to George Best, Keegan became the club's first superstar and helped inspire the Reds to their first European Cup win in 1977 before departing for Hamburg, where he was twice named European Footballer of the Year.
---
 
PHIL NEAL

Phil Neal was a Liverpool player for 11 years, making 650 appearances and chipping in with 59 goals, many of them vitally important penalty kicks. A solid, dependable right back who rarely missed a game and even played with broken bones, Neal is the most decorated player in club history, having won eight league titles, four European Cups, one FA Cup, one UEFA Cup and four League Cups.   
---
 
GRAEME SOUNESS

In the halcyon days of the late 70s / early 80s, Souness was as big a factor in Liverpool's dominance as his fellow Scot Kenny Dalglish was. Unfortunately his return to the club as manager was not as successful and his catastrophic error with the S*n on the anniversary of Hillsborough has tainted him in the eyes of many. Liverpool have had few better or more influential players, however, than the hard as nails Scot.       
---

EMLYN HUGHES

'Crazy Horse' was one of Bill Shankly's favourites. Shanks loved him like a son, as did the Kop. Emlyn's enthusiasm was infectious and he became one of the finest players in Europe and a mainstay for club and country. In a 12 year career at Anfield he won two European Cups, two UEFA Cups, four League Titles, and FA Cup and was also voted Player of the Year by the Football Writers in 1977. One of the true greats of all time.    
---

ALAN HANSEN

Regarded by many as the finest centre back in club history, big Al joined the Reds from Patrick Thistle for £100k, which was not an insignificant sum back in 1977. It turned out to be an absolute steal as the man affectionately known as 'Jocky' was a mainstay of the side for the next decade and beyond. The best footballing centre back English football has ever seen, he won everything there is to win during an illustrious career and he never broke sweat doing it. Cucumbers wish they were as cool as Alan Hansen.        
 
---
ELISHA SCOTT
The Ulsterman joined Liverpool in 1912 and left in 1934, meaning he was between the sticks for an incredible 22 years. In that time he won two league titles but, more importantly, he captured the hearts of those on the Kop. Scott was idolised by the fans, so much so that when the club attempted to sell him (to Everton!) it was the reaction of the supporters that forced them into changing their mind. Legendary Everton striker Dixie Dean described him as the best keeper in the world, and a fan poll in 1939 saw him voted Liverpool's greatest ever player.        
 
---
TOMMY SMITH

The Anfield Iron. The man who according to Shanks "was not born, he was quarried". Smith was the hardest man in an era of hard men but he was also a terrific footballer who excelled in a number of positions. He made his debut in 1963 and his final appearance came 15 years later. In that time he won everything there was to win, with his finest hour coming in Rome in 1977 when he found the net with a thumping header in the European Cup Final. Tommy played 638 times for the club and paid a heavy price for that in later life with numerous ailments including severe arthritis and dementia.     
---