Liverpool manager Jurgen Klopp believes a offside goal which was not seen by the linesman played on the mind of referee Kevin Friend leading to some odd officiating in the second half in the Reds' 1-1 draw against West Ham on Monday night.

Sadio Mane scored the opening goal in the 22nd minute, his third in as many matches and his first league goal away from home since September 1st against Leicester.

However, that lead only lasted six minutes when Felipe Anderson and Michail Antonio combined to take advantage of a flat footed Liverpool defence which saw the winger break away into some open space and slide the ball home for the equaliser.

The 28 year-old has been a real talisman for the Hammers against Liverpool with the strike being his fourth in just five meetings against the Reds, by far his best return against any top flight club.

However it was the Mane goal which sparked all the conversation post match, with James Milner appearing to be in a offside position in the lead-up to the opener.

It was something that Klopp was made aware of after the game and he had a theory that the referee found out about it during the break.

Sky Sports reported the manager as saying.

This explains a little bit the second half, because I think the referee knew at half-time.

" He knew it for sure at half-time, and then you saw a lot of strange situations. 

"They were not decisive but just rhythm breakers. That obviously didn't help us.

"If I've made a mistake in the first half, I don't want to open the gap even more as a human being."

The 1-1 draw was the second successive time that Liverpool had been held in a week

On the face of it, the result against a mid table team is a very average result for a club in Liverpool's current position 

While most would have banked on a comfortable away win, there were some setbacks which caused Klopp to re-jig his line-up on the eve of the game.

Captain Jordan Henderson (muscular injury )and Gini Wijnaldum (knee)were late withdrawals, while Milner had not trained for four days due to a virus.

It led to a very rare start for Adam Lallana in midfield where he was joined by Naby Keita and Fabinho.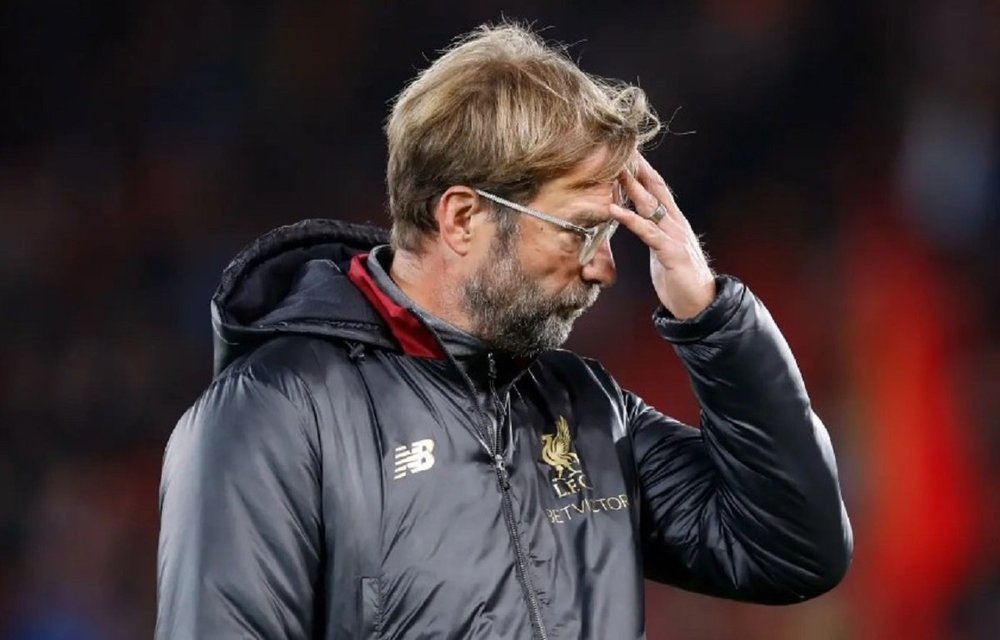 Klopp said it was hardly the preparation that the team needed heading into the clash.

"Last night we trained and after we had to change three positions."

"It's just a fact, it's not an excuse. The preparation for the game was far from being perfect and we still got a point."

Klopp has been steadfast in keeping everyone on a even keel and maintaining the positive mindset up which served the team so well in the first half of the game.

It is message which Milner, who is undoubtedly the 'wise old head' of the squad having been in this situation in his time with Man City is a believer in, saying that the result was ' a point gained.'

For his part Klopp knows the performance was well below par, and well is aware that we have reached a part of the season where the spotlight will be shone fairly and squarely on his players.believes they can overcome their small blip in the weeks ahead.

"We have to accept that [the pressure]. We have to perform better. That's all I'm interested in and concerned about.

A couple of players didn't play at the highest level tonight, but it's happened before and it'll happen again. 

"We will deal with that."

As for the accusation by West Ham captain Mark Noble that Liverpool were scared by West Ham, the manager had the perfect response.

"It was just a normal away game. I don't know him [Noble] really well so I don't know why he speaks about us after a game like that.

"I wish for West Ham fans that Mark Noble and his team would scare more teams and not only us tonight.

Time to look ahead to a massive game against Bournemouth on Saturday.