Rafa Benitez has given the tick of approval to the work of the FSG group since taking ownership of the Reds and says it is a major reason that they have been able to stay the course with Man City.

Benitez knows first hand the difference between successful and dysfunctional ownership and therefore was able to give a astute description in what he has seen from John Henry, Tom Werner and their team over the past nine years.

The Echo (via Four Four Two magazine) reported Benitez as saying:

" My memories of Liverpool are really good with (former owner) David Moores, but he couldn't spend the money to compete against the other teams.

" When he decided to sell, I think it was to the wrong people. It was very clear - I knew that and the fans knew that, then afterwards, was the proof.

" Now I think they have a model that is more competitive. 

"They make the right decisions, which means they are able to compete with Manchester City."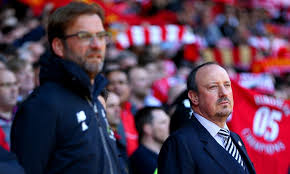 The much-loved former manager also touched on his famous 'facts' press conference in 2009 when battling Man United for the Premier League title.

While many may well disagree,to this day, Benitez remains steadfast in his belief that he was in full control of his emotions.

" People tried to compare that press conference to Kevin Keegan's (for Newcastle in 1996) but it was nothing like that. I was very calm.

" Everything I was saying was a fact, even though people were laughing about my way of pronouncing the word 'fact'. 

"But it was very clear - if you analyse it now, I was right."

The current manager of Dalian Yifang in the Chinese Super League said that the Reds finished the campaign in very strong fashion including thrashing their bitter rivals in their own backyard.

" Later on we went to Old Trafford and I remember a father and son had a banner saying 'Rafa's cracking up'. 

"We beat United 4-1.
"In the last 11 games of the season, our only draw was the 4-4 draw with Arsenal, when Andrey Arshavin scored four goals. 

"We won 10 out of 11.

" Manchester United had played in the Club World Cup and had a couple of games in hand. They won them and continued winning, but we continued winning as well.

"That's not cracking up. People have short memories. They follow the propaganda of the people who are winning."