---

0700: Roll out of bed and trudge into the shower. Starting to get to the end of the crate of Johnson's No More Tears shampoo that Rio Ferdinand sent me after we lost the Champions league final. Just seemed a waste not to use it.
0730: Threw some clobber on and did some breakfast. Watching the TV whilst I'm eating it and the news is having a go at that Farage bloke again. Apparently everyone is saying he's a racist but he keeps saying they've got him all wrong. Tell me about it mate. Welcome to the club!
0745: Had a quick flick through my phone and I've got an email from Joe Cole asking me if I picked up those cartons of fags for him when we went to France last week. That lad needs to look after himself better.
0815: Driving in to training and on the radio they are still on about that Zlatan calling us all babies. Wouldn't say that to our faces though would he? Actually, think one of the lads said he used to be a ninja or something so he probably would, wouldn't he? He's a clown anyway, looks like one of those four musketeers.
0855: Walked into the changing room and Costa and Luis are talking Brazilian to each other and giving me evils. Think they are still a bit miffed from the first day they came in and I thought Costa had been driven in by his wife. Taking a bit of time to smooth that one out.
0920: Doing some defence v attack stuff on set-pieces and Jose says for me to mark Gary Cahill: "You're pretty good at that aren't you JT?" – he was well unimpressed with me grabbing him on that PSG goal. Proper fuming he was.  
0955: Load of us all piled in for a corner in practice and when the dust had settled one of the reserve lads was sparked out cold in the six yard box. Nobody saw what happened but we all know it'll have been Diego. The lad is ruthless.
1045: Jose had us working on some 10 v 11 stuff again. Said it is important that we get better at beating teams when they have a man sent off. The more time we put into this camping in our own half and playing on the opposition's mistakes then the better we'll get at it. I don't know how some of the lads can't see that!
1130: Having a bit of lunch and thought I'd catch up with Lamps. I know it might sound stupid but when he said he was moving to The Big Apple I had no idea that meant Manchester. I'm rubbish at geography though, I didn't know that was even "abroad".  Asked how he's getting on with all the different weather and food and stuff but the phone cut off. That's international calls for you!
1250: We did a bit of gym work this afternoon. The 'keepers were all doing some weights together and they had this new lad from the youth team with them. Asked Petr what his name was and he said it was "Blackman". Yeah whatever, must think I was born yesterday, as if I'm falling for that!
1315: Didier was doing some serious lifting today, he's still in good shape. Had a weird moment with him last month when I congratulated him on winning that African Nations thing. I know he's been trying to win that for ages and failing each time so it must have been nice to finally do it. It must have been really emotional as he seemed to well up a bit when I said it to him.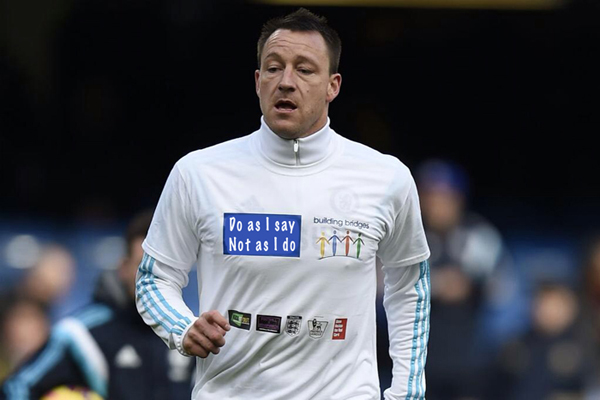 1345: We had a team meeting this afternoon about our plans for the rest of the season. Jose really getting this "us against the world" thing going. He's right about the conspiracy against us though. Take that Hazard header a few weeks ago. It's clearly offside but the officials let it stand just to make us look bad when we say we get nothing from them. It's some seriously underhand stuff if you ask me. Jose made a point of telling Ivanovic to rein in the theatrics a bit though, said that even he thought it was over the top and embarrassing, which is saying something.
1410: Noticed that this afternoon Luiz had sent me a picture message of him running off celebrating after scoring against us. We never got on to be fair. Took me a while to think of a response but I thought back to the World Cup and just sent him a picture of the German flag, that'll put him right back in his box.
1600: Heard on the radio coming home that Harry Kane got player of the month again. Good player that lad, tough competitor. I had a pretty bad clash of heads with him when we played them a while back that left us both pretty hurt. The ref came over and said "No feeling where there's no sense, eh lads?" and I genuinely didn't have a clue what he meant. Harry looked properly confused too, but then that's just kind of how he always looks, isn't it?
1900: Saw something on Sky Sports about that AVB mug working in Russia now. Hope he's freezing his nuts off. Remember seeing something a while back with all these Russians struggling to get by and that, saw Roman after a match and asked why they're all so poor and all the Russians he knows are loaded. He just grinned and walked off. He's an odd one sometimes.
2000: Got a text from Ashley Cole tonight. Said that he's loving the life over in Rome but that the fans aren't keen on him. Said one lad stopped his scooter and jumped off just to tell him he was even worse than that Riise fella. Ouch.
2030: Not much in the fridge for dinner so decided to "Do an Avram" – get on the phone and order up a Thai! The oldies are the best ones, eh? 
2120: Sat down to chill and watch some TV. Been ploughing through these new episodes of House of Cards on Netflix. That Frank Underwood is great. Undermining people that get in his way, backstabbing and plotting behind the scenes; he's just an all-round brilliant character.
2215: Go upstairs and just start settling in to go to sleep and saw that I'd got a text response from Luiz: "What the hell you send me picture of the Belgium flag for?" – Bollocks.
(ghostwritten by Stu Montagu)