While eyes are focused on the fortunes of the first team, it is also worthwhile looking at how our stars of the future are faring in their time away from the club.
Rather than just looking at the statistics, we will be giving the readers a clear insight courtesy of fans who observe their progress on a game to game basis.
In the first of a new series, TLW's Jason Harris caught up with Ollie Wright from @derbycountyblog to check on the progress of the Reds' Welsh Wizard, Harry Wilson...
What was your first impressions of Harry Wilson when he arrived at the club?
He was a really exciting signing for Derby, arriving on a season-long loan at the same time as the Chelsea starlet Mason Mount. We knew that there had been serious competition for his signature, with anyone who was anyone in the Championship bidding for him, so getting him felt like a coup and boosted feelings of optimism for the season ahead, after the arrival of new manager Frank Lampard.
Have you seen steady improvements in his game from the early part of the season to now and if so what are they?
Early in the season, he suffered an injury and that clearly set him back, but he's fit again and the key moment in his season so far came midway through our home game against Sheffield United.
After Craig Bryson was injured, Lampard decided to bring on the attacker Tom Lawrence and shift Wilson from a wide forward role to an advanced central midfield role, alongside Mount. This allowed Wilson to exhibit his energy and willingness to press, as well as his technique.
The Mount-Wilson duo, backed up by the sturdy Tom Huddlestone, was the hub of a Derby side which marched through October in deeply impressive fashion, beating then-leaders Sheffield United, whipping West Brom at the Hawthorns and outclassing Middlesbrough for long spells at the Riverside, before running Chelsea extremely close at Stamford Bridge.
What is the one key aspect of Harry's game that really stands out for you?
The eye-catching thing is clearly his technical quality. You'll know all about his mind-blowing free kick at Old Trafford - his ability to strike a ball is beyond question. He also scored a brilliant goal from range at West Brom and almost bagged a brace of free kicks against Birmingham, netting with one cheeky strike from an implausible angle and then rattling the post with a more straightforward strike.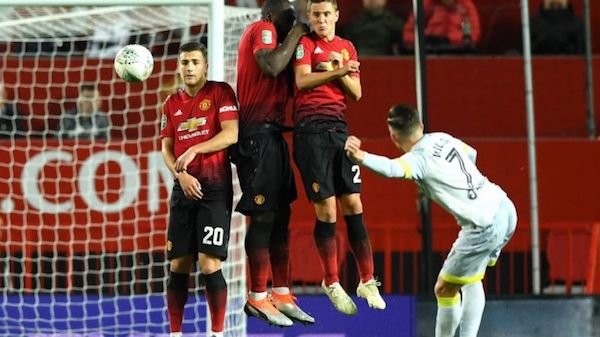 In your opinion, what is the one main improvement he can make?
I just think for Harry, it's a case of playing as many games as possible. At the moment, he's playing centre midfield, which may not have been where he expected to play, but he is adapting well to the challenge.
His ability is not in question, now it's a case of proving that he has the resilience to do it consistently throughout what will be a gruelling season.
Is there a performance by Harry that stands out for you so far this season?
The Manchester United goal will live long in the memory, but I think his performance as part of an outstanding team display at the Hawthorns should be picked out as the highlight to date.
This was the game in which the Rams bared their teeth and demonstrated to the Championship that they have what it takes to challenge for promotion - and Wilson was key to the victory, not only scoring a rip-snorter, but also by acting as part of a devilish, high-pressing swarm which harangued the Baggies defence to death.
What (if anything) has he brought to the team that wasn't noticeable to your eye last season?
He's been part of a major overhaul of the squad conducted by Frank Lampard, which has brought considerably more energy, speed and technical quality.
Who does he link up well with in the Derby team?
His partnership in midfield with Mount has been eye-catching on and off the ball, with the duo providing the bullets for striker Jack Marriott and a rotating cast of wide forwards.
What are your thoughts on how Frank Lampard has worked with Harry so far this season?
I think Liverpool will be delighted with how it's going. The ideal situation, for me at least, would be for the Rams to go up and then do a fresh loan to keep Wilson at Pride Park for another season!
The Championship is widely recognised one of the toughest leagues in World Football due to its competitive and attritional nature, do you think the league is perfect for academy graduates to hone their game?
Without question. Last season, Wilson showed he could cut it in the Championship with Hull City, so a move to a club aiming to get promoted to the top flight was the perfect challenge for him this year and he is gaining a hell of a lot from this experience.