Glen Johnson insists he left Liverpool exactly how he would have liked and claims that despite heavy investment this summer the Reds' squad is no better than it was last season.
Johnson spent six years at Anfield, playing 200 games and finding the net nine times (from 3712 shots, all with his left foot from 25 yards after cutting inside). He will line up against his former team-mates tomorrow and insists he has no regrets at how things turned out.
"I had a very good time [at Liverpool] and enjoyed the majority of it" said the 30 year old. "But I turned down a new contract at the end of the day, so it ended exactly how I would like."
Well technically yes, he did turn down a new contract. A contract that would have meant a rather significant pay cut, and one that it could even be argued that Liverpool knew he'd never agree to.
You may recall around the time he turned down that contract he was being heavily linked with a move to Roma, while (don't laugh) Barcelona were even reported to be interested at one stage when it looked like Dani Alves may be moving on.
Johnson presumably thought he'd have his share of decent offers when his contract expired at Liverpool, but it would appear he was mistaken as... well... he ended up at Stoke. Is he really trying to suggest his plan when rejecting Liverpool's contract offer was to go and join Mark Hughes' side? Pull the other other one, Glen.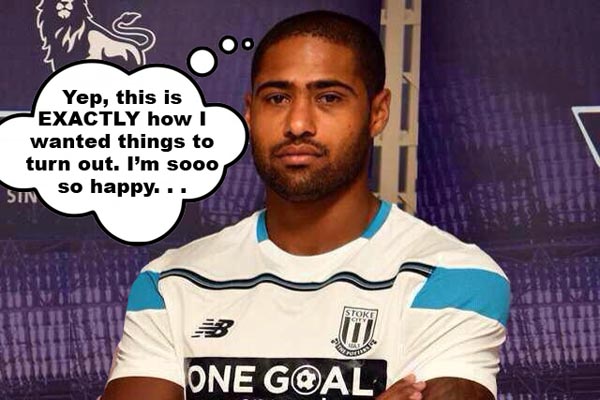 The former England man also claimed that Liverpool's new signings won't immediately strengthen the first eleven. "They've made some signings, but not ones that are going to walk straight into the team" he said.
Hmmm. Christian Benteke, James Milner, Nathaniel Clyne and Joe Gomez are all expected to make the starting line up tomorrow, so clearly Glen mustn't have been paying attention, a common failing of his and one of the biggest reasons his departure was not mourned by Kopites.
He added, "They've lost Raheem, who was an important player, so I wouldn't say it's a better squad than last year."
Given that Johnson himself has been replaced by Clyne, some supporters might suggest that immediately makes it a better squad than last year.