Dejan Lovren has struck a defiant tone in the aftermath of Liverpool's first league defeat this season.

The Croatian defender is certainly not one to keep his opinions to himself and speaking after the 2-1 loss against Manchester City, said that there was no cause for any alarm.

ESPN reported Lovren as saying:

"This is Liverpool, we will always come back when it's tough.

"And you know it is tough after the last whistle, but it is over, finished, we can't change it, so we will accept that, congratulate Manchester City. 

"But the season is quite long and I believe in this team.

"The message [in the dressing room afterwards] was to stay calm. There are many games in front of us, and we knew it was a big season and we are still first.

"We need to stay calm, keep our focus game by game and do not look back. 

"When we win or we lose, we will not look back."
Lovren was supported in his rallying cry by fellow central defender Virgil Van Dijk.

"You can't look at this situation in a negative way.

"We are still top of the league with a four-point lead. It is still looking fine for us.

" Our next game in the Premier League is Brighton and we are already looking forward to that. There is the FA Cup in between, of course.

"The only thing we can do now is bounce back.
'We can go on another unbeaten run, but we take it game by game, we know it is going to be tough.

"We have a great mentality. We have shown that all season.
"We just have to keep on doing what we have been doing There is no reason to change anything or panic."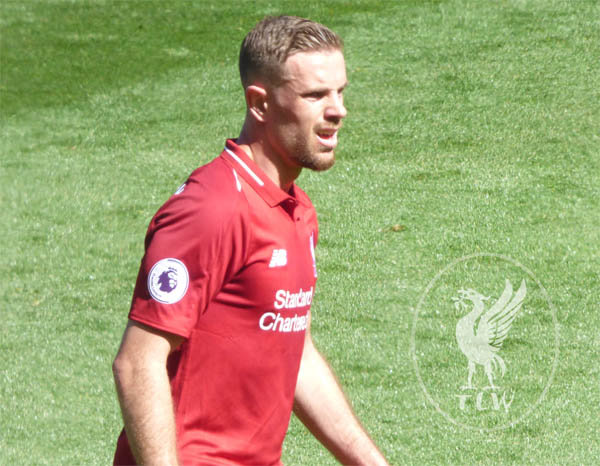 Captain Jordan Henderson continued the same theme in keeping with a positive mindset.

"It is normal to be disappointed by a defeat. Now it is about reaction and I am sure the lads will react in the right way. 

"Why would you lose confidence after a game like tonight? It could have been different.

"The Premier League is a tough league, the games keep coming. We need to be ready and we will be. 

"In terms of the result we are disappointed. We were beaten by a very good City team, but there were still moments in the game where we could have scored one or two more. 

"We just have to accept the defeat."

Focus and belief seem to be the two keywords the players are using whenever speaking to the mainstream press.

A level headed approach is a very smart way to go about things.

Don't get too high after a win, or too low after a loss after a defeat.

While Lovren maybe not everyone's cup of tea as a player, you certainly cannot criticise his true passion for the club which is first class.

If everyone keeps to the script that this trio has outlined,  the rewards will come for all the hard work that has gone before it.