Let's start at the beginning. Tell us how you first came to Liverpool's attention. 
 
Like any kid in those days I was fortunate in that I played for the school. Junior level, senior level, I was always three years ahead of my time so when I was eight I'd play in the under 11s, when I was 13 I was playing under 15s / 16s. I was playing for Lancashire schoolboys and England schoolboys so there were a lot of clubs interested. Everton, Liverpool, Chelsea… even Manchester United! I was always a Liverpool supporter though so I signed for the club I'd followed all of my life.  
 
How old where you? 
 
I was 15. I'd spent some time there before but it wasn't full time as the system was different back then. There were no Academies and you played for your school. It was really good as you played with your schoolmates that you grew up with, not like now where you only play with your Academy team-mates. I was playing games of a weekend in front of scouts and I'd play in any game I could really. It was nice to stay with my mates and not go into the professional side like they do today, which I think can be a little bit too early.  
 
Bill Shankly was the manager when you signed, did he take an active involvement in signing you? 
 
Yeah he came round to the house and chatted to my mum and dad, who didn't need much persuading to be fair. I signed the contract and then started the next season, which was 1964.  
 
Was that your first interaction with him or did you know him before that? 
 
We'd met him briefly on the train coming back from an England schoolboy game in Scotland. I say met him, we basically just listened to him! He was like Chairman Mao with his statements of fact, but obviously he was a great man and I was delighted to sign.  
 
Him coming to your house, was that normal back then? 
 
Well you'd have loads of scouts coming round your house all the time when you're in that situation, but fortunately my Dad had been involved in football, semi professional football, although he'd been on Cardiff and Liverpool's books in the war. He also played in the Welsh league. He played until he was 51 or 52 in the local leagues, so he was involved in football. He listened to all the scouts that came round but Liverpool and Mr Shankly were the right fit for me.  
 
So then the journey to the first team. It's fair to say it didn't exactly happen overnight! 
 
No, I went through the system, in them days it was B team and then the A team and if you were good enough you went into the reserves and then the first team if you got a chance. I waited about ten years to make my debut! It was 1973. I only played 15 games for the first team and I know a lot of people would die for that, but the biggest thing in football is actually playing and I just couldn't get in the team.
 
I was playing three games a season but at that time Liverpool were winning all the trophies and I had people like Gerry Byrne and Emlyn Hughes to get past. So it became difficult and of course they offered me a job on the coaching staff.  
 
How did you react to that? 
 
I refused about three times because I wanted to be a player, but eventually after talking to people like Tommy Smith - who was a great mate of mine and best man at my wedding - and my Dad of course, I decided to take the job. It wasn't exactly throwing in the towel because they did say if I didn't like it I could go back to playing as I was still only 26. It was a big leap but it worked out ok for me.   
 
Normally a player only goes into coaching at that age if his career has been cut short by injury. You were playing in Liverpool reserves so clearly that's a relatively high level and you'd have been able to find another club lower down without too much trouble. Was it a wrench to give up playing? 
 
Without a doubt. I'd been to America on loan, Liverpool let me go to Philadelphia and we actually won the American championship, which was the only medal I knew that Liverpool players didn't have! It's actually not actually a medal, it's a ring, but I knew none of the lads had one so I was happy with that. 
 
But I came back and still wasn't getting too many chances, and although as I say I initially refused, in the end they convinced me by saying I could always go back playing somewhere else if it wasn't for me. Ok, that didn't happen but I really enjoyed what I was doing and to start at reserve team level was great from my point of view, because not only did they give me a job, but at 26 they were putting a lot of trust in me and they let me run it like my own first team.  
 
So you had full control then? 
 
Obviously if there was a first team player coming back from injury who needed reserve games I'd have to play them, but I was allowed to pick my own team and bring kids through the system if we could. To be fair, to give me that sort of freedom to run the team was a great learning curve, working with the likes of Bob Paisley, Joe Fagan, Ronnie Moran, Tom Saunders and Reuben Bennett, the people who made the Boot Room famous. I learnt off all of them for many years.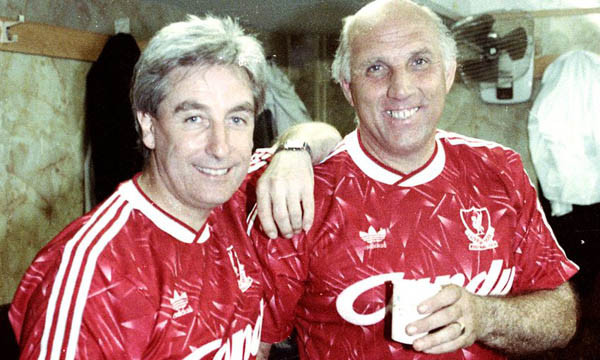 You were playing with some of those lads in the reserves and then suddenly now you're their boss, at 26 years of age. How did they react to that? 
 
They just accepted it and said "good luck, hope it goes well for you". I think it helped me being young, as having been in their situation you have a different approach to it as you're looking at it from everybody's point of view and trying to give everybody a fair chance, whether it be young kids or someone who has dropped down from the first team. Sometimes you need to put your arm around them and talk to them and say "if you don't perform in this team you won't get back to where you come from". 
 
I learnt all about man-management skills because at that level coaching skills wasn't really a big part of the job. It was mostly about man-management and obviously the further you go up the ladder the tactical part of the job becomes more important, but initially it was mostly about man-management. Some need a kick up the backside and some need an arm around them to get back on track. 
 
I learnt a lot of things in those ten years and I actually thought the reserve league was a great system because they played the games alongside the first team on the same day. If the first team were at home the reserves would be away and vice versa. We played on a Saturday so all week in training everyone was looking towards the weekend and trying to get in the right physical and mental state for the game.   
 
It's not like that anymore…. 
 
No it isn't, you've got rotation and different things so first team players tend to not play reserve games. You've got to be careful about going back into the past too often as times change, but I thought the old system was good in terms of if a lad of 15 was good enough to play in the under 18s then he was in the team. Nowadays often players are just sectioned into different teams because of their age and not always by ability. 
 
Yes there was a physical aspect to it and you had to be careful you didn't throw a young kid into a team where he'd be playing against grown men, it could be the likes of Rochdale reserves or someone that might be a big strong team, but even that would be a learning curve because if you're eventually going to reach the top level you're going to be playing against massive physicality and that was a good way to prepare them.  
  
Going back to your playing days, what was your debut like. were you nervous, did you play well, what do you remember about it all? 
 
Yes to be fair I did play well. It was Sheffield Wednesday at Anfield and the game itself doesn't really stick in my mind, it was more the idea of finally getting my chance. I played well and we won, and I played the next two games after that but then Gerry Byrne or Emlyn Hughes were fit again and you have to pick your best team. Well, in them days they picked their best team! 
 
There was no rotation side to it so I came out again and was back in the reserves. I felt that I had a chance of playing first team football then though because I hadn't let them down, it's not as though people said "it's too much for you, you're not quite good enough for that level". It's just that there were better players ahead of me and that made it very difficult. 
 
The team was full of internationals and one year they only used 15 players all season, so that's the way it was, it was difficult to get in. Football is cut throat industry, there are lots of people trying to help you but at the end of the day sometimes you have to be in the right place at the right time, and usually somebody has to get injured for you to get in. It's just one of those things, I never got more than three games at a time. It was frustrating, especially after playing in Philadelphia and being a part of that success.  
 
Hypothetically, would you rather have had a long playing career at Liverpool but then at 32 or 33 have to walk away from the club completely, or do it the way you did it? 
 
I don't know really as I only did it the one way so that's all I know. I suppose the ideal option is to have it both ways and play to 33 and then go on the coaching side. I didn't actually have any aspirations to be a manager or coach though until it actually happened. Playing was the only thing on my mind but then at 26 I'm on the coaching staff and the chairman is bigging me up saying I'm going to manage the club somewhere down the line, which I laughed at as I thought it was a joke but somewhere down the line he was right I suppose. 
 
Yeah a long way down the line, but it happened! 
 
The nice thing about that is when you start at the bottom, well not quite the bottom, but the reserve team, you feel like you've earned the right to be given a job with the first team. I had ten years with the reserves, then I was a coach, a trainer, a so called physio - none of us were qualified in them days but I ran on with the sponge! - and eventually I got offered the top job.    
Although you were coaching the reserves you were still involved with the Boot Room and were a part of some incredible success. Is there any trophy from your time at the club that sticks out more than the others? 
 
Well to me it's the one that my team won. It was only the League Cup - I say 'only' but it was still a big trophy in those days. I don't think we won enough in my time as manager but that's another story. 
 
I was there 35 years and during that time Liverpool won over 40 major trophies (and also ten reserve titles alongside them) and it was nice that they made me a part of all that. If I wasn't with the reserves team they'd always take me with the first team and they'd let me comment and say something in the meetings, like "I didn't think that was right" or "I think we should have done this". 
 
If I was wrong they'd tell me, but to give me the confidence to let me have a say, just little points that can sometimes make a massive difference, that's what the Boot Room was all about. It's not about a room, it's about the people in it and the quality of those people, and to be a part of that was the best school I ever went to in my life.  
 
What would you say was the club's biggest achievement in that time? 
 
Improvement. We got better year by year. When Shankly packed up and Paisley took it on, you think there's no way anyone could take over from Shanks and be more successful, but amazingly he was. To be able to keep it going all of that time despite so many changes in players, that was the biggest achievement.  
 
Joe Fagan was the natural successor to Bob but when Joe went what did you think then? Phil Neal reportedly thought he was in with a shot, did you think you were and how did you feel when Kenny got it? 
 
I was fine about it. We'd been told the day before the European Cup Final that Joe had had enough and was just going to try and enjoy his life. We were told Kenny was taking over and that he wanted to keep me and Ronnie (Moran) on. Kenny was a player / manager but he wanted to mostly just concentrate on playing. Yes he'd pick the team and he'd talk to us about it, but he wanted us to look after training so he could focus on playing as it's a massive ask to do both and he needed to keep himself in the right shape to play. He gave us a lot of responsibility but he was the manager as he made the big decisions.  
 
Did Kenny do better than you thought he would? 
 
I don't think we really expected anything other than for it to just carry on as that's the way it had always been. Managers changed but things carried on as they were. That's the way Liverpool had always been, new managers would come in but they'd keep things as they were. Kenny didn't change things much, he did the tactical side and picked the team and left the rest to me and Ronnie. That worked for him and it worked for us and the team.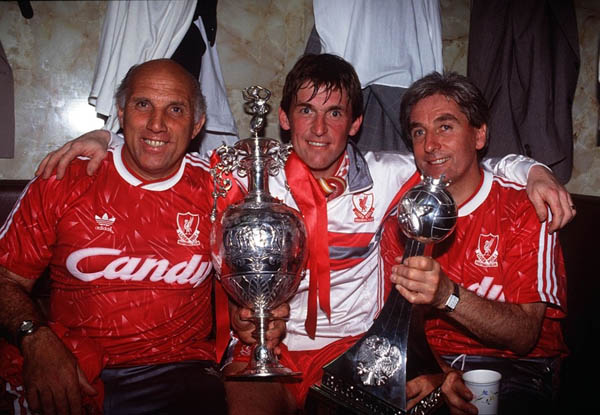 So then Kenny goes and again, most people thought Graeme was the logical choice but it didn't work out for various reasons, but when he left did you know you were finally next man up, or was Ronnie in the picture at that time? 
 
I'm not sure Ronnie ever wanted to go down that road. Ronnie was a very brusque character, one of those guys who was on your case all the time and there was a great balance to what we had in terms of him, Fagan, Paisley…. but Ronnie was the one who was on everybody's case. So it was good cop bad cop in terms of me and Ronnie, and Ronnie might not have gone there because sometimes you have to give praise out and Ronnie wasn't good at that (laughs) as he was so used to giving out stick. But he was a great asset on the coaching side. 
 
I'd been Graeme's assistant and worked alongside him. He was the most passionate of all of them, he was desperate to do really well and in hindsight maybe some of his signings weren't the best and maybe the team Kenny left him had a few holes that needed to be filled. It just didn't go the way Graeme wanted and being the guy he is, and he's a very straight guy, it got to the stage where he felt enough is enough. We got beat by Bristol City in the FA Cup and he decided to walk. 
 
Everything happened so quickly that you don't have time to think will you be the next manager or what, your first thought is probably will you still have a job. The chairman called me round to his house and offered me the job, I said yes - I didn't ask him how much or how long! - and to be fair I felt that I'd served my apprenticeship. I'd been on the coaching staff a long time, I'd worked with the very best people in that Boot Room and learned so much from them, but once you take that top job everything changes and the responsibility lies on your shoulders. 
 
You go home and realise you've got the top job and there are millions of Liverpool fans around the world counting on you, and it's quite a daunting thought but I felt that it was my time to try and be successful.  
 
For all the problems Graeme had, he did leave a squad with some brilliant young players. Did you feel there was a risk about playing too many of them at once though and how important were senior players like Barnes, Rush and Molby to you? 
 
You always rely on your senior players and the experience they've picked up over the years to help blend with the youngsters who come in. There was Fowler, McManaman, Rob Jones, Michael Owen would come in soon after so we had a good balance. 
 
That was the time when football exploded and players became like pop stars. Do you feel you were bit unlucky in the timing of getting the job? Would it have been easier a few years before that, or even a few years after when players learned how to handle it all better?  
 
You're obviously talking about the 'Spice Boys', basically. They were a bunch of lads with personalities. They weren't clones of each other, they were a bunch of lads who could play football that people really enjoyed watching. Times were changing though and you couldn't go anywhere, you couldn't even go out for a drink. Over the years we'd always done that, you'd go out for a drink together after a game - never before a game of course - and have a few pints. Or if you'd bought new players the best way to integrate them into the squad was by going out and having a drink together in pre-season, usually in Scandinavia. 
 
The social side played a big part in integrating new signings so that had always gone on and we had a bit of that. The lads were full of character and I want that, I don't want a bunch of clones, I want them to have their own brain on the pitch. Sometimes it went against them though and when you lose you get stick, like the whole 'the white suits cost us the game' thing. 
 
The white suits didn't cost us the game. They were what they were. They were offered by Armani and they picked the colour. As a coaching staff or as the manager maybe I should have said "listen lads, if you wear them and you get beat…" but I didn't. We (the staff) wore navy and they wore the white ones, and that's been held against them for a long time but I know for sure that didn't cost us the cup final. What happened that day was neither team turned up but Manchester United scored the goal and we didn't, unfortunately. 
 
The lads were in the limelight because football was changing and players were on the front pages as much as the back pages. The spotlight on them had changed. If you blinked the wrong way you could be in trouble. Not just players, but managers and anyone in football. The newspapers and the media were creeping more into people's personal lives. They'd done it with film stars and rock stars, but suddenly it was football. Most people in football now have had a bit of bad press in their lives.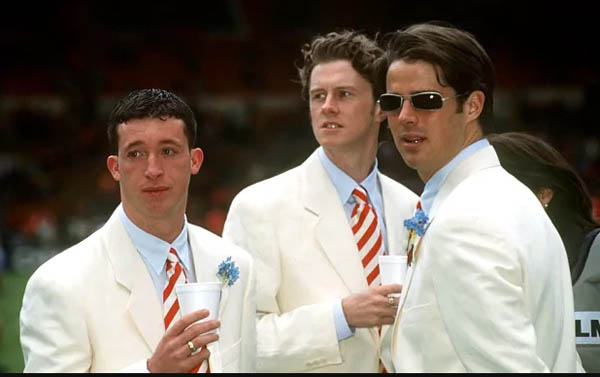 Did that hinder the team?
 
No it didn't, I've got no excuses. We were a decent team and we played decent football, and if I have a criticism - and it's of me as well - it's that we didn't win enough in my four and half years. Unfortunately we had a team down the road who were excellent. They were very difficult to knock off their perch. The one year we should have won it was 1997 when we lost two games to Coventry and Manchester United due to individual mistakes that cost us. 
 
Unfortunately you can't do a lot about that but I'll have regrets for the rest of my life because as a Liverpool manager you want to be successful like the people you worked with before. And ok, the Milk Cup, or Coca Cola Cup or League Cup whatever you want to call it, it's still a great trophy to win, but obviously you want to win the Premier League and we still haven't won it even up to today.  
 
We're not winning many League Cups now either though! 
 
No not yet. As I say though, it was disappointing that we didn't win more because we were a great team to watch and had United not been so dominant maybe we'd have won a little bit more.  
 
Do you see similarities with the current team, in terms of the criticism they get about playing good football but being suspect at the back. Your defensive record wasn't bad it was more high profile mistakes that people remember, but do you see any similarities with what is happening at the moment?  
 
Yeah there are similarities. We were an attacking team and everyone was involved in going forward. It's like Jurgen has said, if you're in attacking mode go with it but if you're not involved in the attack then be switched on defensively. That was my idea as well, but sometimes you make one silly mistake in a big game and that's what costs you. That's why the teams that win major trophies are the ones that make the least mistakes, and we weren't that team unfortunately.  
 
What made you go to three at the back? 
 
We were losing some goals and were a very attacking team, so I wanted to make the back more secure. The way it worked though it became a more attacking team than ever, because the full backs became wing backs and we were still able to bring a player out from the back and still have a pair in there defending. 
 
It gave us a very fluent approach to the game, especially with the players we had in front of them like Barnes, Rush, Fowler, Macca… this was a team you didn't want to play against because we were always going to score goals against you, just occasionally we let ourselves down defensively.  
 
You signed Patrik Berger in 1996, and I loved Paddy so I've got to ask you this as it's eaten away at me for 20 years! Why didn't you play him more often? 
 
I don't remember not picking him too often, to be fair.  
 
Maybe it just seemed that way to me because I wanted him to play every week...
 
Yeah you and probably most of the women that used to go the game! I actually brought women back to football I think, by signing Patrik and we had Jamie Redknapp and a few lads who would be the ladies choice if you like. 
 
Yeah Patrik was a great player, he had great ability to score goals and go forward. It was just on occasions, depending on who you were playing, you'd think about the defensive side and having McManaman and Berger doing very similar things, occasionally we were getting caught out. So you have to make a decision, is it right or is it wrong, as fans you're allowed to have an opinion..  
 
Well we want players like that in the team, we don't necessarily think about whether he's going to track the opposition full back or not… 
 
Exactly. You can win 3-0 one week and the fans will be like "ah brilliant" and then the next week you lose 2-0 and it's like "oh I wouldn't have picked that team". Well I wouldn't have picked that team either if I'd known we were going to get beat 2-0! A lot of it is after the event with fans, and that's great, it's not a criticism, that's what football is about. When you're the manager though there is no 'after the event' for you, there's only the flak if you've been beaten or the pat on the back you might get for winning. 
 
Everyone thinks they're a manager and everyone has a different opinion, and that's what makes football so great for me is that everyone can have that opinion. But only one man, and I know that sounds a bit stupid because we ended up with two managers, but only one man can make those decisions. 
 
As a manager you're aware of what the fans think and I never minded people coming up to me and saying "you should be picking this player" or "you should buy that player". You try and give them an answer as to how you think, but everyone has an opinion and their opinion is just as valid. The only thing I would say to fans is that you've got opinions but the only opinion that gets put to the test is mine. You'll never know if the team you wanted to play would have been good enough because it doesn't get put to the test. That's just part of the game a manager has to live with and the fans are entitled to their opinion. 
 
You take it on board what the fans and the press think but you can't let them dictate to you and you have to remain in control of who you buy, how you pick your team and how you set them up.  
 
Jurgen seems to be frequently losing his rag and yelling at the Main Stand. Did you ever get wound up by anything the crowd would say to you or the team? 
 
There was one reserve game where this one fella kept heckling me and giving me stick. Shouting stuff like "you're bloody clueless Evans". It was relentless, it went on all game. In the end I was really starting to lose my rag and at the end of the game I turned around and was just about to give him what for, and then I saw it was Joe Fagan. He was laughing his head off!  
 
So with the benefit of hindsight is there anything you would have done differently? For instance, would you have signed Stan Collymore knowing how that all turned out? 
 
Collymore was fantastic, for the first year Stan was great. We paid a record fee and Stan was brilliant, but the worst thing with Stan was we couldn't get him to move up here from the Midlands. It's not a million miles away but he'd get stuck in traffic and be late, and that disrupts training sessions and you have to fine him. It becomes disruptive to the whole group of players. 
 
I would like to have seen Stan after that first year go on and become one of the world's great players, but for me he didn't fulfil expectations after that. Even when he went to Villa and then Spain, I don't think he fulfilled his potential because he was a class player. At the end of the day there was disruption in the camp so we felt the right thing was to move him on, but if I had a choice I'd have rather had Stan at his very best than another player instead because he was a great player. 
 
There was always an excuse, the baby was ill, my mum's not well, I can't make training today…. then all the lads are thinking 'what's going on here?' Even the press would be camped outside asking "has he shown up today?". So you get all those pressures and it's a distraction, but Stan Collymore at his best was great for our team and in that first year that's what he was.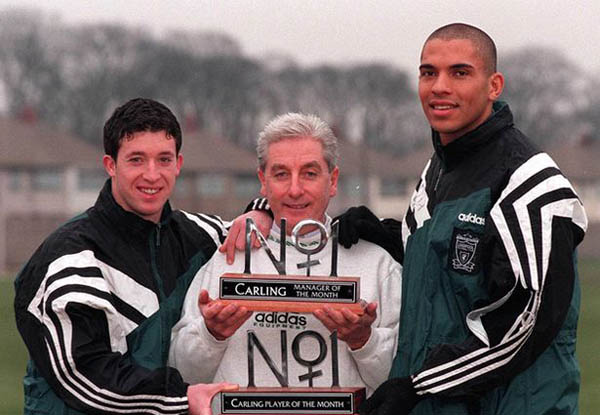 So you don't regret signing Collymore, but is there anything you'd do differently? 
 
I learned a valuable lesson early on in my managerial career when I was sent a video of a player and I watched it and thought this lad is really good. Never trust a video as no-one is going to send you a bad one! Go and see them, make sure you see what you're going to get. Even if other top players are telling you he's really good, go and see them play and get your scouts to go and see them. 
 
Sometimes when you buy a player who isn't good enough, the mistake isn't buying them, it's continuing to play them just because you've bought them. Sometimes you have to say "enough is enough" and move them on. You learn that part of the game.  
  
Is there anyone you regret missing out on? 
 
I'd say Teddy Sheringham. It was a boardroom decision not to sign him because of his age. They thought at the age of 27 or whatever it was that he was too old. Not too old to play, but too old to be a good investment. He went on to play a number of years with Man United and then back to Tottenham and was very successful. 
 
I spoke to Teddy before that and since then and he wanted to come, it was just a boardroom decision and as a manager you just have to take that. It was a fair answer, they just felt it wasn't right, although they were proved wrong by how Teddy played for United. You just take that on the chin though.  
 
You've seen a lot of players come through the ranks over the years. Was there one that you knew would be a star well before he actually played in the first team? I'm thinking Michael Owen maybe; he's the only one I've ever seen at youth level who I had absolutely no doubt whatsoever that he'd make it. 
 
I would say Robbie Fowler. I went to watch my son play for Lancashire schoolboys, he was a goalkeeper, and they were playing Liverpool schoolboys in Burscough. I watched the game and this kid scored three past my lad! I was glad that we'd already signed him because he was an immense talent and one of those players that was always in the right place at the right time. 
 
As for Michael, as soon as he started at the Academy everybody was talking about him and it always looked as though he was going to be there or thereabouts. Great pace and always had the ability to get on the wrong side of players and find space. I think he'd only just turned 17 when he got his first chance, that's how good he was as a kid. 
 
Obviously McManaman had come through the system a few years earlier too and it was great to see all those lads make the grade. I gave 'Carra' his first game. I thought he'd play 10 or 15 games but he ended up playing 750 so it shows how much I know! 'Carra' in today's game - and I know he's only just gone out of it - would be absolutely vital, because not only was he a decent footballer but verbally, Jamie was fantastic. He was one of those players who was always on your case, patting you on the back telling you "do this, close him down" and that, and any player who gives you information from behind is vital in the modern game because there's not enough of it. 
 
I was really unfortunate with Steven Gerrard though. He would have played in my team except that he picked up something called 'Osgood Schlatters' which is where you grow out of your joints. Stevie Heighway said to me "he's a great footballer but I'd rather you just kept him out of it for now, otherwise you might damage him for life". So we did that, and by the time Steven came in for his debut I'd moved on by then. He would have been a great asset to my team.  
 
The best player you worked with as a player or coach, and the best you managed. Compare the two? 
 
If I say the best player I ever coached, then I'm going to lose about 60 mates! They're all different, you've got goalkeepers and you've got defenders, who don't always get the recognition the attacking players do. We've had great players at Liverpool, I always start with the '65 boys who treated me fantastically when I was a kid. They tried to help me get further up the ladder and they started what Liverpool eventually became over many years. But it's impossible as you're talking about goalkeepers, full backs, midfielders, centre forwards….  
 
Ok I'll rephrase it! Is there any player that you think doesn't get the recognition he deserves?
 
Well any player who plays in a team and isn't the so called superstar, they're the ones that keep it all together. I call them glue players because they keep everything together. If you've got a team of superstars it sometimes doesn't work for you because they're more individual than most. 
 
I'd say the great players of yesteryear would be great players today. People say it's quicker now, but they would have been in the same set up as today's players so they'd be quicker too. 
 
I played against George Best who was one of the greats, but I was going up against Peter Thompson every day in training and he had so much trickery and ability with the ball, he'd drive you bloody mad playing against him! I'm not dodging the question it's just difficult to answer. I get asked all the time but there's nowhere to go!    
Ok let's put it yet another way! Let's leave out the players you worked with so you don't have to worry about offending your mates. What about since you left? Is there anyone you've seen that's up there with the legends you worked with? 
 
That would be Luis Suarez. I absolutely loved watching him, I loved his attitude. If he'd have stayed he would have been one of our greats.  
 
So if  you could take one player from after you left and put him in the team you managed, who would it be? You just mentioned Suarez…. 
 
I'd say Steven Gerrard. If he'd been fit enough to have gone into the team when I was there he would have made a massive difference. Then again you can say that about a lot of players, but Steven was actually at the club at the time so he's the most realistic choice. He actually did go into my team, it's just I was no longer there to benefit from it.  
 
Ok let's address that. Looking back, the joint manager thing just seems really weird. How did they pitch it to you at the time? 
 
I think Liverpool tried to do it for the right reasons. Initially we'd talked about John Toshack, but John didn't want to come in that capacity. Kenny got a mention too, but France had just won the World Cup and Gerard had connections to the city having been a teacher here many years before. The game was going very continental and Liverpool were trying to move with the times, so I think they did it for the right reasons. 
 
I let myself down in this process though and I think in many ways that's where my career ended. We agreed to meet with Gerard, I came back off holiday and flew to France. I think they had met him a few days before, which was maybe a bit out of order with me not being there, but that's football, that's life. So we met, and when you're a Liverpool fan, as well as the manager, sometimes your heart rules your head. 
 
We agreed on things we could do to work together, and then it came to talking about titles. One of my directors, possibly Rick Parry, I can't remember, came up with joint managers. That's when I should have been stronger and said "there's no such thing as joint managers, it's an impossibility, two people can't be making the decisions". I should have been stronger, I should have stood up for what I'd done over four and a half years, we'd finished 3rd, 4th, 4th, 3rd whatever, done ok. 
 
I should have said call him a Director of Football or whatever you like, but you can't have two guys as joint managers. Immediately it started, as obviously Gerard wanted to change some things that I didn't want to change. The first one was going on pre-season, playing the game and then "right boys, we're going to have a drink, we've got new lads we've just bought so let's go out". Gerard said they couldn't go out, but as it happened we all went out anyway. 
 
Then you leave somebody out of the team and they'll be like "but Gerard said…" and it just becomes very difficult. I should have been stronger at that point, but when you're a Liverpool fan and think 'is this for the benefit of the club?'… sometimes in life you have to look after yourself first and I wasn't great at doing it at that time and that cost me my job. 
 
Gerard said he knew it would happen and it was inevitable that we wouldn't be able to work together. That's not me having a go at Gerard, that's what football is like. It would have difficult with anybody, even my best mate. Gerard isn't my best mate but we've got great respect for eachother. I see him now and we have good conversations and he always gives me a hug - no kisses though! - but at the end of the day it wasn't Gerard Houllier's fault it was mine for not being stronger at the outset.  
 
How did it even work though, picking the team and that? There was one incident in particular when Karlheinz Riedle was left out at West Ham and we lost 2-1. He came off the bench and scored but there was a lot of discussion about why he didn't start.
 
It's hard because every manager has his own ideas. Gerard would maybe want to leave a player out because there was a bigger game on Wednesday, but I don't particularly like the rotation system. While I was at Liverpool it was about competition for places, and if you got in that team you wanted to make sure it was hard to get you out. Nobody wanted to be out of the team and nobody liked rotation because they wanted to keep their place. Throughout my time at the club Liverpool always tried to pick their best team.  
 
 
 
So when it came to an end, who decided and was there a particular incident that prompted it? 
 
I decided. It wasn't one thing, it was just that coming to work was becoming difficult and there was always an edge there, with one of us doing one thing and the other doing something else. I didn't think it was for the benefit of the club so I walked away. Had I have stayed who knows what would have happened but I didn't think it was working. 
 
We got beat by Tottenham I think, I went home and thought 'this is getting ridiculous'. It wasn't fair on the players, they didn't know where they stood either, so I decided to walk. I rang the chairman and Peter Robinson and told them "this is not going to work, I'm going to walk". They tried to talk me out of it in different ways. Tom Saunders came to talk to me and lots of other different people, but there was just nowhere to go with that partnership. It wasn't going to work. 
 
Do I regret doing it? Not particularly, because it was the right thing to do at that time. But I do regret what went on before when I should have been the master of my own destiny in the initial meeting.  
 
You're still involved in football in terms of your work with LFC TV, but what else are you up to these days? 
 
I've always had a passion for grassroots football and working with the kids because that is where I started so I have gone into business and one of the other Directors is my old team mate Steve McMahon. It's called Bootroom Academies, and we deliver courses to players at primary school age. We have holiday camps for young players too, and we also have skill centres where kids of different levels can be coached by our coaches.  
 
Myself and Steve will also be involved so if there is a chance to get them scouted and picked up we can help with that too.  One thing we both recognise is how the kids are picked up at such a young age and then dropped and it can really knock their confidence.  We want to rebuild that and for me the kids should also be having fun. 
 
It shouldn't be about being in a pressured environment but they should be learning the core values in a fun environment and should never be scared to make mistakes as that is how they learn.  I suppose we want to just teach them life skills, team skills and that's through football. 
 
We will be delivering 6th form qualifications too in sports coaching next year and this is so exciting too because we can help students that may not be buying in to education anymore as all they want to do is play football so they can have more options to either go on to university or help them get a job in sports.  We will deliver Elite coaching at some schools too so if there is a potential for someone that may have been dropped from an academy to get back into school, we can look at giving academy level coaching at a high school which again is brilliant opportunities for the kids.  
 
I just want to give something back and at Bootroom Academies I can do that.