Frank McGarvey
A curious case this one. Signed for the not insignificant sum back then of £300k, McGarvey was a highly rated striker of whom big things were expected. Bob Paisley rarely got signings wrong and I remember being quite excited as a kid about this one. I recall seeing him in my panini sticker album (he may even have been wearing a St Mirren shirt as they couldn't get a picture of him in a Liverpool one) and thinking he was going to be the bees knees. In my defence I was only 7 or 8.
He never managed a single minute on the pitch and was sold to Celtic. While this kind of failed transfer happens all the time in the modern game as the turnover of players is so huge now, this one really stuck with me because it seemed so un-Liverpool like. He obviously just wasn't good enough, but Bob must have seen something to pay out that kind of money. Interestingly, he played more games for Scotland than Liverpool in the time he was at Anfield. 
---
David Speedie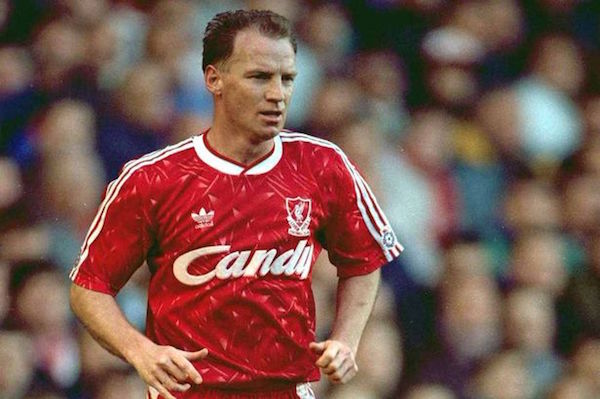 It was a big shock when Speedie joined the Reds. No-one saw it coming as he was getting on a bit, he was never a particularly special player and he was a right narky so and so who the Kop generally despised at the time. His signing is viewed by most as a sign that something wasn't right with Kenny at the time and that the stress he was under was leading to peculiar decisions. That's unfair on Speedie.
What people tend to overlook is that Speedie was actually pretty damn good in the short time he was a Liverpool player. He scored goals in big games, he played with great enthusiasm and he quickly won over a crowd that had spent years hammering him. I hated him when he was at Chelsea (he was doing Costa like things before Costa was even born), but loved him in the brief time he was a Red. 
Speedie gets something of a raw deal when his time at Liverpool is brought up. Had things turned out differently for Kenny then the fiery little Scot could well have been viewed as a "Gary Mac" type signing. 
---
Jimmy Carter
I must have seen him play as I've only missed a handful of home games since I started going regularly in the mid 80s, but I'll be damned if I can remember anything he did in a red shirt. In fact, there's only two things I remember about Carter. The first was Souness bringing him on as a sub at Chelsea and then bringing him off again almost immediately (the game wasn't televised so I can only speculate as to how bad he must have been).
The second is what may have been his home debut when I can recall being in hysterics after hearing some arl fella behind me shout out "hahaha look at this fella, he runs like a duck!". (I also remember the same thing being yelled at Kevin McDonald a few years earlier, perhaps by the same fella).
People associate Speedie with Kenny losing the plot, but if anything Carter was the one as he was completely useless. It's difficult to imagine what Kenny - or anyone else at the club for that matter - saw in him. 
Amazingly we somehow we managed to almost get our money back by selling him to Arsenal, where he rarely got a game. Not long after, George Graham was implicated in some sort of bung scandal, which I'm sure is merely a co-incidence.
---
Christian Poulsen
Did this really happen or was he just an incredibly slow moving, blonde haired mirage? The Dane had been a good player prior to joining the Reds and he did ok for a little while after leaving too, but the pace of the English game was simply too much for him. He was getting on a bit and wasn't as quick as he was (plus he was never that quick to begin with), but it seemed like any time he was on the pitch the game completely passed him by.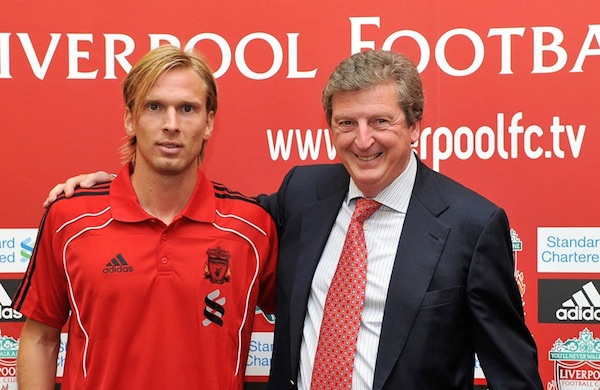 Had he joined the club a few years earlier and played under Rafa, he may have looked quite decent. He didn't though, he joined the train wreck presided over by Roy Hodgson. Poulsen may have been the worst player in that side, which is no mean feat when you consider he was competing with David Ngog, Milan Jovanovic, Joe Cole and Paul Konchesky, all of whom could just as easily have made this list.
---
Robbie Keane
A boyhood Liverpool fan, this should have been a dream move for him but apparently he felt from day one that something wasn't right and that he wasn't wanted. It appears that he was a pawn in the feud between Benitez and Rick Parry, and while the Spaniard certainly wanted to sign Keane, he also wanted Gareth Barry but there was only enough money to get one of them unless Xabi Alonso was sold.
The story goes that Benitez wanted to sign Barry first and go back for Keane later, but there were two problems with that. Firstly, Keane had gone out on a limb to try and force through a move to Anfield and Parry therefore felt he couldn't leave him hanging at Spurs. Secondly, Peter Crouch had been sold which meant that Fernando Torres was the only frontline striker on the books, while Alonso was still at the club. Parry put Barry on hold and went ahead with the Keane signing - against Benitez's wishes - and the rest is history.
Alonso stayed, Barry never arrived and Rafa decided from very early on that Keane's face didn't fit. When he did play his form was patchy. He missed some easy chances but also scored a few goals. His transfer is remembered as a massive failure because the club lost millions on him in the six months he was here, but on the pitch he wasn't a complete flop by any means.
He got off to a difficult start and went 688 minutes before finally getting off the mark, and by the time he eventually began to look like he may have been finding his feet, Rafa had already made up his mind. The writing was on the wall when David Ngog got on the field ahead of him in a 5-1 win at Newcastle at the end of December, despite Keane having scored three goals in his previous two games.
The Irishman knew then that his time at Anfield was coming to an abrupt end and soon after he returned to Spurs in a cut price deal just six months after leaving White Hart Lane in a £20m transfer. 
I look at Keane and think of him playing for Ireland and Spurs. It's almost as though he was never even here. He probably feels the same way, like he was in the middle of some boss dream and then suddenly woke up back at Spurs.
How do you think Klopp will fare in the transfer market? Can he build a squad challenging at the top of the table? Check out the betting bonuses here and back the Reds to go all the way!
Dave Usher
@theliverpoolway