If Alex Oxlade-Chamberlain is hoping for a fresh start away from Liverpool this summer then that could now be in doubt with the club reportedly weighing up what valuation they put on the midfielder.
The 28 year-old is coming out of contract at the end of next season and with the likes of Mo Salah and Sadio Mane in the same boat, it seems unlikely that his re-signing shapes as a priority.
Additionally to that point is that Oxlade-Chamberlain would be fully aware of the logjam for places in the Liverpool midfield and would be closely assessing what his next step would be.
After making 43 appearances and scoring eight goals in all competitions during the 2019-20 campaign, in the last two seasons combined he has made just 46 appearances despite being fully fit for the last 18 months.
His last appearance this season came in the FA Cup quarter-final clash against Nottingham Forest and despite Jurgen Klopp making a number of changes for the midweek clash against Southampton, Oxlade remained on the bench.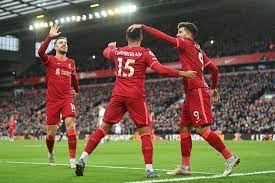 ESPN reports that Liverpool are prepared to listen to offers for Oxlade-Chamberlain this summer but the club will assess how much interest there is in him before setting a valuation on him.
Oxlade-Chamberlain came to the club in the summer of 2017 from Arsenal for £35 million but it his highly unlikely that the club get close to that figure.
And the club have shown in recent years that they are not afraid to hold on to players for their final year if they do not get the valuation they are after with some examples being Gini Wijnaldum and Adam Lallana.
In a position such as what Oxlade-Chamberlain faces, you weigh up the balance between professional ambition and being part of a successful squad.
Some like Divock Origi have been more than happy to put his own career progression to one side and become the perfect role player for the big moments, but others like Wijnaldum decide to leave despite being a first team regular.
So while there is a chance that Ox may have to see out his final year at the club, he would have to admit that there are far worse places to be.