The New Year brings more opportunities for a crop of Liverpool youngsters to continue to experience first team football while on loan.
There were some very impressive performances and exciting progress made by some of the players in the first half of the season, along with some setbacks for others along the way.
However you take the good with the bad, and as a developing footballer you are bound to learn plenty of important lessons along your journey.
One player who has impressed plenty of observers with his attitude and natural ability is Harry Wilson. The Welshman is key to the Rams playoff push and if you take advantage of a Betfred promo code for new customers to bet on a Derby promotion, you could be quids in at the end of the season if Wilson continues in this form.
In a recent poll run by Ollie Wright from Derby County Blog, two thirds of Rams fans voted to keep Wilson permanently over fellow loanees Mason Mount and Fikayo Tomori (both from Chelsea). 
In part two of our chat with Ollie, we look at the impact Rams manager Frank Lampard has had on Harry's development, and a possible area of his play which the Welsh international can look to improve....
It must have been a relief for all Derby fans that the loan was not cut short in January and Harry is staying with the club for the rest of the season?
Had he gone back, there would have been zero chance of Derby replacing him with anybody remotely as good and I honestly think that it would have knackered our season.  He's been absolutely outstanding and what could initially have been written off as a freak run of stunning goals has simply carried on, remorselessly - he leads the Championship with seven goals from outside of the box and in all competitions, he has nine goals from long range, out of a total tally of 12.
Harry is arguably in the best form of his senior career. While he showed positive signs in the first half of the season, it is a different thing altogether to do on consistent basis. What do you believe has made him go to this next level?
Simply put, the opportunity to play every week in a competitive team was all he ever needed.  Frank Lampard has made him a crucial part of Derby's midfield and he has risen to that responsibility.  It's abundantly clear that he is loving his football, particularly playing alongside the Chelsea loanee Mason Mount - the duo seem to have struck up a close understanding on and off the pitch, sharing digs as well as a central midfield partnership.
You mentioned in our previous chat that the League Cup victory against Man United was Harry's standout performance, has he since surpassed that game in your view?
It would be difficult for any player to surpass a goal like that.  However, the best team performance of the season so far was definitely the 4-1victory over West Bromwich Albion at the Hawthorns in October and Wilson was a huge part of that.  The fizzing energy and skill of Derby's front five was too much for West Brom that evening and while the team's rich promise has only been seen in fits and starts since then and has been too much to reproduce consistently through a gruelling Championship winter, it's there - with Wilson clearly integral to the fast, technical, pressing style of play Frank Lampard wants to see.   
It's worth pointing out that Derby have played four cup games against Premier League opposition this season - Manchester United away, Chelsea away, Southampton home and away - drawing three times (all 2-2) and losing only once (2-3, at Stamford Bridge), with Wilson having started in three of those games.  He missed the home draw with Southampton through injury, but came back to score yet another free kick and then assist Martyn Waghorn's equalising goal at St Mary's in the replay.
As your own performance level increases, naturally the opposition take a fair bit of extra notice. How has Harry handled that extra physical attention?
He is still young and we are yet to find out whether he can weather the physical demands of a 46-game league season, plus cup exploits - including a 100 minutes plus at St Mary's and with the fifth round of the FA Cup yet to come.  Still, he's well on the way to proving his durability, having made 25 starts in all competitions for Derby already, so touch wood, his fitness can be managed through the second half of the season.  He's a marked man and, as such, there are inevitably spells in games where his impact is limited - but he only needs one chance to unleash a left-foot Exocet and the game has turned on its head.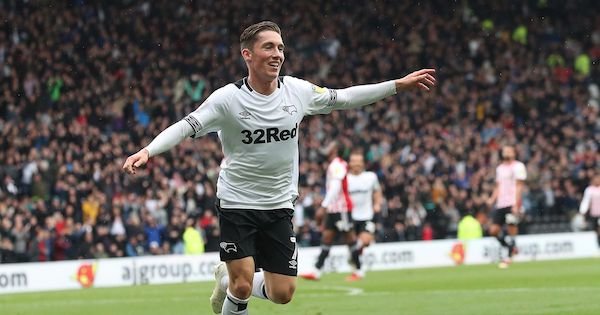 Harry was injured for your clash with top of the table Leeds a few weeks ago.  Was his absence and subsequent defeat in that game a sign that he has become Derby's most important player this season?
There's definitely an argument to say that he has been.  He's one of our key players and match-winners, without question, alongside Mount, the striker Jack Marriott and centre backs Fikayo Tomori and Richard Keogh.  Losing any of those players for any length of time would be a huge blow to Derby's hopes of promotion    
Have you noticed the impact that Frank Lampard has had on his game as the season progresses and can you discuss some of the things he has altered in Harry's game?
I don't know whether Liverpool expected him to be used as a central midfielder in a 4-3-3 system.  When he signed, the general expectation was that he would play as a wide forward, but he has proved to be comfortable in the centre and remains just as much of a goal threat, while also putting in more tackles per game than any other regular Rams' midfielder.  
He is not a player who is ever going to win much in the air, but he understands that hard graft is not an optional extra - proving that he can flourish in the muck-and-nettles of a Championship midfield battle, for a team who try to play possession football and press the opposition hard when they don't have it, will be ticking boxes, for Jurgen Klopp's scouts, I'm sure. 
While producing a couple of assists in more recent times, Harry has only registered two in the league this season (and one in the FA Cup vs Southampton.) Is playmaking something Harry can look to work on in your view?
I tend to look more at 'key passes' (shooting chances created) more than assists.  An assist, after all, could be a two-yard toe-poke for someone to belt it in from 40 yards, whereas a through ball from heaven could end up being sliced wide - key passes tells you whether a player has been making things happen on a more consistent basis.  
For key passes, Wilson is Derby's second highest contributor, with 35, behind Mount (53).   He has not been among the top Championship midfielders for this measure, but when you have a shot like Wilson does, you've got every right to have a go, instead of looking for a killer pass.  12 goals in 24 appearances is a record most strikers would be pleased with and so it would be churlish to complain about a comparative lack of assists.
In terms of the future, you previously spoke about your perfect scenario which sees Harry staying on loan for another season in the likelihood of Derby getting promoted to the Premier League. Knowing Harry's overall feeling for the club, is that a distinct possibility?
I would love to think so, but there are a lot of things which would have to fall into place for that to happen.  Firstly, we have to fight our way out of the Championship, which we know by now is an incredibly tough task.  Secondly, Liverpool would have to be amenable and thirdly, Harry himself would need to weigh up whether it was the right move for him (if he is available again next season, I'm sure there would be no shortage of Premier League, or maybe even Bundesliga suitors).    
All I can say with certainty at this stage is that he has hugely boosted his reputation and done himself proud with his performances. If he carries on in his current vein of form, he will help to give us a real chance of glory this season.