As Liverpool fans, we've generally been pretty fortunate in terms of getting who we want. Up until last summer at least, when Liverpool have come calling not too many players have said 'No' down the years, which makes the ones that did stand out in the memory. If you were to ask a Bolton fan to start naming players who have turned them down, they wouldn't know where to start. Same for Villa, Blackburn, Man City (before they won the lottery), Newcastle etc
Evertonians are a different breed of course, they never forget being snubbed and will spit out a hundred names before even drawing breath. Half of those will have joined Newcastle, which is why the blues had such a beef with the Geordies back in the 90's. Arsenal and Manchester United are in the same position as us, but the rest are as accustomed to being turned down as a mistletoe wearing Neville brother at Christmas school disco.
Coming up with a squad of players who rejected moves to Anfield was proving to be almost impossible, so I had to broaden it out slightly to include players that we missed out on for other reasons, ie we wouldn't pay the fee, some bright spark felt they were too old, or they wanted too much money.
Goalkeeper: Has to be Tim Flowers. Souness wanted him, and he would have been a great signing for us as it would have meant no David James. Who knows, we may have ended up winning the title under Roy Evans as you never saw Flowers making the kind of blunders that Jameo did in that infamous defeat to Coventry at Anfield.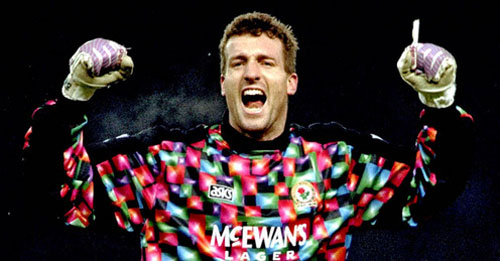 When Souness made his move, Bruce Grobbelaar famously placed a bouquet behind his goal and said 'these are the only flowers you'll see in this goal'. He was right too, as Flowers turned down the Reds to join big spending Blackburn where he won the title under the King. My back up keeper is Brad Friedel, who knocked us back for Spurs in the summer of 2011. More money and a guaranteed starting place made that a much more logical choice for the veteran American.
Defence: I'll start with the centre backs, and Marcel Desailly. This one still rankles. We were desperate for a top class centre back as it could well have been the difference between us being challengers or champions. Someone as good as Desailly was at that time would have really made us significantly stronger. Roy Evans thought he had him, and there even were reports at the time of Liverpool waiting for him to get off a plane at Speke Airport, only for him not to show up. Don't know if that was actually true, but the next thing we knew he'd joined Chelsea as the whole 'London Lifestyle' thing swung the deal for them. Not the first time that had happened either, but I'll get to 'Champagne Charlie' later.
Alongside Desailly, it's a choice between three. We were in big for Sol Campbell back in the day, but he opted to stay in North London and dump on the club that had made him. His move to Arsenal was a real kick in the groin for Spurs fans who despise him to this day. From a footballing perspective, Campbell made the right choice as he won plenty with the Gunners. From a moral perspective, he's a rat who should have either stayed with Spurs, gone abroad or moved up north either to us or the mancs. I don't like Sol Campbell much, but he was a top player.
Nemanja Vidic could easily have been wearing the red of Liverpool as opposed to that of United. The deal was allegedly pulled after a conference call with Rafa and Parry where Vidic said "I don't care whether I go to Liverpool or Manchester United. Depends who pays the money" So we ended up with Agger and the knuckle dragging Serb went to Old Trafford. The amount of times he's been red carded when on the same pitch as the likes of Gerrard and Carra, it's probably for the best we didn't get him as he'd have missed as many games through suspension as Agger has through injury.
The third option is John Terry. It's not something that ever seems to be mentioned, but 'Mongo' was just hours away from becoming a Liverpool player back in 2003. A deal had been agreed, but then Abramovich bought Chelsea and the rest is history. I can't say I'm disappointed we didn't get him, as he's just a vile, reprehensible individual. Missing out on him is a blessing, but over the years he has been a top defender and I'm picking him purely on the basis that in his prime he was better than Vidic ever was and because he was a lot closer to signing for us than Campbell ever was, not because I wish we'd signed him.
There are a lot of reasons to rue the day Abramovich bought Chelsea, but at least it stopped 'Mongo' from coming here. Other 'honourable' mentions are Jean-Alain Boumsong (remember how much GH loved him?) and Philip Mexes. Not sure how close that one was, but the summer that Houllier was sacked he had been planning on signing Mexes to partner Biscan in central defence. No, I'm not kidding.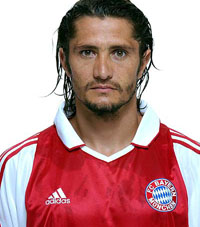 Onto the full backs. Left back is Bixente Lizarazu. Great player. We were first linked with the diminutive Frenchman under Evans. Roy flew over to France to watch Bordeaux a few times, and the three players he was said to be looking at were Lizarazu, Dugarry and Zidane. We desperately needed a left sided player, and Lizarazu seemed a perfect fit for the 352 formation we were using back then.

 

Zidane was way out of our league and both he and Dugarry agreed to moves elsewhere, but we could have had Lizarazu. I was desperate for this deal to happen, but Evans opted to sign Mark Kennedy instead, with the explanation given at the time that Lizarazu was 'too small'. Ouch.

 

When Houllier took over, we were naturally linked to every French player on the planet, even fictional ones (Didier Baptiste anyone??). Lizarazu was a name that kept cropping up as left back was a problem position, but Houllier opted for Christian Ziege instead. Then, when that didn't work out, we were again strongly linked with Lizarazu, but GH decided against it, saying he already had the 'next Lizarazu' in Gregory Vignal. Double Ouch.

 

Right back is Dani Alves. What is clear is that we could have had him. What isn't clear is why we didn't get him. Benitez has always blamed Parry for this one, whilst Parry is adamant that it was the manager who pulled the plug because the fee was too high. Whatever the truth is, we didn't get Alves and a year later he joined Barcelona.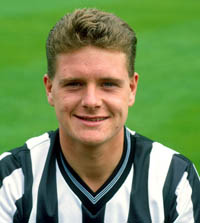 Midfield: One that really stands out is Paul Gascoigne. "Kenny was the first one to come in for me. He said "I want to sign you"... Ian Rush was playing at Juventus at the time. Newcastle wanted 2.2m and I couldn't believe that because I'd come up through the ranks from nothing. Liverpool could only afford 2m because Ian Rush was coming back, so Kenny said 'will you wait a year?' They got rid of Chris Waddle, they got rid of Peter Beardsley and I was only on 25 quid a week, but the money never bothered me, I couldn't wait around. People talk about Man United and Spurs but Liverpool were the team. Liverpool at that time played football the way Barcelona play football now".

 

People often speculate how different things could have turned out for Gazza if he'd joined Utd, but imagine if Kenny had landed him? He'd have been sensational for us back then. To think we missed on on him over a lousy 200k. How times change, we paid Milan Jovanovic more than that every fortnight for a year.

 

Alongside Gazza, I've gone for Michael Essien. We were first linked with him when he was playing for Bastia. Essien later revealed: "I could have joined Liverpool when Gerard Houllier was there. I went to see their training ground and to watch their games but obviously I didn't go there. At that point it was difficult for me to get my work permit, so I preferred to stay in France."

 

He joined Lyon, where he was joined two years later by Houllier. GH didn't get the opportunity to work with him for long though as the midfielder joined Chelsea after they failed in their bid to land Steven Gerrard. Interestingly, Essien, along with Scott Parker, was rumoured to be high on the list of replacements Benitez had lined up if Gerrard had left.

 

Attacking midfield:  Michael Laudrup is probably regarded as the best player we ever missed out on. He came so close to teaming up with Dalglish and Rush in what would arguably have been the best attacking trio ever assembled in England. Laudrup agreed a three year deal with the reds and was all set to sign until the club said they wanted to change it to four years as he was 'still young and needed time to develop'.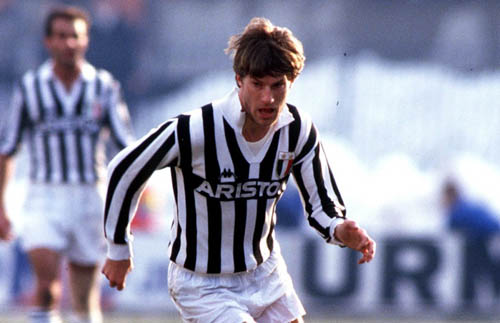 Laudrup later explained "I decided not to join them and people thought I was crazy. This 19 year old was turning down the great Liverpool? It wasn't really like that though. I just felt an agreement is an agreement and people should stick to what they decide. After that I had other offers and went on to join Juventus. That's football for you".
Wingers:  On the flanks I'm going for Cristiano Ronaldo and Damien Duff. We could have signed Ronaldo but whist we were stalling over the cost of the deal United went in and bought him for double the fee we'd been dithering over. At the time you could make a case for Houllier not being sure about the value for money, but looking back the fee and wages were a relative pittance to what the player brought to his team and the fee he was eventually sold for. When you think about the sky high wages we've paid to complete derelicts, it rankles that we missed out on the second best player of his generation because of money.
It might have stopped the mancs winning a few titles too as he had that big an impact on them whilst he was there. Hindsight is 20-20 though, and I wasn't the only one thinking we had the better deal by getting Anthony Le Tallec & Florent Sinama-Pongolle for less than the mancs paid for Ronaldo. How crazy does that seem now? As for Duff, we were close but wouldn't pay the fee Blackburn wanted and he went to Chelsea instead. Injuries prevented him from being the player he could have been, but for a while he was class and just what we needed.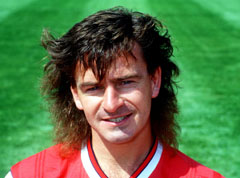 Striker:  I could have gone with Diego Costa but I'm not sure that was ever even a remote possibility.  It just looks like his agent used us to get a better deal for him at Atletico.  So I'm going further back for this one.  Back to the 80s in fact.  Charlie Nicholas was a prodigiously talented striker who never fulfilled his potential because he liked being a star more than he liked being a footballer. He chose Arsenal over Liverpool for the sole reason of lifestyle.

 

He could have signed for us and become a great, instead he went to London and became an under achieving boozehound. I wonder if he ever regrets how things turned out? He's probably too arrogant for that. And lose the diamond ear stud Charlie, you're way too old - and way too white - for that.

 

 

So there you have it, there were a few who didn't make it who possibly should have, Henrikh Mkhitaryan for example.  Another player I really wanted to find room for was Teddy Sheringham, and I could probably be persuaded to drop Duff and bring him in behind the striker and move Laudrup out wide. Roy Evans was told he couldn't sign Sheringham because he was 'too old'. He ended up playing in the top flight until he was 38, and whatsmore he made a vital contribution to the mancs winning a treble. Should have let Roy sign him, if only to prevent that 'balmy night in Barcelona'.

 

Jari Litmanen is another one who got away, although we eventually caught him when he was too old to escape.  He should have joined us a lot sooner than he did and I'm not sure why it never happened as we seemed to be chasing him for about five years.  They can all go on the bench with Friedel, Vidic, Frank Worthington and Gael Clichy (we were chasing him and Enrique, not sure whether he snubbed us for City or we preferred Enrique though).

 

Manager: Not a great deal of choice here. When we appointed Rafa Benitez, there were two others under consideration. Alan Curbishley and Jose Mourinho. Curbishley's stock has fallen about as much as Mourinho's has risen since then. Other possibilities would be Didier Deschamps and Manuel Pellegrini who were both interviewed for the job before Hodgson was appointed. You could maybe make a case for Dalglish too, as he wanted the job six months before he eventually got it. He was never actually considered for it though, so on that basis he's not really eligible.

 

So, disgusting a prospect as it now appears, Mourinho it is I suppose. I wonder how differently things would have turned out if Parry and Moores had opted for him over Rafa. I very much doubt we'd have had Istanbul, but would we have won the title during the years that followed? Would Mourinho have reigned in his ego and not become such a massive helmet, or would he have flopped without the seemingly unlimited transfer funds he's had at Chelsea and Real Madrid? As with the rest of the names in the article, we'll never know because it never happened.

 

Not in this reality anyway, in an alternate one Mourinho and Terry may have been lifting numbers 19, 20 & 21 as manager and captain of Liverpool Football Club, whilst Charlie Nicholas celebrated in the Sky studio buzzing off it alongside Thommo (minus the ear-stud obviously, he wouldn't have got away with that in L4). The mental image all that conjures up is probably enough to make me happy to be in this reality stuck on 18 titles. Probably.

 

 

Dave