Caoimhin Kelleher is set to stay with Liverpool for the foreseeable future with the club looking to keep an eye on his progress from close quarters.
When speculation arose last week that Adrian was close to signing on for another year, there was a thought that the Irish youngster would be sent away to get valuable first team experience.
However that is not the case as the Echo reports that despite a number of clubs enquiring about his availability, Kelleher is to stay put and will be rewarded with a new contract.
Being a reserve goalkeeper is tough for anyone, let alone being backup to someone as good as Alisson Becker. 
However when Kelleher was given a opportunity to show his talent in Europe and the Premier League, The 22 year-old made a very big impression.
The biggest game of his young career to date came against Ajax in the Champions League group game where Liverpool booked their place in the knock-out stages of the competition.
The Irishman made a key save in the last few minutes of the contest to preserve his clean sheet and Jurgen Klopp was glowing in his assessment, saying he had no reservations giving him the nod over the more experienced Adrian in filling in for the injured Brazilian.
"Top. Top, top, top. It is a situation, which I have to say, it was easy to decide for Caoimhin because he just deserves it, but it was difficult to decide against Adrian because he did really well for us: a lot of clean sheets, what a season last year, Super Cup final and all these kind of things. 
"He did a really good job, but tonight we needed the package of Caoimhin – and he is a top talent anyway, but a really good shot stopper and a top footballer, so I like that."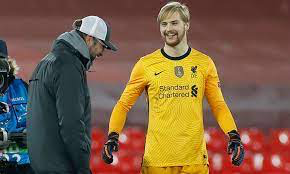 In all, Kelleher made five appearances for the first team before an abdominal tear late in the season put pay to any more opportunities.
That injury also cost Kelleher a chance of making his senior international debut for the  Republic of Ireland, but got his opportunity on Tuesday evening in a 0-0 friendly with Hungary and his 45 minute performance impressed countryman and highly respected former keeper in Shay Given who said "Congrats to Caoimhin Kelleher on a brilliant debut for @FAI."
Former Reading and Wolves striker Kevin Doyle concurred comparing him with Gavin Bazanu (Man City youngster who played the first 45 mins against Hungary) and said Caoimhin's continuing development has a lot to do with the coaching he is getting at Liverpool.
"He's a few years older than Gavin, maybe a bit more experienced, you know, training with the Liverpool first-team every day, playing a couple of Champions League games this season. His saves got better and better as the game went on.
"He just looks like nothing is going to faze him. We did the game with Liverpool in the Champions League when he was playing and we were worried about him – his first start, a Champions League game. With his first touch, I think, he chops someone and just strolls it out. Calm, collected. He looks like he's been number one for Ireland for a long time, and I imagine he will be."
While Alisson is the undisputed number one at Liverpool and likely will be for a long period of time, he is somewhat prone to the odd injury leading to extended time on the sidelines. If that occurs again, you can be sure that Kelleher will be ready for the opportunity that will come his way.