Following the lead of one of the most legendary figures in the history of Liverpool football club is certainly not a easy mantle to take on,  just ask Jordan Henderson.

While it is human nature to compare what has come immediately before, in the case of taking over the armband from Steven Gerrard  it is certainly a unfair comparison to make.

Gerrard was the man for the moment, the true talismanic figure, the heart and soul of the club.

He was one of us, and knew the ups and downs of what a Liverpool fan goes through and we lived all the memorable moments and disapointments through him.

Henderson was by and large a outsider who had questions attached from the moment he joined the club from Sunderland in 2011.

Be it the transfer fee, his unique running style, his frequent injuries or his overall impact in games, it is fair to say that the 28 year-old has had his critics over the journey.

However one man that has had his back though all the difficult moments is Jurgen Klopp.

He saw fit to keep Henderson in the role of captain after taking over from Brendan Rodgers, and despite there being calls before every season for another player to be given the role, Klopp has kept the faith.

The manager is widely recognised in having a unwavering belief in his players.

He is also someone who knows how the footballing landscape lies, and he is well aware of the criticism that his leader has taken over the journey.

Just like a protective father, he was more than willing to fight the cause of his midfielder.

The Telegraph reported Klopp as saying:

"Hendo, from my point of view, is a brilliant player. He's our skipper, he's a fantastic character. 

"If I had to write a book about Hendo, it would be 500 page, so I'm very positive. 

"The most difficult job in the last 500 years of football was to replace Steven Gerrard.
"In the mind of the people it was like if it's not Stevie, then it's not good enough. 

"And he has dealt with that outstandingly well so he can be really proud. Now we have to think of the future and he is a very important part of our team." 

Henderson isn't widely seen as a playmaker, but on Friday night he produced arguably his most telling creative impact in quite a while where he set up a goal for Mo Salah and scored one himself coming off the bench.

His reaction to his first goal of the season against the Saints showed that it certainly meant a lot to him.

Over the last few years, Klopp has transformed Henderson from a roaming midfielder into a holding one who thrives on the big games which calls for seasoned campaigners with level heads.

However, Klopp believes that his leader has the versatility to play any role if asked.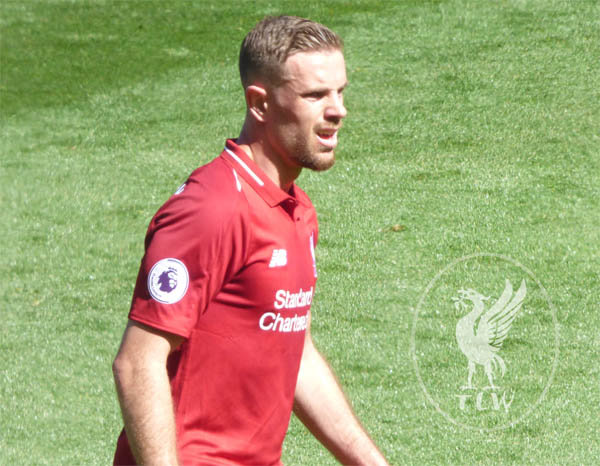 "I've seen him a lot like that. That's Jordan.

"When I came in and thought first about the team, Hendo was a box to box player. 

"We made him a number 6 and that's good. I think it's helped him a lot to play in different positions. 

" I told him already that that doesn't mean he will never play as a six again. He thinks it makes sense, and that's absolutely true. 

"We play different systems. Milly (James Milner) and Hendo were both really pumped up. It helped us a lot."

He may not be everyone's cup of tea, but as someone who was there in 2014, he knows the pain of a failed title challenge all too well well and doesn't want to relive that anytime soon.

He may not be Stevie in terms of presence and playing ability, but in a few weeks time he may well be a title-winning captain.

And that is a pretty special thing to have on your playing CV.