When an eagle-eyed photographer spied the words 'You'll Never Walk Alone' on an armband worn by Fernando Torres in an Atletico Madrid game, it appeared destiny that the Spaniard would one day play for the Reds.
Liverpool fans were crying out for an iconic figure to lead the line and help take the team to the next level. Their dreams became a reality when Rafa Benitez signed the 23-year-old from his boyhood club for £27 million, which at the time was a club record fee. While Torres was not the finished article when he arrived at the club, he possessed the two things that most top strikers have, power and pace.
He also seemed to have a quality that Liverpool fans identify with and that was loyalty. Torres was not short of offers to leave Atletico over the years, however, he stayed with them throughout the tough times until the deal from the Reds was too hard to turn down. Torres joined a Spanish revolution at Liverpool led by the manager and the key on-field figures of Xabi Alonso and Pepe Reina and Alvaro Arbeloa.
 'El Nino' made his Premier League bow in first game of the 2007/8 season away to Aston Villa - which the Reds won courtesy of a Steven Gerrard free-kick - and his home debut came a week later against rivals Chelsea. 
Expectation was fever pitch among the Anfield faithful and it didn't take long for the first goal to arrive. Gerrard found plenty of space in the middle of the pitch, managing to deliver a defence-splitting pass through ball to Torres. The Spaniard still had some work to do with the Israeli defender Tal Ben-Haim by his side. However that did not worry Torres in the slightest as he used his pace to go past him with ease before calmly slotting the ball past Petr Cech and a Liverpool icon was instantly born.
It was the first of seven goals that Torres would score in Liverpool colours against the Blues in just eight games. It became the archetypal goal of Torres in his pomp with the striker and his captain striking up a wonderful telepathic connection.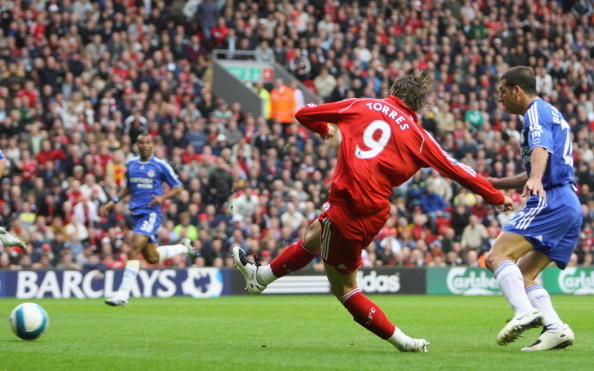 Torres produced a wonderful debut season for the Reds in the league reaching the 20 goals landmark for the first time in his senior career (24 goals in just 33 games). The Spaniard also scored six goals in the Champions League campaign and his final tally of 33 goals in 46 games was a remarkable effort.
In his prime, Torres was one of those strikers who liked to run at defenders using his blistering turn of pace to his advantage rather than being a stationary target. There was a theory that the only way to stop him was to block his run and be overly physical with him. It is not unreasonable to think that because of those tactics along with his propensity to pick up leg muscle injuries meant it took a toll on his body and his 'peak' years were a lot shorter than should have been for a player of his considerable talent.
It remains one of the biggest 'what ifs' of the past 20 years just how much more of an impact Torres could have made as a Liverpool player had he avoided the injury curse.
Jason Harris