1 Two up front
When drawing up a starting eleven on paper (or if you like, on those fancy new apps you can get on your phone), 4-3-3 looks great doesn't it? A central striker flanked by two pacy wide attackers, supported by two box to box midfielders and full backs who bomb on. Job's a good 'un.
We have so many players who appear ideally suited to it, so much so that it even looks like Rodgers had the system in mind when he recruited many of his summer signings.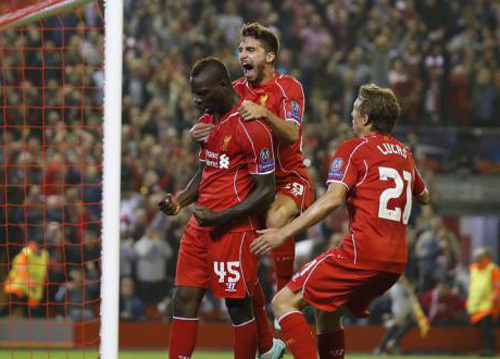 There's just one major flaw with it though; we've looked garbage whenever we've played it this year. Don't ask me why, I'm no tactical expert and I'm sure Brendan has his reasons for repeatedly playing this way. I'd suggest the biggest reason he's doing it is that he no longer feels he HAS to play two up front because his strikers are no longer good enough to force his hand. At least not with Sturridge unavailable anyway.
With Sturridge and Balotelli both fit and available I'd expect to see a whole lot more of the midfield diamond/two strikers approach that worked so well against Spurs. However, even without Sturridge I think a case has to be made for us to play that way regardless, certainly at Anfield anyway. All year we've looked better with two up top, and the stats below (compiled by Dan Kennett, you should follow him on twitter) make for very interesting reading.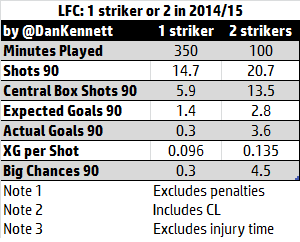 Even if you disregard stats, the eye test tells it's own story too. Balotelli needs a partner, and if it's not Sturridge then it should be someone else, probably Borini. Not because Borini is better than Lambert, but because he's a better fit alongside Mario as he provides mobility and pressing. We need to press from the front and a pairing of Balotelli and Lambert probably isn't going to allow us to do that. And neither wants to run in behind, which Borini will do all day
Perhaps with it being away from home it will be easier for us to play on the break and there will be more space for us to make 4-3-3 work, but it's Sam Allardyce and he's likely to play this like the away team so in this case I'd suggest normal rules may not apply.
Play two up front Brendan, you know it makes sense.
---
2 More from Coutinho and/or Lallana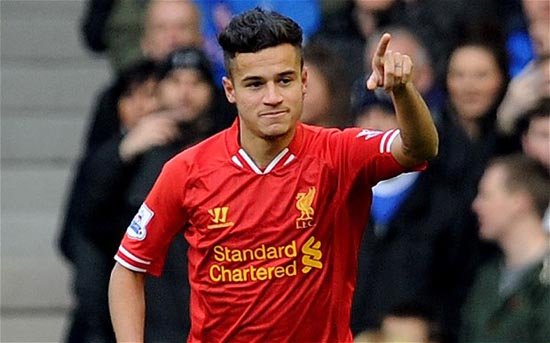 I doubt if both will start - in fact it wouldn't shock me if neither did - but we need more from this pair as they're supposed to provide the creative spark and so far both have failed to deliver. Lallana has a very valid excuse of course; he's still looking for full sharpness after his injury layoff and is also trying to adjust to new surroundings and new team-mates.
Coutinho has been very disappointing though, especially after he looked to be in such great form in pre-season. Playing away from home may help as you will often find more space to operate in, which makes it all the more unfathomable as to why the Brazilian is usually invisible in away games.
One or both needs to step it up on Saturday evening anyway.
---
3 A more competent Mignolet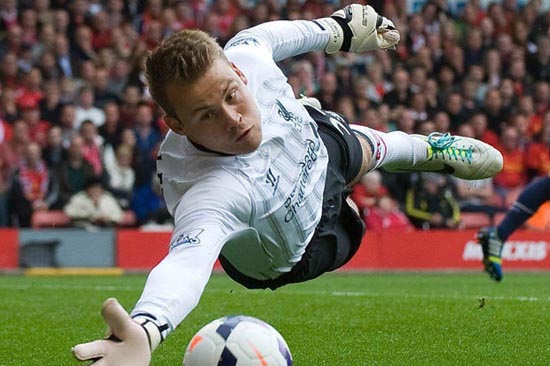 The Belgian is coming under increasing pressure to show that he doesn't need replacing. The lack of command of his box is a continual problem and repeatedly we see miscommunication between him and the defence. Gerrard absolutely slaughtered him for not helping out Sakho the other night. We got away with it (the striker pushed Sakho in the back), but if Mignolet comes and claims the ball it makes it easier for everyone.
Then he comes rushing out in the last minute when there's no need, resulting in yet another daft goal conceded. I've not written him off and I really want him to succeed, but I don't think it's unreasonable to have some serious doubts about him right now. Clean sheets and commanding performances are the way to dispel those doubts, starting at West Ham.
---
4 A goal from Hendo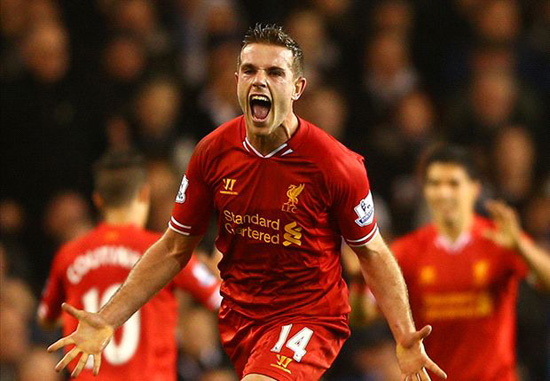 He's playing well, we all love him and it's nice to see him named as vice captain. Now he needs to start scoring more goals as that's the one area he's lacking, and it's an area he really should be able to excel given the role he plays in such an attacking side.
I'm not expecting him to ever be as prolific as Lampard or Gerrard were in their prime, or as Aaron Ramsay is now even. But there's no reason he can't be Steve McMahon, regularly nothing 10-12 goals a season. He's got the ability to do it, he's playing a role that allows him to do it, so come on Hendo lad, step it up and start putting it in the onion bag.
---
5 Allardyce complaining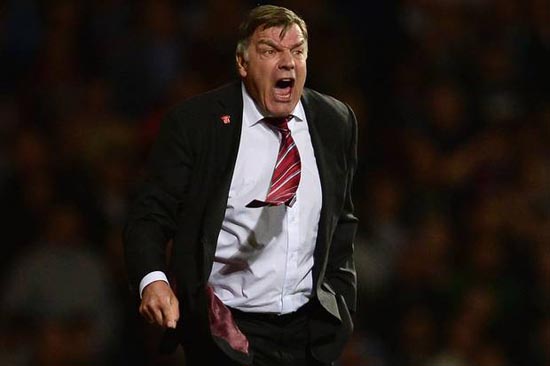 I love it when Big Sam gets all bent out of shape after we've beaten him. It's especially satisfying when he gets to blame the officials, as he did last year (and pretty much any time he's lost to us for that matter).
I want to see us win and I want to see Allardyce's mashed potato face contorted with rage.
Dave Usher
@theliverpoolway