Daniel Sturridge
The Spurs game was probably Mario Balotelli's best so far and to me it's no co-incidence that it was the only time he had Sturridge alongside him. They seemed to click straight away and linked up well on a few occasions. While I think Mario has done ok since then and has had some good moments, he's not been a consistent threat and the service to him has been poor to non-existent. He isn't one for running in behind and we've become a bit one dimensional as a result. Sturridge changes the dynamic completely.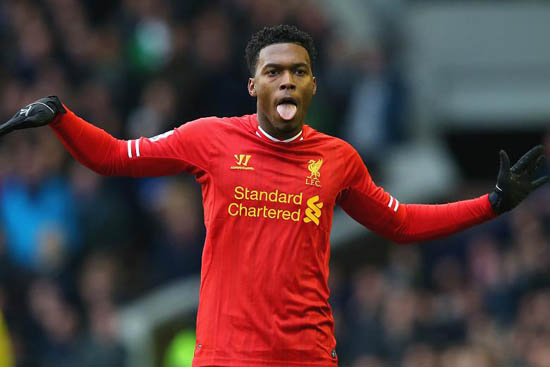 If he plays (and is anywhere near full fitness) I'm very confident we'll win. If he doesn't, I don't see this game being anything other than a struggle based on how we've played in his absence. Going by most reports it seems like the best we can hope for is that he makes the bench and will be able to give us half an hour if needed. I'd be absolutely astonished if he wasn't needed.
We may yet be able to remain prolific without Suarez (time will tell) but there's no way we will be if Sturridge is also missing. We've played four games without him and performances have ranged anywhere between moderately ok and absolutely woeful. We need Sturridge back, as we're bang average without him.
---
The Real Steven Gerrard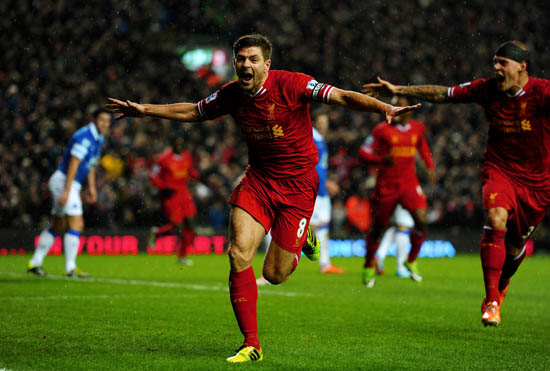 He's been a slow starter for a few years now but his impact so far this season has been minimal to say the least. There are several possible reasons for that. Maybe it's a hangover from last season? It could be that he's suffering after his summer exploits at the World Cup, but more likely it's a combination of him just not being at his sharpest yet and opposition managers setting up to completely nullify him.
He can't play the role he did last season when he's being man marked, but not everyone will adopt that approach and it would be most unexpected if Roberto Martinez did. The Everton boss is cut from the same cloth as Brendan Rodgers and a move like that doesn't seem to be his style. We'll see though I suppose.
If it does happen though, Rodgers need to come up with a way to combat such tactics and ensure that his skipper can still influence the game. Perhaps that means using him further forward, just to give opponents something to think about? Italy had an interesting solution to Pirlo being man marked. He just went and stood further up the pitch and let Di Rossi take over the playmaking duties. Something to think about perhaps?
If there's one game likely to get Gerrard firing again though it's an Anfield derby. These are the games he thrives on, he's almost superhuman at times in this fixture.
---
No goals conceded from set-pieces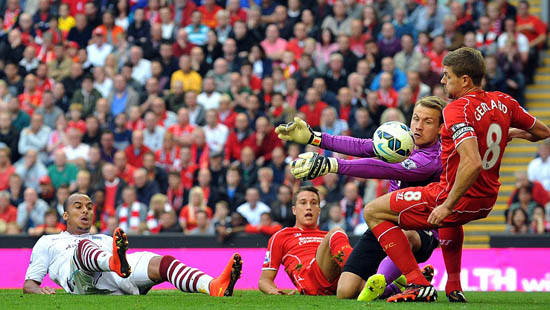 We let in cheap goals from set-pieces against Villa, West Ham and Middlesbrough and it needs to stop because it's absolutely killing us. I sometimes wonder if we ever work on this stuff in training, but this season especially it's going to be difficult because the amount of midweek games we have make it almost impossible to have proper structured training sessions with the entire team involved.
It's a big problem and it's being compounded by the fact we're almost as inept with our own set-pieces at the other end. Last year we were better than anyone at scoring from set-pieces, but I've noticed that this season there seems to be little movement, especially on our corners. We just have four or five players stood in the middle of the box, not really doing much.
Set pieces are such a massive part of football these days and can be worth an extra 15-20 points a season easily if you're proficient in this area. At the moment, we're far from proficient. We scored from a corner against the Blues last year when Gerrard headed one in. A repeat tomorrow would be most welcome.
---
Alberto Moreno v Seamus Coleman

This could be a great contest between two of the best attacking full backs in the league. Coleman is a terrific player, one of the bargains of the last decade in fact. The Blues picked him up for less than we pay Glen Johnson in wages in one week. Think about that for a second. Actually, don't, it's depressing.
Coleman scores goals, he makes goals, he's a steady enough defender and he'll run all day. Moreno is new to the Premier League and this will of course be his first derby. He's made an encouraging start to life in England and has been one of the few bright spots in an otherwise miserable start to the season for us. Whoever comes out on top in this individual battle may go a long way to deciding the result.
---
Everton wives, running for their lives
I want to see Evertonians frothing at the mouth on Saturday afternoon, because that will mean they've got nothing from the game. They'll be celebrating a draw like they've won a trophy, and I don't even want to imagine the scenes if they actually won.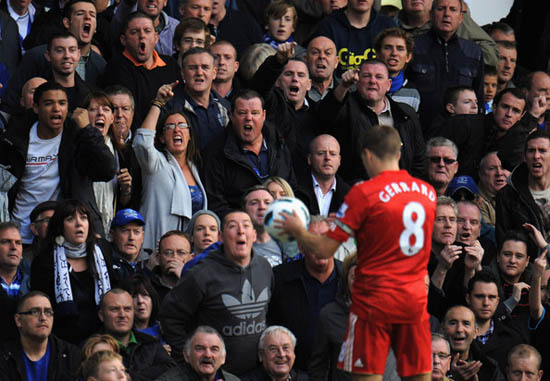 Neither team can really afford to lose this one, but it would be far more damaging to us than them so let's make sure we win this. A repeat of last year would be lovely, but that seems extremely unlikely (to say the least) based on what we've seen from the Reds so far. That's ok though, it doesn't have to be pretty, we just have to find a way to get it done.
Dave Usher
@theliverpoolway