There may be no fans inside the stadium but Liverpool will still look to produce an iconic match day experience.

The Mirror reports that You'll Never Walk Alone will still be played as the players walk out onto the pitch and there is likely to be a number of banners and flags displayed on the Kop.

The club have engaged with a number of fan groups to discuss how they can make Anfield look as authentic as possible despite the lack of fans due to Covid-19 restrictions.

They will use the Premier League's specially designed stadium wraps to cover empty seats in lower tiers, but are also looking at giving the images a more local, personal flavour by using some of the tributes fans are permitted to bring into the stadium.

While the Premier League has given permission for the clubs to play certain chants and songs at specific moments such as after goals are scored, Liverpool will not go down that route.

Everything going to plan, the first home game since March against Crystal Palace next Wednesday evening could be a significant one with the title secured with a victory.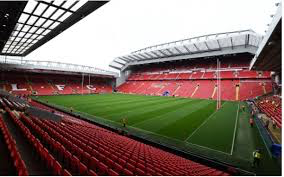 Clubs and Broadcasters know that they have to be extremely innovative at this highly unique period of time.

Premier League clubs have been told they can erect 'fan walls' which will see huge screens broadcast images of fans watching from home, and celebrating when goals go in…which will give celebrating players a focus on the terraces.

As we have seen with the leagues that have resumed like the Bundesliga and La Liga, filtered noise has been noticeable.

UK broadcasters will follow and to try and create a 'home advantage' where possible.

But there is one thing which may have to be toned down as Jordan Henderson explains:

"For the players it will be different playing in a big game in a stadium where there's no crowd because you can hear everybody talking.
"Again, we've got to adapt to that situation and try to keep the swearing down to a minimum.

"I'm more worried about my language when I'm playing! I don't want to be having to apologise to everybody after every single game so I need to be careful, especially in the heat of the game.

"I'm sure the manager will have to be careful with his language as well! But he'll also know we can't blame the crowd for not being able to hear what he's saying at certain times of the game."