Xherdan Shaqiri is not satisfied over his current playing status, but has no issue with manager Jurgen Klopp and believes he still has a big part to play as a senior member of the squad.

In the main, Shaqiri has had a frustrating 2019, battling with niggling injuries and fierce competition for meaningful minutes.

The Swiss international who is currently sidelined with a calf injury, has played a grand total of 29 minutes during this campaign, with 11 of those coming in the Community Shield against Man City.

As someone who takes pride in his performance, Shaqiri is naturally frustrated.

The Mirror (via Swiss publication Schweizer Illustrierte) reported Shaqiri as saying:

"Of course I'm dissatisfied that I do not play more often.

"If that is not the reaction of a pro, he's in the wrong job.
"He (Klopp) cannot personally discuss the role of each player, that's normal.

"We have a big, talented squad, and many have to wait for their chance.

 "I have never had a problem with the coach He knows that I am ready.

"Not for a second have I regretted the move to Liverpool .

The popular utility player talked about some of his personal highlights since making the move from Stoke.

And how he believes his experience over many seasons can assist younger members of the squad.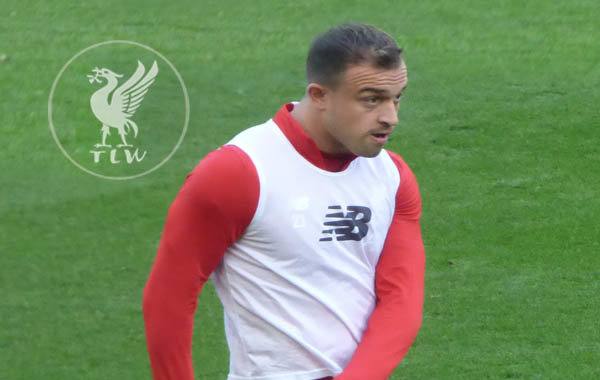 "Many wrote me off in Stoke, but who can claim to have switched directly from a relegated side to a Champions League winner?

"I was in the starting XI in the return leg of the Champions League semi-final against Barcelona , which will go down in club history.

"And because of my two goals to defeat everlasting rival Manchester United , they still often call me a legend.

"Apart from the fact that I would like to play more, I'm happy in Liverpool.
"I have a certain status in the team because I am one of the more experienced players. I think I'm one of the leaders."