Peter Crouch has paid full credit to the heading ability of Andy Robertson after the left-back scored a beauty against Burnley in the 1-1 draw against Burnley yesterday.

Robertson who had used his head to fine effect against Aston Villa in November was on the beneficiary of a fine ball from Fabinho where he didn't have to break stride and his angled effort gave Nick Pope no chance in the Clarets goal.

Crouch who knows a thing or two about executing a textbook header was glowing in his praise of the Scottish captain.

"In all honesty, I can't explain it!

"What a full-back is doing heading a ball like that, I'll never know. What a header that is.

"He's set it outside the far-post. It's textbook, because if he doesn't quite get it right, it's a tap-in for Mane at the far-post.

"But he did get it right. It was one of the best headers I've ever seen - unbelievable."

The man himself was just happy to get his effort on target as he told the Official site.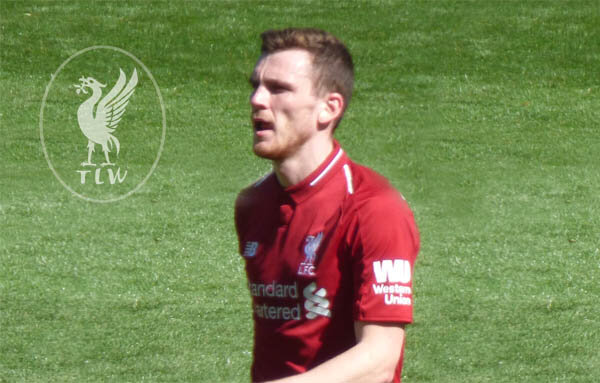 "In my whole professional career I'd not scored a header and this season seems to be me and headers.

"It was a good ball by Fab and I just thought if I can guide it over the far post then I had a chance and luckily it proved that way and it went in. 

"I always prefer to score goals when it's towards three points, but we'll take the point and we're already champions.

While the Reds missed the opportunity to continue in their quest to claim a 100% home record, the popular defender was happy in the fashion that they played while also giving a great deal of credit to their opponents on the day.

"I thought we were excellent [in] the way we moved it about. I thought the only thing that you could say for us is that we didn't take our chances and when you play against a team like Burnley, they grow in confidence as it stays 1-0. 

"They feel as if they can nick a draw – one set-piece or one ball into the box and they fancy themselves and unfortunately that happened. 

"We've definitely played worse this season and picked up all three points, so we can't argue too much about the performance apart from the finishing in front of goal.

"But Burnley, credit to them. 

"They are a fantastic team, I really enjoy seeing what they do. 

"The manager's great, the squad's great and that's why they're in the top 10 of this league. It's not easy for them and consistently, year on year, they stay in the league and now they're fighting for Europe. 

"Credit to them, they took their chance [and] could have probably nicked it at the end when they hit the bar and they're a good team.

Despite having the title all wrapped up, Robbo says that the desire to finish the season strongly is still well and truly there.

"Some people outside have said, 'Is the desire there?', but they obviously don't know these lads or the manager very well because when you put on this badge, when you put on this shirt, it carries a responsibility. 

"Yeah, against [Manchester] City we got beat but that can happen to any team and our application wasn't wrong. Our application hasn't been wrong in any game, we went into every game as if we've not been champions; we've prepared properly, we've played properly. 

"Today, we could easily be sitting here [at] three or four-nil, three or four-one, and we've won the game comfortably.

"We take the positives that maybe this performance came after we are champions rather than during the season, but we never like dropping points, especially at home, and now we need to rectify it."