All votes are in and the Liverpool Way 'Hall of Fame, Class of 2019' has been decided. It was very close, particularly for the final spot where a tie break vote was needed to separate Phil Thompson and Ian St John.
However, even the tie break failed to split them so in the end we had no choice but to include both and therefore this year, five players will be inducted.
Whereas last year four names clearly emerged from the pack, this time it was much closer. After missing out for the previous two years, Jamie Carragher finally gets his due and will be joined by Kevin Keegan (who had also missed out twice) and Phil Neal, who goes in at the second time of asking after narrowly missing out last year. 
 
Joining them are Thompson and St John, who were both first time nominees this year.
 
The breakdown of the voting was as follows:
 
 


As you can see below, Keegan was the clear winner with Tommy Smith one vote ahead of Neal in second spot. Carragher just held off Steve Nicol for fourth.



The TLW contributors vote broke down like this: 
 
Jeff Goulding (Scott, Neal, St John, Carragher), Paul Natton (Carragher, Fowler, Nicol, Thompson), Chris Smith (Thompson, St John, Smith, Carragher), John Gallagher (Neal, Scott, Carragher, Thompson), Julian Richards (Carragher, Keegan, St John, Thompson), Dan Thomas (Thompson, Carragher, Scott, Keegan), Stu Montagu (Neal, Keegan, Nicol, Thompson). 
 
Totals: Carragher 6, Thompson 6, Neal 3, Keegan 3, Scott 3, St John 3, Nicol 2, Fowler 1, Smith 1 
 
Note: Scott, St John, Neal and Keegan were tied on 3 votes so the tie breaker was the community vote above. Keegan and Neal received the most votes in the website poll so they get the nod.

 
Phil Neal - The most successful LFC player ever. That has to be enough to get him in. 
  
Kevin Keegan - LFC's first 'superstar' player. He was man of the match in the first European Cup final success in 1977, which ended an incredible journey that he and other young players had originally started with Shankly in the late 60s.
 
Terry McDermott - Possibly underrated because so much of the credit and glory went to those around him but he was the perfect all round midfielder and delivered big goals when it mattered. 
Jamie Carragher - The longer time goes by the more people realise how important he and Stevie were in keeping us relevant during a tough part in our history. It's only when you see how good our signings are now you appreciate the shit they had to put up with!
 
Jamie Carragher - A leader. You could hear his voice from anywhere, whether on the pitch or in the stands. A natural winner who gave everything he had for the red shirt and wouldn't accept anyone who didn't do likewise. They say the best players are the quickest thinkers and Carra read the game so well because he was such a quick thinker on the pitch. He's quick off it too, not many get the better of him!
 
Robbie Fowler - I would always watch and admire how clinical Robbie was in training. "Good finish" "Great goal" "Quality" "Class". It was constant because he would hit the net with unerring accuracy and regularity. It looked effortless but it's a talent you can't teach. I only had the chance to play up top with him once, in the glamorous surroundings of a pre-season friendly at Lincoln! I have no idea of the result or if either of us scored, but I do know that I get to say I played up front with a man who was one of our best ever strikers! 
 
Ian St John - Saint was from an era we don't see much footage of but he was one of the legendary figures everyone inside the club spoke highly of when I was there. He made a massive impact. I got to interview him once and I was nervous about it because he is such a big name in the world of football. He was amazing to talk with though. Honest, interesting and funny, talking about signing for Liverpool and playing for Shanks to working on 'Saint and Greavsie'. Talking with him made me realise just how much he achieved at Liverpool. He was also a big reason why my Dad ended up signing for Sheffield Wednesday. He must have rated my Dad so that's another reason for me to like him!
Phil Thompson - 'Thommo' was my coach at Liverpool during the Houllier era. He knew what it was all about to play for Liverpool. Coming through the Academy I had seen the pictures and the footage of 'Thommo' lifting trophies for the club and it made me want to listen more. I wanted to impress him and to get his approval on the training pitch. As a defender he is always mentioned as one of our greats and when I was around him those years at the club I got to see the incredible passion he has for Liverpool. I now work on the same Saturday afternoon football show as him on Sky, so I have to back my colleague and former coach!

Jamie Carragher - Second on the all time appearances list with 737. Only Ian Callaghan has pulled the shirt on more times. That in itself is justification for this selection but there are plenty of other reasons too. Doesn't really get the recognition he deserves in my opinion. How many players stay at one club their entire career? Very few. Legend.     
 
Phil Neal - His unrivalled list of honours made this an easy decision. He won everything and he never missed any games, playing through all sorts of injuries including broken bones. Also chipped in with vital goals. I picked him last year and he just missed out. He has to go in this year, surely?
Kevin Keegan - Probably doesn't get the love he deserves on account of him moving away when he was in his prime, and also because he was replaced by Kenny Dalglish. He was a great player and the club's first superstar, so he's an obvious choice for me this year.
Ian St John - This was the most difficult one as I almost went for Tommy Smith. It was a toss up between 'the Saint' and 'the Sinner' if you like. I went for the one with the least 'baggage' in the end. Mind you, I was pretty down on St John for a while due to his vendetta against Gerard Houllier, but that's long forgotten and I have to say the video LFC put out where James Milner was showing him around Melwood is one of the best things I've seen in ages. The Saint is an Anfield legend and older Reds who grew up in the 60s idolise him. That'll do for me.
  
Totals: Jamie Carragher 5, Kevin Keegan 4, Phil Neal 4, Phil Thompson and Ian St John 2 each. 
Thompson and St John also finished tied in the fan poll on 176 votes each so it went to a head to head elimination vote on the forum, and once again the vote was split right down the middle. Short of tossing a coin, there wasn't really any alternative but to include both. 
 
Others: Robbie Fowler 1, Tommy Smith 1, Terry McDermott 1.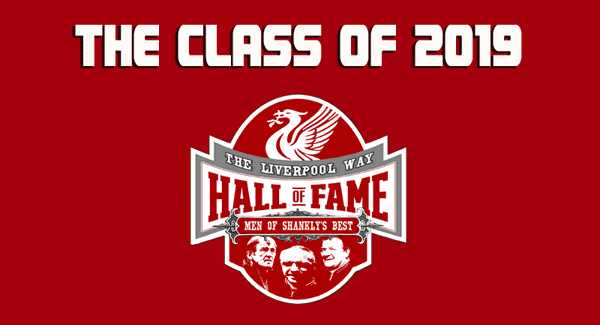 So there you have it, that's it for another year. See you next year when we'll have five new names (yet to be determined) joining the remaining five from this year to see who goes in as the Class of 2020.