---
Dutch striker Erik Meijer only managed two goals in the year he spent with the reds, and both came in an away game at Hull in the Worthington Cup.  The big man, affectionately known as 'Mad Erik' because of his eccentric character, struck twice in the second half of a game which the reds ran out comfortable winners.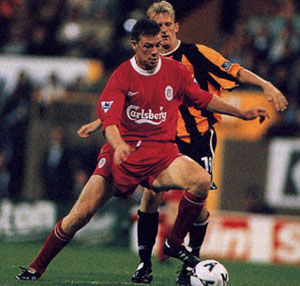 His first goal came on 48 minutes, when he recieved the ball from David Thompson and struck a low shot from the egde of the area which nestled in the bottom corner of home keeper Lee Bracey's net.  His second was a neat little chip over Bracey after he'd been played in by Vegard Heggem. Although he never found the net again, Meijer still made a contribution to the team that season, and his never say die attitude and total commitment made him a cult hero amongst the fans.
Meijer treated reserve games at St Helens with the same commitment he would a World Cup final, and his crazy antics in those games ensured there was never a dull moment at Knowsley Road.  On one occasion he closed down a full back, who played the ball back to his keeper. Erik then chased down the keeper, who switched the ball to the full back on the opposite side. Still Erik kept chasing, and eventually got across to block the full backs attempted clearance and knocked the ball out for a throw. Meijer leapt to his feet fist pumping to the crowd as though he'd just scored the winner in a Merseyside derby.
He was released on a free transfer to Hamburg, and reserve games haven't been the same since.  His cult status was cemented in Dortmund at the UEFA Cup final, when he turned up for the pre-match party in the Alter Markt and went on the ale with the fans, wearing a Liverpool shirt with his own name on the back, and joining in with all the songs (as pictured below).
Thanks to Graeme McConnell (the lad in the pic next to Erik), for kindly sending me this photo.   As the song went, "He's big, he's red, he's off his f*****g head - Erik Meijer"
 

Season:  1999/00
Opposition: Hull City
Result: 5-1
Scorer(s)

:

 Meijer (2), Murphy (2), Staunton

Venue

: 

Boothferry Park