For those who have been around Football long enough, they would have heard plenty of tales of the weird and wonderful variety. This latest story comfortably fits into the former category.
Gini Wijnaldum has been one of the most consistent members of Liverpool's starting lineup throughout the season and his absence from a knee injury was most certainly felt during the Reds 1-1 draw against West Ham on Monday night.

The Dutchman was scheduled to return for the crucial clash against Bournemouth on Saturday and while he produced his standard performance which included a sublime goal (just his second in the league this season), on the face of things, all what was not what it seemed.

Sky Sports reported Wijnaldum as saying:

"Thursday night I had a tablet from the doctor for my knee. It was a tablet that could induce stomach pains. I took it and I had a pain and thought it was from the tablet. In the end I was vomiting and everyone was a little bit scared.

"I didn't train on Friday and I didn't sleep at the hotel either because they thought I might infect other players.

"The manager called me and said 'Do you think you can play?' 

I said I was as positive as I can. 

"In the morning I was still weak and had diarrhoea. The tablets helped a lot but even at half-time I had to run off to get to the toilet. I was like 'Oh no!'. 

"I ran inside and I managed to control it!"

That was undoubtedly a relief for all concerned.

Wijnaldum knew the importance of Saturday's result especially on the back of dropped points against Leicester and West Ham.

While frustrated with those results, the affable 28 year-old took a glass half full approach to the season as a whole.

"We had two draws in a row and that didn't feel that good. But if we had been told that at the beginning (of the season) you will have this kind of points (65) everyone would have taken it.

"It could be better but we must appreciate where we stand, you can see the improvement. 

"You could see at the beginning of the season we improved. We just have to keep it going."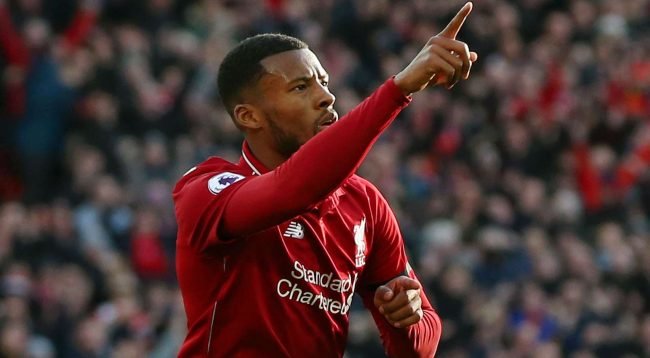 While there is a school of thought that Liverpool should drop their interest in progressing to the latter stages of the Champions League to focus fully on their quest to win the league, Wijnaldum believes they can battle on two fronts.

"We have to see how it is going to work. I think we can play both. You never know but a lot of times it goes well.

"Last season the Champions League went well and we dropped a lot of points in the league. But I don't think it was because of the Champions League."

For now, a bit of rest and recuperation is in order for the squad as they head to Spain for a training camp this week, before facing Bayern Munich in the first leg of their last 16 clash at Anfield next Tuesday.