Discussions are taking place for Liverpool to receive the Premier League trophy in an official presentation once they clinch the title.

The league season took one step closer to resuming on Monday when all 20 Premier League clubs gave unanimous approval for social distance training from today and will further discuss the idea of contact training next week.

Speaking to Sky Sports, the Premier League chief executive Richard Masters has confirmed he will support plans for a presentation should all the social distancing protocols be abided to.

"If it is at all possible, yes (we will hold one),"

."We would like to have a trophy presentation to give the players and staff the moment they have worked so hard for.

"We would try and do it unless it wasn't possible because of safety concerns.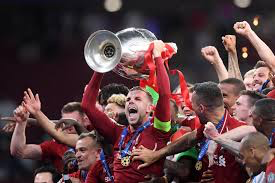 Masters said that the league remain focussed on finishing this campaign and a actual cut-off date has not been discussed at this stage. 

"We are focused on finishing the 2019-20 season, but we also have to plan for all eventualities."

"There will come a point when next season becomes difficult to schedule but we are not at that point yet.
 
The resumption of football has given lovers of the game something to watch as the world adapts to this new way of life.
Although it is not in its purest form with a number of strict protocols in place, Masters says the return of the Bundesliga is the perfect prototype for other leagues such as the EPL to follow.

"The Germans are a couple of steps ahead of us obviously and we can learn from them and watch them and take confidence from their success.

"I think starting the league, watching it being played out, seeing the quality of football and observing the package from behind closed doors, how it was broadcast was really helpful for the Premier League and our other European Leagues' colleagues.

"That is helpful and it does add confidence that it can be achievable in this country.

"We speak to our European counterparts regularly every week. We're really pleased to see the Bundesliga get back to a good playing start. 

"The football looks good.

"The other thing is we didn't have, in any of the games, any fan issues, congregations or gatherings to speak of.

However Masters did indicate things may look a little different in England on the restart to action

"I think we'll take a different approach, not saying better, but slightly different approach to the behind closed doors product and that's one of the things we were able to talk to clubs today, the direction of travel."