It may no longer be the 'friendly Derby', but for me it remains the biggest game in Liverpool's calendar. Some may argue that the games against United have assumed greater significance over the years, but not me. Losing to the Mancs hurts, but I don't bump into them at work and there are none in my family. Liverpool -Manchester is an inter-city rivalry, while Liverpool - Everton is a sibling rivalry and the stakes are much higher for it.
Blues who know their history will tell you that they were the dominant force in the early days of the fixture. However, in my lifetime it is the red half of the city who have held bragging rights over their neighbours. In the history of the fixture The Reds have now notched up 77 victories to Everton's 60, with 66 games ending in stalemate. There have been some momentous tussles down the years, but which of them would you include in your top five? Here are mine in reverse order.
5. Everton 0 Liverpool 5:
6th November, 1982, Goodison Park.
This game has now immortalised in song by The Kop. Rush scored four and Lawrenson got the other in what was one of the most comprehensive Derby drubbings in my lifetime. Everton will claim the first half sending off of Glen Keeley gifted us the game, but who cares. The Reds tore Everton to shreds in front of a home crowd of 52,000 - not that there would have been that many in the ground at full-time.
One of the great joys of winning the Derby as a kid was going into school on the following Monday and I can't remember ever being as eager to go in as I was after that game. This game will feature in any list of Derby day victories and is arguably our most celebrated.
4. Liverpool 3 Everton 1: FA Cup Final,
10th May, 1986, Wembley Stadium.
The Reds had already met Everton at Wembley in the League Cup Final back in '84. It had ended 0-0 and Liverpool needed a Souness barn-stormer at Main Road to seal the victory. I remember there being a sense of anti-climax and disappointment that we couldn't beat them at Wembley. Two years later and we were back for another festival of the Mersey.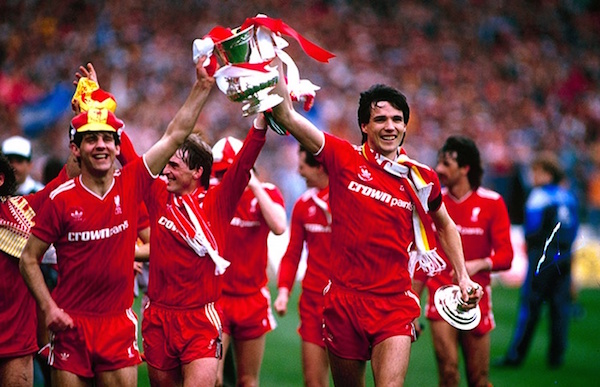 It was a game some will remember for an on the field spat between Jim Beglin and Bruce Grobelaar. Lineacre had put The Blues one up just before the half hour mark and Liverpool laboured badly in the first half. Somehow it seemed that we regained our focus after defender and keeper had their 'settler' in the penalty area. Rush levelled on 57 minutes and Craig Johnston put us ahead 6 minutes later. With game delicately poised Grobelaar pulled off a stunning save to deny Sharp an equalizer before Rushy put the game to bed in the 84th minute. The double was sealed and Dalglish showed he was as adept as a manager as he was a player.
3. Liverpool 3 Everton 1:
25th March, 2006, Anfield.
Liverpool fans were still basking in the Istanbul afterglow when Everton visited Anfield in the Spring of 2006. That game taught us nothing was impossible, but when Gerrard received a second yellow in the 18th minute it felt like we were going to struggle. It was the type of headless chicken start from the skipper we had seen in his youth and Benitez would later take him to task for it.
I was in the Anfield Road end for this game, having scored a last minute ticket. The Everton fans were celebrating like they had just won the league as Stevie trudged off the pitch. They would fall eerily silent on the stroke of half-time though. Phil Neville failed to deal with a Liverpool corner and headed into his own net meaning the ten men would go into the break on top.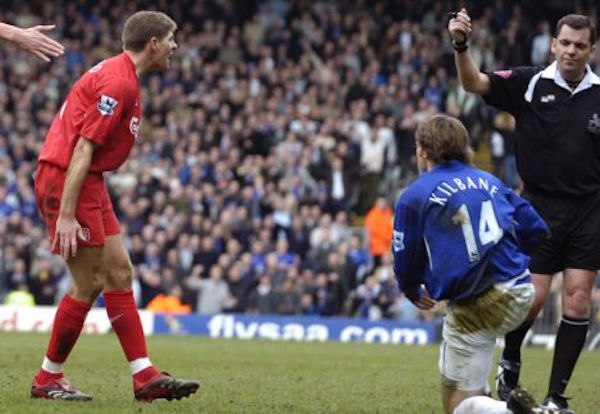 None of us thought it would stay that way and as the players emerged from the tunnel I fully expected a backs to the wall performance second-half. I needn't have worried. Just two minutes after the restart Garcia pulled off a delightful chip over the hapless Richard Wright, before pulling away to celebrate with his thumb stuck firmly in his mouth. The sight of our players jumping on him in front of a delirious Kop is an image that will stay with me forever.
Cahill would make us nervous until a Harry Kewell stunner sealed the points. "We've only got 10 men sang the whole ground and the Everton fans waited for the ground to swallow them whole.
2. Everton 2 Liverpool 3:
16th April 2001, Goodison Park.
This was a momentous season for Liverpool. After the drought that was the nineties, Gerrard Houllier delivered 3 major trophies in one year and capped it off with a place in the Champions League. As if that wasn't enough he also presided over an absolute classic Derby at the home of our old enemy.
https://www.youtube.com/watch?v=6-bc0wWMNT0
This was a roller coaster of a game, full of needle from the first whistle. Liverpool came out the blocks quickly and Emile Heskey had us one up after 5 minutes. The Blues wouldn't lie down though and Liverpool would have to sweat for the victory. Ferguson cemented his place as a Blue's legend with a leveller on 42 minutes (the equivalent of a trophy on County Road) ensuring a tense half-time.
Liverpool needed a win as the race for a Champions League places hotted up. A draw wasn't going to cut it. Relief would sweep through the away end on 58 minutes as Markus Babbel put the Red Men back in front. The game looked won as we were heading into the last ten minutes, when Igor Biscan saw red. Five minutes later the referee gifted Everton a penalty, which Unsworth slotted past Westerweld. It was a disaster and the sense of injustice was palpable.
Obviously this game will be synonymous with the name McAllister, but just as Everton were levelling Houllier made a substitution that would prove crucial to the outcome. Off went Robbie Fowler and on came a young Frenchman called Gregory Vignal. It would be his run late in the game that would draw the foul that ultimately led to that incredible free-kick. McAllister broke Everton hearts at the death and sent the away end and the Liverpool bench wild as he hit an absolute pearler. It was possibly the most satisfying three points ever secured at Goodison Park.
1. Liverpool 3 Everton 2: FA Cup Final,
20th May, 1989, Wembley Stadium.
This game will always be the greatest Derby of all time for me. It's great that we won it of course, but it meant more than that to Liverpool as a city. After a truly horrific year for everyone connected with Liverpool, it seemed only right and proper that the two Mersey giants were contesting the FA Cup final.
Merseyside boasted two of the best teams in the country for most of the 80's and the League title would reside mostly at Anfield and twice at Goodison Park. It was a decade that would also see us contest three cup finals and this would be the last.
Hear bursting and mind racing, John Aldridge flew out of the traps and put the Reds in front on just four minutes. Briefly Reds entertained thoughts that it could be an easy ride. Not so. Everton made it a tough game and as it wore on the emotion of the occasion and the inevitable fatigue of a long painful season got to both sides. Still The Blues managed to summon enough energy in the final seconds to hit a brilliant equalizer, stunning the travelling Liverpool fans. There was bedlam amongst the blues and extra-time beckoned.
Rush restored the lead on 94 minutes, but McCall once again scored a cracker to level. The drama was hard to bear - could it go to penalties? No. Rush would immediately respond with a deft header to grab Liverpool's third nd clinch the cup for Liverpool in the 103rd minute. Both teams had delivered a cup-final to be proud of and once more the city of Liverpool gave the world a lesson in passion, sportsmanship and brotherhood.
Jeff Goulding
@ShanklysBoys1