The results are in and it's Steven Gerrard who takes his place as the fourth founding member of the "TLW Hall of Hame" alongside Bill Shankly, Bob Paisley and Kenny Dalglish.
 
In the end the decision was very close between Gerrard and Joe Fagan. Gerrard received three of the five votes, but only just edged out Fagan in the public fan vote, which had it gone the other way would have resulted in a tie, and in the event of a tie, the fan vote counts double so Fagan would have got the nod.
 

 
The breakdown of the voting was as follows: 
  
Fan Poll Result: Steven Gerrard 
 
Gerrard just about held off Fagan by polling 33.5% of the vote to Smokin' Joe's 32.7%. Billy Liddell came in third on 21.4%, with the remaining 12.5% going with Mr Liverpool, Ronnie Moran.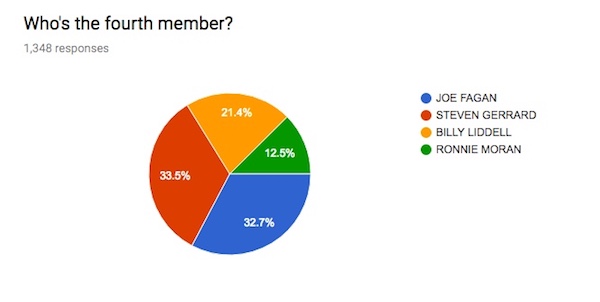 TLW Contributors selection: Steven Gerrard 
 
It was a majority decision, with Gerrard polling four of the six available votes. The breakdown was as follows: 
 
Paul Natton - Steven Gerrard. In an era when there was a lack of comparable talent around him in the team, he won a hatful of trophies, many times with his own contribution being decisive. Our greatest player (and a scouser to boot) belongs on the Red Rushmore. 
 
Chris Smith - Ronnie Moran. While there's no disputing the presence of the first three men on our list, after dedicating 49 or his 83 years to Liverpool, and handling more silverware than anybody else in our history, it can be argued that Moran is the club's greatest ever servant. I can think of no better tribute to Ronnie, in the year of his passing, than a richly deserved place on Liverpool FC's own Mount Rushmore. My only hesitation in casting the vote is that this humble, modest man would probably hate it. 
 
John Gallagher - Steven Gerrard. It was difficult overlooking Billy Liddell but I feel privileged to have witnessed Stevie's whole career, from his first sub appearance as a scrawny kid against Blackburn in 1998 to the absolute powerhouse and icon he eventually became. He dragged us over the line in the biggest games on so many occasions and although our trophy haul during his time at the club may look sparse compared to the great sides of the 70s and 80s, it would have been non-existent without Gerrard's big game greatness. 
 
Julian Richards - Billy Liddell. My reasoning isn't especially logical. All four are worthy of being there and in most cases there's video evidence of their deeds, but I felt picking Liddell was more about acknowledging a past that isn't easy to see. Clips of Liddell aren't exactly easy to come by but just because you can't see something that doesn't mean it doesn't exist. Liddell exists from a period of Liverpool's history that many of us have never seen, but his impact on the club and the team can be summed up by in one word - Liddellpool. A giant of Liverpool's history, Liddell deserves to be remembered as one of the pillars of Liverpool in the early 20th Century. 
 
Dan Thomas - Steven Gerrard. It's perhaps a generational vote, but Gerrard is the best player I've ever seen play for us. He embodied everything a Liverpool captain should be and he scored in the final of every major tournament he competed in. Strong cases can be made for all, but it's Gerrard for me. 
 
Stu Montagu - Steven Gerrard. As arguably the greatest player in the club's history, and also a representative of the short period of the club's recent history that included being a major force in Europe and claiming the famous fifth star, Gerrard gets the nod over the others for me. Other people have been involved in the winning of more medals but the mix of his unique ability, "local boy" credentials and the importance of Istanbul in club folklore means he's a perfect selection.
 
Neil Mellor, ex LFC striker: Steven Gerrard
 
I was fortunate enough to not only play in the same era as Gerrard, but also to play in the same team as him for a short while. He was a player who had the incredible ability to be able to play anywhere on the pitch. Countless times he inspired unforgettable moments, but the thing I loved most about him was his passion and desire to want to win games in a Liverpool shirt. He's a modern day icon, and deserves his place with the icons of the past.  
 
Chris Bascombe, Daily Telegraph: Joe Fagan 
 
With due respect to all those who served the club prior to the boot room era, LFC's elevation into a global superpower began in 1959 and continued through Shankly's immediate successors. Fagan deserves his image graved in stone alongside Shankly and Paisley. They are the modern Liverpool's founding fathers. 
 
Dave Usher, TLW Founder & Editor: Billy Liddell 
 
If I had a time machine and could go back and watch one former player in his prime, it would be Liddell. Older Reds talk about him with such awe and reverance, and as well as being a great player he's also regarded as one of the most humble, decent and unassuming men to ever wear the Red. He was loved, respected, admired, idolised and I only wish I could have seen him play. Gerrard is probably the best I have seen and I so nearly voted for him (for reasons mentioned above by others), but in the end it's Liddell by the slenderest of margins.
 
 
So there you have it, Gerrard takes the fourth spot and now that we have the four founding members, we are almost ready to move onto the next stage, selecting the next four inductees. We'll have more details on this soon, so watch this space.