We return to the Bundesliga to check on the progress of young central midfielder Marko Grujic who has spent the season on loan at Hertha Berlin.

The Serbian international has had an injury interrupted career and this season has been no different as he has suffered a serious ankle injury on two separate occasions

In between times his form has been very impressive, winning high praise from many observers including his manager no less.

Jack Woods who is a member of the UK branch of the Hertha Berlin supporters club supplied the answers to the questions. 
Marko was recently nominated for the Rookie of the month in the Bundesliga Can you explain the basis of that award (who nominates him/ how it is judged etc) and is it held in high esteem by the football community in Germany?

Rookie of the month as far as I'm aware, is a smaller title with a little trophy to match. It's sort of like being awarded 'young Premier League player of the month' in England. It isn't like winning a World Cup golden boot but it's a nice little award because it is a sign of recognition for their growth and progress made in the Bundesliga.
I would say that the Bundesliga social media staff award it. The votes are cast by Bundesliga fans that vote via the link the social media accounts and sadly it's almost like a popularity contest. That's why Dortmund and Bayern players nominated are more likely to win it. Marko Must be the only player to be nominated three times and not win!

Where do you think Marko ranks amongst the high level of young talent that are currently playing in the Bundesliga and do you think there is one key aspect of his play which separates him from his comtemporaries?
 
Personally, I'd say he certainly near the top of that list. He's not a teenager like some of these upcoming talents are but he is remarkably young. 
 
One issue for me in terms of Grujic is his concentration, it sometimes slips and it's been visible in the last few games with misplaced passes. It happens, in every game and every player, but what's interesting about Grujic is that he seems to not let it bother him.
He made one massive error against Hoffenheim (I think) earlier this season, it led to a goal, but after that goal he stepped up and played one of his best games. 
What separates Grujic? I'd say his strength. He's a decent attacking option and can score goals of which he has started the move off. We saw that against Schalke and against Düsseldorf. But also defensively, he's extremely strong physically, yet agile.
It's not an aggressive sort of strong, rather an ability to push past other players, without committing a foul. His holding ability is also a strength, however that ability in some ways clashes with Arne Maier who is also a holding, defensive midfielder. 
That may be part of the problem of them playing together in the middle, one needs to be the attacking option, one the defensive (option) and it's hard to decide who should play which role. At Liverpool Grujic also has this problem, where they're not quite sure what role he plays or where he fits in. 
It's not to say Marko is perfect. There are times we've seen him in a poor game, and ultimately Hertha have lost. It's not all down to him to but it does suggest when he's had a bad game, the entire team plays badly.  When he plays a good game, the team feeds off that and it usually means a good performance. 
 
Marko seems to have carried on from where he left off before sustaining his second ankle injury of the season. What has been his best performance of 2019 to date and why was it so special?
 
It's such a shame that he was injured twice We could have used him in the games we lost where he was absent. But remember he wasn't present for the victory over Bayern this season. He missed that game yet we won. That was the beginning of the season however where we did not know what impact he would have. 
I actually witnessed the injury in September that he sustained against Gladbach which we won 4-2. That injury could have been a lot worse than it was, it could easily have been a leg breaker and ended his season. I saw Marko the day after that incident at training. He was on crutches, and despite the brave face he admitted he was in pain...a lot of pain. 
It was worse than it looked for him. Despite that it seemed he recovered well. But that second injury was just frustrating and whilst he came back strong scoring against Frankfurt and giving some strong performances, the problem has been that the team has not as a whole, gelled in the Rückrunde. 
It's hard to pick out a particular performance but his Frankfurt goal was a good one for him. Same against Schalke, both home and away, not only because of the goals but his reaction to them. His Schalke game where we drew 2-2 was one of his best. He was extremely alert to everything. It was a lapse in defensive concentration that led to us not winning that game. 
The passion he has for the game shows in those moments and whilst Hertha aren't doing that well now, it seems he has adapted well to life in Berlin and actually enjoys being here.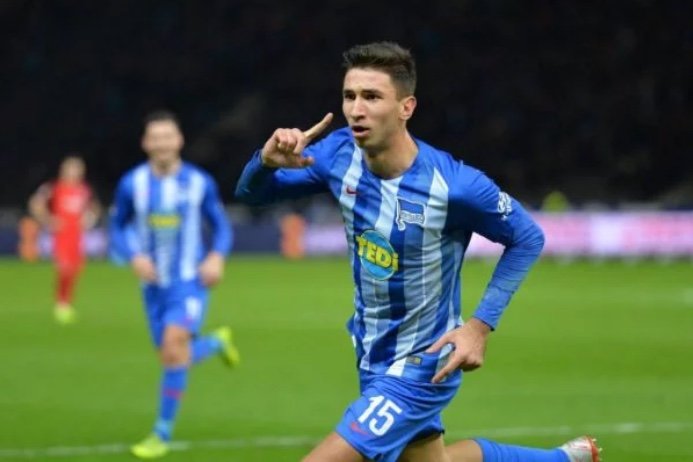 Hertha has averaged more than one extra point on average with Marko in the side this season (1.9-0.7). In your view, what are the key factors which makes him so important to the performance of the team?
Strength in that midfield. It's not to say the likes of (Per Ciljan) Skjelbred don't have that but Grujic has a massive commanding presence in that middle. He can create and defend, he's an all rounder but again he's not perfect and his capable of making errors.
The tables have turned a little now. Hertha have lost four in a row even with Grujic in the side, but that's not down to any downturn in his personal performance. It's a team game, Grujic is a team player, his understanding of the game is high up on the scale where sadly some of our other players just don't have that natural ability.  
Now that Marko has finally been able to put a run of games together, what would like to see from him between now and the end of the season?
 
I'd like to see Liverpool let him go and him sign a contract! An extension of the loan or just sign...  but it probably won't happen.
I'd like to see him get a handful more goals at least and maybe work on the few flaws he has. A position slightly higher up the pitch could provide the chance to create more. But then he runs the risk of becoming a number 10. Which is not a natural position for him in this set up. 
Seeing him progress as a player is nice, but what hurts slightly is that he's progressing as a Liverpool player, not as a Hertha one because the finished product sadly doesn't belong to us.   
Are you aware of any dialogue between the two teams in terms of extending the loan for another season or agreeing to a permanent deal.

There are only rumours circulating about his future. From the Liverpool end it seems they are ok to sell him, but the price may be too much for Hertha despite Marko's comments about staying here in Berlin. 
The rumour is €20m plus, and another loan season in Berlin. This however would've been easier to achieve, had Hertha made the European spots. Without that, most fans are resigned to the belief that Marko is heading back to Merseyside. €20m is not an impossible asking price. But Hertha would have to compile a hell of a lot of savings to afford that. 
It all depends on Liverpool now. It seems (Hertha general manager) Michael Preetz has spoken to Liverpool about the future of Grujic here. There were rumours that Preetz has inquired about an extension of the loan at the players request. It was also rumoured that Liverpool had declined that request despite Grujic claiming he'd like to remain here at least another season. 
 
In addition, has Marko said anything publicly about his future?
 
 Publicly? Nah, players know better than to make suggestions. But in interviews he has made statements about wanting to remain in Berlin as his future at Liverpool was either in doubt or he needed another season to keep developing as he's not a part of Klopp's current plans. 
So far it seems he isn't guaranteed football in Liverpool where as he is guaranteed football here. But the question is if he wants to remain in Berlin if they are not in any European competition? 

It would nice to see the Serb for at least another season, especially if a new coach was brought in. A new co trainer is incoming anyway with Raine leaving for Stuttgart at the end of the season. It would be interesting to see what they could do with Grujic's development. 
 
But sadly the entire equation does not include Hertha and the future of Marko lay in the hands of Liverpool. Marko himself has admitted that despite wanting to stay if he had the option, he has zero control over his own future. That's the problem with loans.
Perhaps Liverpool will be kind and listen to their own player, it would benefit us if they did.