We start by reflecting on a very ugly win away to Leicester and how our Brazilian goalkeeper handed the opposition a gift and at the same time lost me my promo for betting at the King Power Stadium.
I've heard a number of theories put forward to explain his apparent moment of madness. Some say Alisson struggles with the pace of the Premier League, others that he can't handle the ball played to him under pressure, while others conclude that he's just too cocky, maybe even arrogant.
Jamie is clear that it's the latter. So, I ask, given that he was never shy about dishing out the odd lecture to his own teammates when he felt they needed it, what would he have said to Alisson in the wake of his blunder. The former number 23 is crystal clear, the time for a bollocking was prior to the Leicester game.
"Well to be honest, he tried it last week at Brighton and he had to make a lunging tackle. So, that's why I think there's no point telling him after Leicester. I always think there's no point having a go at someone after they've made a mistake. Have a go at them before the mistake happens, when they're looking like they've got a mistake in them. Once he's done it, he knows what he's done. You see Klopp on the side saying 'Kick it!' He knows that. I hope Klopp is telling him when he does that at Brighton, before the mistake happens."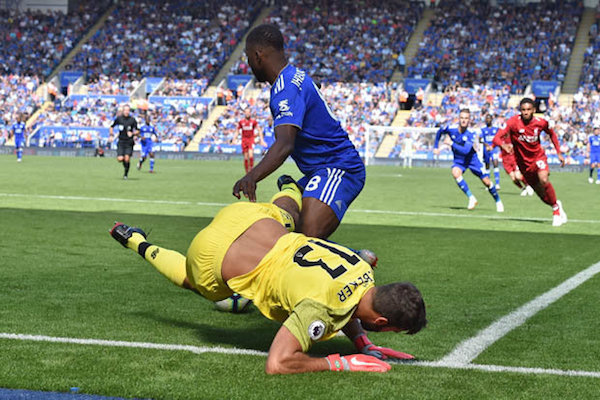 Of course, Alisson is known as a ball playing goalkeeper. Surely Klopp, all of us for that matter, knew what we were getting into?
"Actually, someone showed me something on twitter. He does it all the time for Roma, the Cruyff turn all the time, and I saw that. But listen, he's brilliant on the ball, and I'm not advocating, you know if you're saying he's got to kick it all the time. But, even if you're a great player on the ball and you're getting put under pressure right by your goal, you don't do a Cruyff turn and you don't do that. So, it's not just with goalkeeping, it's even if you're a good player. You know with Van Dijk. If Van Dijk was in his box and he should clear it, and he does a Cruyff turn, even if it come off, I'd say I don't care. You don't do that.
"I always say it's the risk to the reward. There's no point taking the risk. Now if he's not under pressure he gets it, he switches play, fine, brilliant. You don't need to take on a man. That's not just for a goalkeeper that's for anyone."
Clearly, having a keeper who is good with the ball at his feet, has great distribution and start attacks from the back, is a huge asset. It's obviously something the manager values. Carragher understands the modern 'keeper has to have more strings to his bow than simply kicking the ball long.
"People say, you know, goalkeepers, they're only in goal because they can't play football. Them days are gone. It looks like Ederson and Alisson have been outfield players who have become goalkeepers. Great with the ball at their feet, and it's great to see and that's what we want, but I watched him [Alisson] against Napoli. In Dublin, against Napoli. It was the first time I'd ever seen him play and I watched the full game.
I thought wow! He's good on the ball, but even watching him in that game I thought he takes half a second too long on the ball. Even when he's going to knock out a pass, you think, can't you just do that half a second earlier, instead of trying to entice the fella on a little bit. It's not worth the risk?"
I wonder if, maybe, he has been able to get away with that in the Italian league. In the Premier League, there just isn't time. Is it an adjustment thing?
"To be honest in the clips I was looking at, he was getting pressed and he was turning away and stuff like that. So, I don't think it's that. It's not just the Premier League. But, I think what people will have seen is that in the first game, where he tried a couple of things, people are going to go after him. I'd say it myself. I'd say it about defenders. I'd say go after him. Even if he does try it and we don't get it and he looks good, so what? He's 80 yards away from our goal. And if we win it once, we're through, or we're in on goal."
So, opposition teams are going to look at that aspect to his game, and look to put him under pressure. Still, Carragher doesn't have any major concerns about the character of quality of our new goalkeeper, and feels he'll cope.
"I think the brilliant thing about is number one, his reaction after it, in the game. Didn't look flustered. But, also his comments after the game, I thought were really good. He said, 'I'm not going to be arrogant enough to say I'm going to do it [again],' You get some cocky people who go, 'well that's just the way I play, deal with it.' Besides that, he played really well at Leicester."
We turn our attentions to the game at the weekend and Tottenham under Mauricio Pochettino. Spurs away is always a tough fixture these days. We got battered there last season, but the mood now is different to the one that preceded that particular thumping. How does Jamie rate our chances now?
"I wouldn't say it's a great chance. I think it's a good chance. It's a difficult place. I really like Tottenham, I have for a few years, especially Pochettino."
Does the fact they didn't bring anyone in over the summer, give us an edge over them?
"The thing about them not buying anyone is they know each other. Tottenham's first 11 is as good as anything I think in this country. I think Tottenham last year was a massive turning point for Liverpool. It really was. I think defensively we've got a lot stronger. Everyone talks about Van Dijk coming in and he did make a huge difference. He's fantastic. But there was a big difference after that Tottenham game. That's were that run that got us into the Champions League, getting in the top four, come from."
That defeat certainly was a turning point for the Reds. I wonder how a team manages to turn things around after such a heavy defeat. It must take a tremendous amount of character. What's the role of the manager, the players in picking themselves up and having the belief to go again?
"I mean, speaking to some of the players, I think there was a big meeting after that game. You know where the team were going, conceding goals, what was happening. Obviously we know what happened with Lovren that day. That was a really bad day that, but there was definitely a switch after that. So it will be great to see, because it was probably around about this time, or maybe eight or nine games into the season. It wasn't too far away. So, Liverpool's last twelve months have been exceptional and it will be good to see if we can actually go there and get something."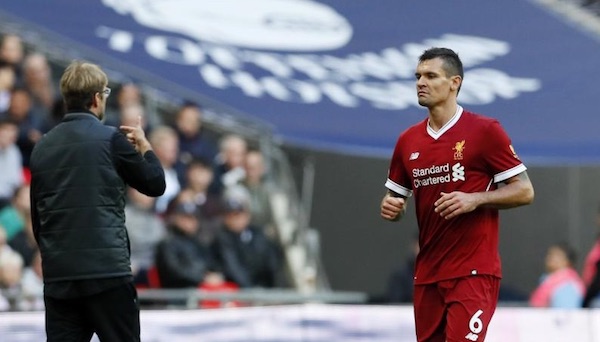 How important will wins against our nearest rivals be this season? Carragher thinks they'll be crucial.
"That's the thing. Liverpool have got to change this season. They've got to do well against the top six, if they're going to win the league and certainly win at home. Liverpool's away record against the top teams certainly hasn't been great. Certainly, last season. So, that has to change. I'm not even thinking about going for a draw. I'm talking about winning the game. They've just lost to Watford. We can win the game, you know take them on. I'm convinced of that. Don't forget last year we didn't have Van Dijk, we didn't have Alisson in the team. We didn't have Keita and they haven't changed. You know, so I think it's a game where you've really got to go there and really have a go.
"We're top of the league and we really haven't played well yet. We haven't really played anyone, even though Crystal Palace and Leicester away are tough games. I know that. I want us to really go there and put in a performance where everyone just looks at us and goes, 'they look the part, they mean business.' Even if you draw. We really need to go for the throat."
So, do Spurs have any weaknesses Liverpool could exploit? Their defence seemed to struggle at Watford.
"From set pieces, yeah. We've got Van Dijk, but we're not one of the biggest teams. But, I think that's a problem with all the top teams. You have small technical players. You're never going to be a great threat at set pieces, at either end of the pitch in some ways."
For Jamie, there is a concern about how the international break may have impacted on the momentum built up by those four wins. Could Klopp and the club have been a bit more selfish when it comes to releasing their stars for international duty? Carragher is clear, Klopp needs to be a bit more selfish.
"That is an issue for us, the International thing. I noticed City pulled a couple of players out. Mourinho kept Sanchez back, he didn't go away with Chile. And I just think they're little things we've got to be clever with. Is there someone who shouldn't have gone away. Just say they're injured. You know we're going for the Premier League. We're going for the Champions League.
"That's the one thing with Klopp sometimes. I think he's a little bit too honest. I remember he said about the dark arts last season. He said he's never wanted to win a football match playing like that. I just think with these international breaks, can't we keep a few players back now and again? I think it's going to be really small details that decide the league this season".
It seems clear that Liverpool go into the challenge of the weekend better equipped than they have been for many years. They possess great quality, confidence and strength in depth. However, few will disagree with Carragher's assessment, that if the Reds are to emerge from the challenges of the coming weeks with their title aspirations still intact, small details and marginal gains will be crucial. 
Jeff Goulding