Thiago Alcantara has bemoaned the changing face of Football saying that it lost the essence of the game we grew up with.
The Spaniard came to Liverpool with one of the most glittering resumes in the modern era, having won 11 league titles in his career (7 with   Bayern Munich/ 4 with Barcelona) to go along with two Champions League triumphs (1 with each club) and a host of domestic honours.
And when you acknowledge the individual awards that the 30 year-old has earned including being selected in the UEFA and  FIFPro teams of the year in 2020, you realise that he is one of the most qualified to speak on how he sees the game.
It is never easy to adapt to a new league, let alone in the era of COVID, picking up a serious injury early on, and then having to strike up a connection with your fellow midfielders on your return.
Naturally Thiago was off the pace for a period of time, so much so that some questioned the worth of Jurgen Klopp signing the 30-year-old, as they thought he was not a good fit for the Reds.
But as all quality players do, Alcantara found a way to adapt and by the end of the season the cultured midfielder was showing his worth to the doubters.
Speaking to the Guardian (per the Mirror), Thiago said he yearns for the old days when Football was a whole lot purer.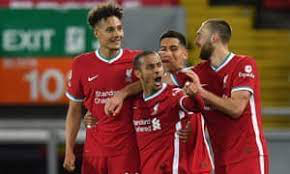 "I have that 'hate modern football' mentality; I'm more classic in attitude. 
"The figure of the No.10 has almost disappeared. We see less magic, less fantasy. Footballers do more but think there's a bit of everything and everyone in every coach. 
"There's no need to dribble because you run. Players are more developed in every sense. You lose that player who's different, who 'breathes'; the playmaker who was slower even if he had sublime technique doesn't get the opportunity to turn."
One of the greatest bugbears for the great majority of Football lovers is the implementation of VAR which has taken the human aspect out of the game.
Once again Thiago was very very forthright in his opinion and will certainly gain a lot of respect for his honesty.
"There's also VAR.
"I've always been against it and wish it didn't exist. It takes the essence of the game away from you. It takes away the cunning, the mischief, that is part of football - as long as you don't hurt anyone, of course.
"We make mistakes when we play. Referees must do so too, as they are human. Without trickery, many famous moments in the history of football would not have happened.
"Above all, when we score, even if from midfield, we have to wait, it can be overturned."
·        
·        
·