Jurgen Klopp has little doubt that his team are up for a title fight but he is very careful not to look too far ahead as the Reds look forward to play Arsenal at the Emirates Stadium this evening.
At the turn of the year, Man City looked for all intents and purposes to have the title in the bag and seemingly full of confidence. Liverpool did have a couple of games in hand of their fierce rivals, but also knew that they were to lose key players in Sadio Mane and Mo Salah to the African Cup of Nations.
However the Reds did not bemoan the sense of unfortunate timing and instead began chipping away at the deficit and the tide began to turn.
So much so that as we begin to enter the home stretch, if the Reds claim all three points in North London, they will only be one point adrift with a meeting at the Etihad still to come.
Ahead of this fixture Klopp reflected on how the title landscape looks at this moment as Sky Sports reported.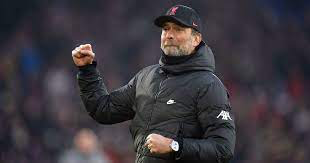 "It is nice that we are having these discussions (about being in title contention) because it means that we are close enough to kind of have a chance. It is better than being 20 points behind. But all we can do is try with all that we have to win the next football match.
"The most important one and the most difficult one is now.
"Away at Arsenal. It is a tricky one because they are in a very good moment. They are at home. I don't think there is any team in the world that would go to Arsenal and count the points already, adding them on before you have played the game. We will not."
Klopp says learning from the experience of previous campaigns where they had to deal with all sorts of adversity has served his team very well when it comes to the challenge of this season.
"We had to fight through this (fixture pileup). It was super intense. We had five games in 13 days. We had to win all of them." It needed a penalty shootout in the Carabao Cup and a first-leg lead over Inter, but they did it.
"We are on our toes, definitely.
"But we are used to that from the last few years. Last season we had to get results in I don't know how many games in a row just to make the Champions League. The year before that we won the Premier League so that was different for many reasons.
"The year before that was a massive race right until the last day."
Klopp has carefully built his squads through phases, when he first arrived it was all about building belief that had completely evaporated, then it was finding consistency in the league and finally becoming contenders on different fronts.
The current squad at the German's disposal has kind of quality across the board that top managers always hope for, but being able to put it together is another thing together.
Klopp has specifically scouted the players he wants with the latest example being Luis Diaz who already looks a natural fit for the Reds.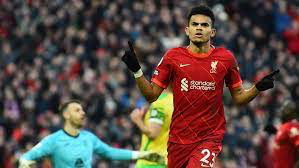 "Funnily enough, apart from Luis, it is the same squad that we had when we started the season. We had this strong squad, they were just unavailable. 
"Now they are available. That makes it the squad that we always wanted to have."
The flip side of having all that talent at your disposal is being able to fit them into the lineup.
It is a pleasant headache to have, but Klopp certainly has sympathy for those on the inside looking in such Taki Minamino and Divock Origi.
Naturally players grow old over time while others move on for more opportunities and Klopp is already planning for that moment, but if possible he wants to keep the key players in tact as long as possible.
"It is unlikely with the size of the squad that we now stay exactly like this together. For sure, some of the players do not play often enough for their own understanding and we will see what will come in the summer and find solutions for those situations.
"But the core of the group has to stay together.
"There is no doubt about that."
It is also why the additions of Diaz and Ibrahima Konate in the summer just gone are pivotal as they are not just for the present but the future as well.
"We did quite well because we have brought in an incredibly talented, very young centre-half, which massively made sense. Diogo is at the best age. Luis is at the best age." Both are 25.
"Yeah, some of the other guys, they are not old but in three or four years you might call them that. But for me, the best time for them is yet to come.
"But we have to prepare the club for the time after these boys as well because there must be a time after us and this time should ideally be more successful than we are now."
Back to the job at hand being the title race and fighting for honours, you just know Klopp lives for moments such as these.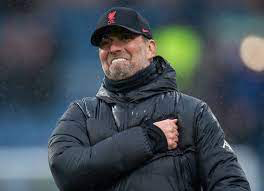 "lf you reach March in an interesting part of the table, in the quarter-finals, in all the competitions, then it looks like it could be a really good season.
"Being there, being ready for the fight of your life is a challenge.
"But the boys are greedy in a good way and hopefully they can get something from it.
"The finishing line is never straight and you never go over it at full speed, you limp over it.
"But as long as you make it, it is all good."