Jurgen Klopp has spoken in glowing terms about his predecessor ahead of Liverpool's clash with Leicester this afternoon at Anfield.

Brendan Rodgers and Klopp struck up an unique bond in the aftermath of the Northern Irishman's sacking in October 2015 with Klopp moving into the former Merseyside home of Rodgers.

The Leicester manager continues to be the landlord of the property.

Speaking ahead of their clash, Klopp recalled the discussion that they had.

" We spoke a little bit about the team, but it was mainly about the house.

"There were ladies walking around the house as we spoke in the living room about the price and his expectations…all the things you talk about when renting a house.

There are things you have to do. 

"He was not at all frustrated [about the sacking]. He took it like a man. It was not a week after he left. 

"It was about six to eight weeks later and he was fine. I had nothing to ask because I knew the team. It was completely normal."

Klopp acknowledged Rodgers' managerial credentials and was not surprised to see him have the success north of the border and the impact that he has had at the Foxes since his appointment in February.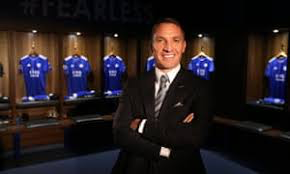 "For the public, when a manager gets the sack, they think he lost his football brain or something. That is not how it happened.

"Whatever it was I do not know, but it was not his quality as a coach. 

"As easy as that. But of course, expectations and relationships, whatever, between who and who, if that does not work anymore the club has to make a decision.

"I know that about me. If one day the club has to make a decision that would not say anything about me at that moment.

"Brendan reached the level he reached - Chelsea assistant, Swansea manager, Liverpool manager - very young, then going to Celtic and being very successful. 

Going to Leicester just proves what I thought. I am not a bit surprised.

Klopp believes that managers are coming into the game at a younger age, but that should not be a detriment to their development.

" To be 100 per cent honest, I do not think it has too much to do with your age.

" A lot of boys mid-30 are ready for big things.

"At Liverpool? I don't know. I have never felt, 'wow, that is too much and for a younger boy it would be impossible.

"Age is not an issue. I think he was ready. It is early. Is it too early? 

"I don't think so. I would have been ready to [manage Liverpool] at 39, to be honest.

"I was still at Mainz at 39. I had more time to settle in to expectations. 

"It helped that we grew at Dortmund step by step, playing Champions League, learning. 

"That is a challenge for every coach no matter how old you are because the job changed completely."