There was a time in the not too distant past when Divock Origi was a key figure in Jurgen Klopp's starting line-up.

The German took a real shine to the young Belgian striker who is blessed with a great deal of power and pace - two things which defenders hate coming up against.

Origi also had a very good work ethic, a key if you want to play a consistent role in a team managed by Klopp. 

He looked to be a star on the rise, winning plaudits on the domestic and European stage, and winning admiration among the fanbase. In online casinos terms, Klopp gambled on number 27 and came up trumps on the roulette wheel.

The evening of the 20th of April 2016 would prove to be a pivotal date in the career of the 23 year-old.

Origi was in the middle of a hot streak, having just scored his fifth goal in as many games for the club in the Merseyside Derby.

However early into the second half, a crude challenge by Everton defender Ramiro Funes-Mori struck Origi down, leading to a serious ankle injury.

It led to a crisis of confidence which Klopp identified after the 1-0 win against the same opposition on Sunday:

"I said it to him, when I went to him on the pitch I had it in my mind. I've never forgot it since" said the German.

"Fouls and harsh tackles happen, but in his case it was so obvious that it [the injury in 2016] was a break in his development. 

"At that time he was outstanding, after that, it took a long time before he felt absolutely nothing.

"In the Europa League final he was somehow ready but not completely pain free. Then there was a tournament [Euro 2016] when he couldn't really show up there.

"It all changed a little bit, you lose confidence and you don't play from here anymore. 

When Divock played at that time he was an unbelievable threat, he had speed, he was strong, remember the Dortmund game [in the Europa League] and stuff like that.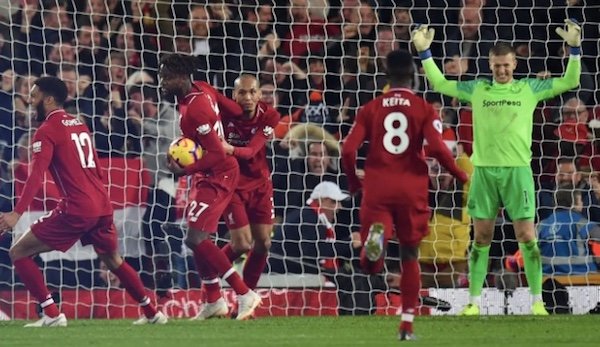 Klopp felt that when he brought on the striker to replace Roberto Firmino in the 84th minute that it was the closing of one chapter and the beginning of a new one.
The symbolism of the moment was not lost the manager.

" Coming on tonight, he can finish that book and from now on everything will be fine again."

Origi has ridden the personal ups and down of being a professional footballer in his fledgling career.

After being linked to Wolves both in the summer and in more recent times, the winning goal on Sunday could be the start of a re-birth for Origi at the Reds.

A little bit of confidence and good fortune certainly goes a long way in this game.