All votes are in and the Liverpool Way Hall of Fame, Class of 2017 has been decided. In the end it wasn't even close, with the four inductees being clear selections with little competition.  
 
Whereas the vote for the final spot in the 'founding four' had not been unanimous and was the cause of much debate, there should be far fewer dissenting voices this time . The breakdown of the voting was as follows: 

 
1087 of your votes were cast in the poll posted on the website, and Rush was a clear number one with Barnes out on his own in second. Rush received 688 votes with Barnes tallying 552. Liddell and Callaghan were neck and neck for the next two spots but Liddell edged it by just two votes. Graeme Souness was the nearest challenger 31 votes back.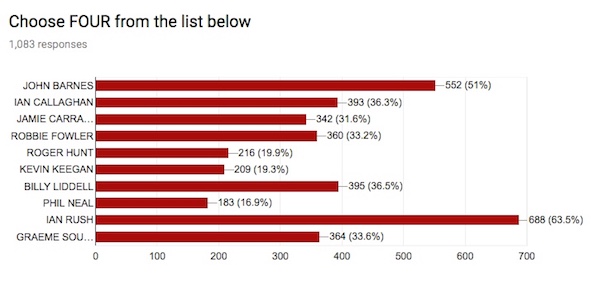 The TLW writers vote broke down like this:  Jeff Goulding (Liddell, Callaghan, Neal, Rush), Paul Natton (Barnes, Carragher, Souness, Fowler), Chris Smith (Barnes, Rush, Hunt, Callaghan), John Gallagher (Rush, Callaghan, Liddell, Carragher), Julian Richards (Barnes, Rush, Liddell, Hunt),  Dan Thomas (Barnes, Rush, Hunt, Keegan), Stu Montagu (Barnes, Callaghan, Liddell, Rush)  
 
Totals: Rush 6, Barnes 5, Liddell 4, Callaghan 4  
 
Hunt 3, Carragher 2, Neal 1, Souness 1, Fowler 1, Keegan 1  

 
Ian Callaghan - Callaghan's appearance record seems to defy space and time. He made his debut in 1960, flourishing in midfield through the Shankly and Paisley era before leaving in the year Liverpool won their second European Cup in 1978. 
 
Graeme Souness - Souness' reputation suffered because of what happened during his managerial reign at Anfield, but he defined the late 70s and early 80s dominance of Anfield as much as 'King Kenny'. 
 
Ian Rush - The greatest of all Liverpool's goalscorers, the barometer from which all who came before and since are measured. He scored at will, but there was so much more to him. He'd have been a world class midfielder and defender, too. 
 
John Barnes - Barnes is a cultural as much as footballing icon in Liverpool's history. They should make him a lifetime ambassador for what he did at Anfield. His sublime wing player was the focal point of the club's last title winning team.  
 

 
Ian Rush - The hardest thing to do in football is score a goal and 'Rushy' was clinical, ruthless and stuck the ball in the net more than any other Liverpool player in history. He knew how to put a shift in also!  
 
John Barnes - He made things happen, created excitement for fans, inspired belief in team-mates and had a football brain to match any player on the pitch. Off the field he is an engaging and interesting personality who you always feel happy to be around.  
 
Jamie Carragher - A leader. You could hear his voice from anywhere, whether on the pitch or in the stands. 'Carra' was a natural winner who gave everything he had for the red shirt and wouldn't accept anyone who didn't do likewise. They say the best players are the quickest thinkers, and Carragher read the game so well because he was such a quick thinker on the pitch. He's quick off it too, not many get the better of him!  
 
Ian Callaghan - We may never see his appearance record beaten. So many games in an era when playing conditions and medical knowledge were pretty basic compared today. Incredible.  
 

 
In an effort to simplify things, rather than decide who deserves to go in (they all do) I went with who I could not justify leaving out, and these four had to be in.  
 
Billy Liddell - An icon and a gentleman who, but for missing seven years of his career due to WW2, would have set records that nobody would have touched. 
 
Ian Rush - Scored more goals than anyone else. 
 
Ian Callaghan - Made more appearances than anyone else. That's even more of an achievement when you consider it was the two greatest managers in our history who picked him for all of those games. 
 
John Barnes - An incredible footballer and cultural icon.   
Totals: Ian Rush 5 votes (unanimous), John Barnes 5 votes (unanimous), Ian Callaghan 5 votes (unanimous), Billy Liddell 3 votes. 
Others: Jamie Carragher 1 vote, Graeme Souness 1 vote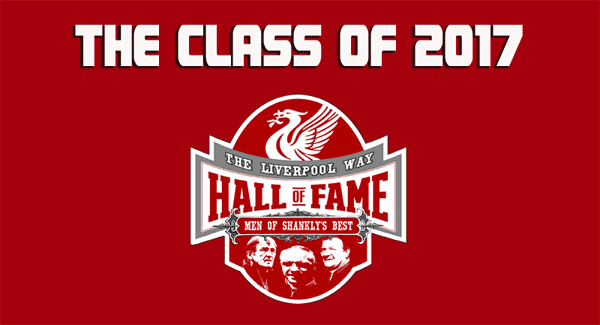 So there you have it, very clear in the end with Rush, Barnes and Callaghan being unanimous choices and Liddell picking up three of the five votes available. Next year promises to be much tougher, with four new names (to be determined) joining the remaining six from this year. 
 
Let's do it all again next year!