After sealing their passage to the Carabao Cup final, Liverpool look to get their mind back on league action on Sunday when they travel to South London to take on Crystal Palace. Despite residing in the upper reaches of the second half of the table over the years, Palace love nothing more than when the big boys come to Selhurst Park. They may not always claim the three points, but they make sure you are in for one hell of a battle.
Terence Ford from @RedNBlueArmy1 took us through their current nine year journey in the Premier League, talked about the early impact of Patrick Vieira and the exciting group of fledgling Eagles graduating onto the big stage.
 
This is the ninth consecutive year that Palace are in the Premier League. A pretty outstanding effort for a club of your resources especially when you think of all teams that have fallen by the wayside during that period. Can you take us through that stretch of time and highlight a few memorable moments and perhaps a few unsung heroes?

So let's get the obvious answers out of the way first. Crystanbul. Suarez crying. Dwight Gayle always scoring against Liverpool. Winning three in a row at Anfield. When Sakho celebrated the win with Benteke at Anfield when he was still a Liverpool player. Mile Jedinak's free-kick at Selhurst. For a good chunk of the early part of those 9 years, we had your number. Sadly, that has since fallen by the wayside and after the feast, it is back to famine whenever we play you.

You're not the only ones though. We have recently gone 3 unbeaten in a row at Old Trafford and the Etihad seeing us losing only one game in seven in Manchester. Patrick van Aanholt becoming the first player to score an injury-time winner at Old Trafford in the Premier League era and Andros Townsend's wonder-volley at City the main standouts from those matches.

Securing 40 points at Everton in a 3-2 win in the middle of a five-game winning streak at the backend of the first season back in the Premier League was an incredible feeling. Finally, Jordan Ayew scoring the only goal against our rivals Brighton in the final away game before COVID will live long in the memory of every Palace fan. 

As for unsung heroes, Joel Ward, who was signed as a Championship right-back, has managed to stay in the starting eleven for most of those nine years. He even walked off the pitch in our recent FA Cup win in the South London derby against Millwall singing "fuck off Millwall South London is ours". The guy is a legend.

James McArthur has been brilliant since he joined in 2015 and seems to reinvent himself every year. Unfortunately, this game is a bit too soon for him after a long layoff. Marouane Chamakh, believe it or not, is highly thought of by Palace fans. Seeing him play every week made the stick he received when playing for Arsenal seem ludicrous. The guy was very gifted technically and gave his all for the cause. 
Perhaps the biggest of the lot is Jason Puncheon. He singlehandedly kept us up in two of those seasons and scored in the Cup Final to boot. For a sprinkle of Liverpool flavouring, Martin Kelly has been with us for a long time now. Whilst never really nailing down a regular place, he has rarely let us down when called upon and famously scored the only goal at Spurs on our run to the FA Cup final in 2016.

There has been a bit of a sea change at your club, from one of the masters of old school methods in Roy Hodgson to someone with a progressive mindset in Patrick Vieira. How did the fans view the appointment of one of the most iconic midfielders in Premier League history and what has impressed you in his tenure so far?

'One of the masters of old school methods' feels like the biggest backhanded compliment I've ever heard! Roy did a fantastic job for Palace but most were happy when it all came to a natural conclusion at the end of last season.

We were all delighted to get in a young manager with fresh ideas and with a want to play on the front foot. The fact that it is such an icon of the Premier League who is largely loved (unless you're Spurs or Manchester United) was an added bonus.  

In your view how good a player can Conor Gallagher become and do you think there is any hope of keeping him on loan from Chelsea beyond this season?

When playing as an advanced midfielder in a three, the kid is something special. His understanding of how and when to press is second to none and it results in so many chances and goals for us.

Comparisons are going to be made to Frank Lampard and that is high praise indeed. It is still very early in his career and he still has much to learn, but it's hard not seeing him climbing to the top of the game. All that being said, he needs oooooh let's say three more seasons at Palace to cut his teeth before he makes that climb.

Jokes aside, he leaves us at the end of the season and gets into the Chelsea team in all likeliness. 

Speaking of keeping players, are you quietly confident of holding onto Wilfried Zaha for the rest of his career?
Unfortunately for Wilf, the horse has bolted. I do no doubt that he is good enough to step into a top-six team and thrive, but ill-advised contract extensions for three seasons in a row and his importance to our survival made it impossible for us to sell unless the fee was astronomical. At no point could he engineer a situation where he was at the end of a contract meaning we had to consider lower offers. 

He only has 18 months left on his current contract but I fully expect him to sign a new one in the summer and in doing so he will have a chance of ending his career with the second-most appearances of any Palace player (currently 4th).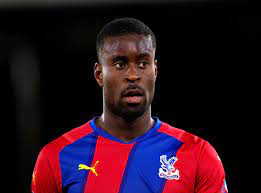 From the outside Palace seem to have a squad with a good blend of youth and experience. A couple of young defenders in Marc Guehi (pictured above) and Tyrick Mitchell have certainly caught the eye. While Michael Olise and Eberechi Eze have shown flashes of their raw talent. Do you think that quartet is one that Vieira can look to build a team around?
In the short term, yes, but long term I don't think that is the strategy. In the last five years we hoarded players, contracts run down, and transfers fees in were few and far between. Now, the idea is to sign young talent, put them in the public eye, and sell them on for big profits. It's all about keeping the Club as self-sustainable as possible.

Unless, of course, we somehow 'do a Leicester' or break into the top four for a season, then maybe the strategy would be adjusted slightly. Naturally, that is very unlikely. Currently, Eze is still getting up to speed after an achilles injury and is a long way from his best. Olise is an incredible talent and there are flashes of Robben about his game. You'll be worried whenever he picks up the ball on Sunday. 

A trip to Selhurst Park to play Palace is certainly a fixture where Liverpool expect to work very hard for the three points. Have you noticed any differences in the way Vieira sets up the side when coming up against the elite sides of the division compared to the rest?
Ironically, the 7-0 at Selhurst last season was actually a lot harder than it sounds! We missed three sitters in the first half and your boys found the top corner every time they shot at goal. 
Seriously, I don't think we have made it hard enough for you in recent visits to Selhurst but we hope things can be different this weekend. Expect us to press you high and try to force mistakes in your passing out from the back. It worked a treat for us in the 2-0 win at the Etihad this season as the gall of it seemed to shock City into a nightmare of a performance. We hope for a repeat of that this weekend. 

Both sides will be missing key playing due to AFCON. Despite this, who from Liverpool will Palace need to keep under wraps to get a favourable result?
Mane has 13 goals and 3 assists against Palace in 15 games. We don't have to fear anyone now. 
That being said, Jota is a goal machine and Trent Alexander-Arnold is on fire so we naturally will have to worry about those two. Que goals from Fabinho and Matip.

Do you have a score prediction?
A very optimistic 2-2. 

We are not struggling to score as we have in the last two seasons, but we are leaky at the back and have moments where defending set pieces appear to be considered optional. Hopefully, it won't be one of those days for us.