One of the ways that a person can be reminded of the speed with which time passes is when a favourite footballer retires, and boy was Luis Garcia a favourite.  Bought in the summer of 2004, he was an oasis of skill and attacking wonder after the desert of the last years of Gerard Houllier's reign. 
He was only at the club for just over three years but in that time he provided moments that will outlive most of us. He was never more prolific in front of goal than he was for Liverpool (Barcelona B excluded) and regularly showed a flair for the dramatic. I've often opined that in football, context is king and no one seemed to thrive more on that than Luis Garcia. 
So here, for your enjoyment, are five of the best from the little man with the penchant for scoring big goals.
---
5 Norwich City (A) 3rd January 2005: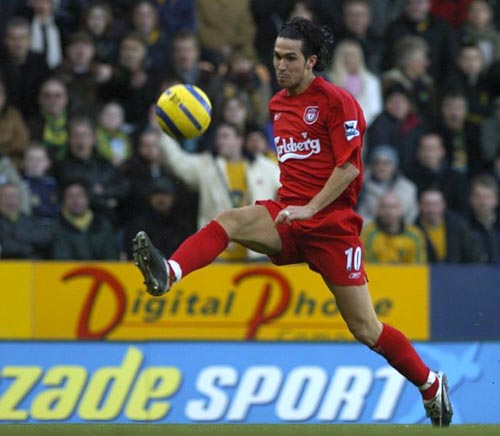 This probably isn't a memorable goal for many people as it was scored against lowly opposition in an early kick off in cold January. It's a quality goal though; a deft lob over the keeper and it provided a glimpse of just how creative Garcia could be in front of goal. 
As you'll see as we move on, thie echo of this type of goal would show up in the biggest of moments for Luis. From distance? Check. The keeper left bewildered? Check. This goal would have bigger brothers but as a demonstration of Garcia's improvisation and skill, it's up there.
---
4 Everton (H) 25th March 2006: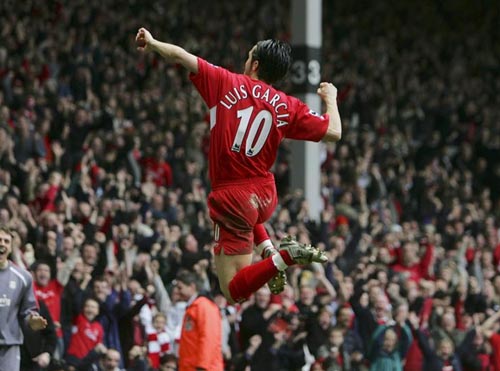 Derby fixtures are always explosive but none more than during the Benitez era, where red cards and bruising battles were always on the menu. Gerrard got things off to an early start in this one when he was sent off after 18 minutes for two yellow cards. Luckily we were playing a David Moyes Everton team so the task of playing with ten men for the majority of the game was no real issue. 
Phil Neville graciously gave us the lead but it was Garcia was solidified it with a cool chipped finish over the onrushing Richard Wright. Want to cement your legacy at Liverpool? Score in a winning encounter in a derby match *glares at Joe Allen*.
---
3 Chelsea (Old Trafford) 22nd April 2006: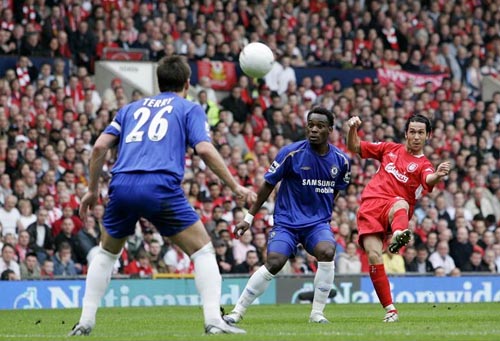 We seemed to play Chelsea every month during this season and we hadn't managed to come out on top in any of the encounters. The Champions League games were marked only by how cagey and dull they were, whilst Chelsea had their way with us in the league matches. 
When it came to the F.A. Cup however, the Reds managed to show that they still had a little bit of magic when needed, and of course it was provided by Luis. I think we all know there's another goal against Chelsea in this list but for all Chelsea's attempts at rewriting the narrative on that one, this one was as emphatic as it gets. 
I like to think that this was Garcia's 'eff you' to Chelsea and that he also said to at least one of their players 'you think that one crossed the line?'; it did, and with gusto. 
---
2 Juventus (H) 5th April 2005: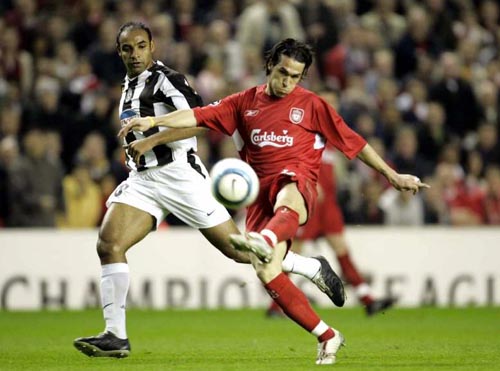 This was the biggest night at Anfield in decades. Back in the latter stages of the European Cup and facing off against one of the powerhouses of European football. The Juventus team that night contained luminaries such as Buffon, Cannavaro, Thuram, Nedved and Del Piero. In fairness to them, they were gracious enough to also include Zlatan Ibrahimovic, so we can't knock them for that. 
To add to the tension, we had Scott Carson in goal in what also became the biggest night of his football career, plus Tony Le T and Igor Biscan lining up in the starting eleven. The atmosphere was crackling before kick off, like only those warm spring evenings can be at football matches, and the game was ignited when Hyypia scored after ten minutes. Just when we thought we were all dreaming, little Luis scored this goal and we all knew we were wide awake, and we began to dream as big as we dared.   
---
1 Chelsea (H) 3rd May 2005: 
Could it be anything else? Not just the biggest goal in Garcia's career but possibly one of the biggest goals in club history. If the atmosphere was crackling against Juventus then here it was almost indescribable. Those who were there will remember it forever, those who weren't will forever rue the fact that they could not attend. 
The fact that this goal still rankles with Mourinho after all these years adds the cherry to the top of the Garcia sundae. Springing on the loose ball after Baros had been clattered by Cech, Luis turned the ball over the line after four minutes and the stage was set for one of the tensest encounters ever committed to a football pitch. 
Chelsea would wail about the perceived injustice of it but they always seem to forget that a penalty and red card would have been the other outcome had the ball not crossed the line. If you'd offered them a goal conceded after four minutes or a goal and a red card, they'd have taken the former without hesitation. 
They couldn't break us down for the remainder of the game and were sent out knowing what a real football team and its fans were like. Moments like this are etched in folklore and Luis Garcia will always be lauded alongside it. 
Julian Richards