Liverpool is currently blessed to have a high quality of central defenders in their ranks at this point of time with the latest addition Ibrahima Konate making a major impression.
The injury turmoil that the central defence went through during the 2020/21 season meant that a reinforcement in this position was imperative.
The Frenchman was the sort of signing that the club during the tenure of Jurgen Klopp have made an art form of.
Despite being slightly unheralded and under the radar, there was something that certainly made the 22 year-old stand out to the key decision makers.
As is the way with Klopp he never throws any new signing to the wolves, and that planning has served many players well during the reign of the German.
Konate is another example of this and as Liverpool fans do so well, they make their appreciation for the players well known.
The defender was unaware that the chant of  'Ibooouuu'  has swept around Anfield in recent times.
Speaking to the Official site, he was generally touched.
"To hear that and to learn that from you, I am a bit embarrassed to be honest! I hadn't noticed it but thinking about it, it is a dream comes true. To have Anfield chanting your name, it's really a dream come true. 
"You will have to show me the footage and I will listen out for it! I don't want to shed tears on the pitch about it, but it is a big thing."
With an imposing build, Konate has proved to be a real asset not just in a defensive sense, but at set prices. He has scored three goals in his last four appearances and says it something he has been working on at training.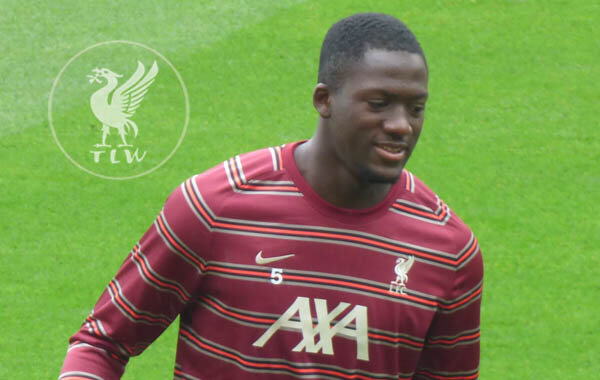 "I've been doing some work on corners, usually in the final training session on the day before a match. Let's be honest about it, it's not my key job! But I have been quite successful at getting on the end of some of these crosses coming in from the corners – and why not!"
Despite the intensity of the campaign at this stage of the season, Konate who is yet to lose in his Liverpool career to date (23 appearances), said this is the reason why playing for a club like Liverpool is such a exciting challenge. 
"It's not only the intensity of the play towards the end of the season, it's the whole thing about Liverpool that captured my attention when the opportunity came to move here: the fans, the great coach, the team itself. 
"Obviously as a player you come to a club to win things and that was the standout feature of a move to Liverpool, of course. 
"But over the course of your career you are going to have big moments, some of them very positive and some perhaps negative, but big ones and I would hope that I will be able to stay here for a long time and hopefully with lots of continuing success."