The quest for greatness remains as deep as ever according to Liverpool goalkeeper Adrian.

While the Reds are just two wins from claiming their first league title in 30 years, there is no risk of the team taking their foot off the pedal once that honour is secured,

ESPN reported the Spaniard as saying:

"We have a little step left but we are not going back down just to win those two games and put on our flip-flops. 

"We want to return to win the nine games [remaining] if it's possible, exceed the 100 points and that, in the end, this team make history for everything we have done on the pitch.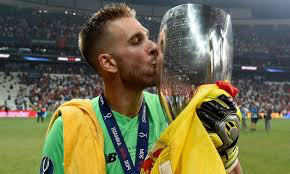 Adrian said Jürgen Klopp addressed the players and while it will be remembered by many for what has happened on a global scale over the past few months, they want to switch the attention back to the action on the pitch.

"A few days ago we had a meeting with [Liverpool manager Jurgen Klopp] and the entire squad and we talked about all that, that this season is going to be historic for many things; obviously due to the virus, because the season had to be stopped and then we had to resume it ... but we want to make it historic for us, for Liverpool and for what we are achieving

"No one can forget that we are 25 points ahead of the second, which is Manchester City, who are a great team and have a great squad.

"What the team is doing since the beginning of the season has been magnificent.

"At the personal level to earn a [Premier League trophy] isn't something done every day. It is my seventh year in the league and it is a personal objective and dream."

Professional athletes all over the globe have had to adapt to the 'sound of silence' due to new COVID-19 protocols given by Health authorities.

Adrian says it is all about adapting to the 'new normal.'

"I have never played in empty stadiums and I believe most of my teammates haven't either...It will be strange to play [the Merseyside derby] without chants, the roar from the seats, and back-and-forth of the supporters from the rival side. 

"It will be different."