Jurgen Klopp has lauded the impressive form of Jordan Henderson and Naby Keita as Liverpool recorded a 2-0 win against Porto in the first leg of the Champions League quarter final at Anfield on Tuesday night.

Henderson has shown his all-round qualities in recent games after imploring his manager to allow him to venture into the attacking third on a consistent basis.

This has become a reality due to the fine form of Fabinho in the holding role that Henderson had been occupying for the last few seasons.

Speaking after the first leg victory, Klopp jokingly apologised to his captain for not allowing his playmaking qualities to flourish on a more frequent basis.

ESPN reported Klopp as saying:

"Hendo is a brilliant player. He obviously likes the position. We've not used him there for 3.5 years -- sorry about that!" 

"I'm glad he can show it now."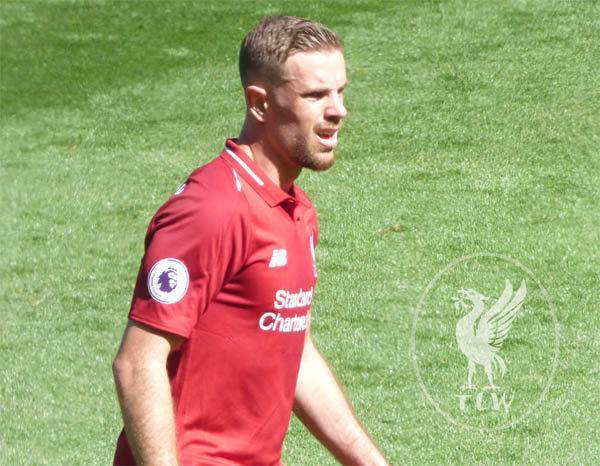 Henderson played a key role in the second goal, playing a defence splitting pass to Trent Alexander-Arnold who then crossed it to Roberto Firmino to tap home.

The captain also spoke after the game saying while it was a satisfying result, much like a nice win at jokaroom casino, it could have been even more clear cut.

" I think we've got to be pleased with the 2-0. There were some good moments in the game [but] obviously we can do better.
"2-0, clean sheet - that's important.

"Obviously we wanted to come out in the second half and score one or two more if we could, but that wasn't the case.

"We didn't really create that much and it was a bit stop-start. We could have been a lot better in the second half.

"But overall we've got to be pleased [with] a 2-0 to take over there."

Another pleasing sign in recent games has been the form of Naby Keita.

The up and down performances of Keita this season have been well documented. Predicting how Keita was going to play was very much like spinning the wheel at top usa online casinos.

While we haven't seen the best of the Guinea international on a regular basis, his talent has been evident when everything has clicked.

The midfielder scored his second goal in as many games when his fifth minute strike deflected off Oliver Torres and past Spanish veteran Iker Casillas in the visitors goal.

The manager was thrilled by the continued good form of Keita along with the end result .

But the German knows the job is only half done.

"Naby was really, really good.
"He got better minute by minute last game and he continued that.

"We are happy, it is the first leg and it will be an intense second game. We scored two goals and controlled the ball most of the time.

"We lost a little bit of direction in the second half, but there's nothing to criticise, 2-0 is a very, very good result.

"We knew we had to play the second game and we cannot decide the tie tonight, so now we have to go there and fight again."