Saturday evening sees Liverpool look for their first league win in three games as they take on Sheffield United. The Blades were one of the feel good stories from the last campaign coming up from the Championship and finishing in a highly respectable ninth position.
This season has certainly not started in the fashion that Chris Wilder and his team would like with just one point from five games, but showed during the last campaign that they were not overawed when facing the top echelon of sides.
The team from @Blades_Mad were terrific in giving our readers insights last season and ahead of this fixture, speak honestly about what needs to be rectified that will help get their season on track.
Sheffield United were a fantastic addition to the Premier League last year, not only in the way you approached the game, but the honest language and general football philosophy that Chris Wilder displayed. Therefore how difficult do you think it will be for the club to come close to replicating that level the 20/21 season?

Going on the opening five games of the season, incredibly difficult. Having been so impressive last season, particularly pre-lockdown, it would always be hard to replicate any similar sort of feat. Admittedly, we have had a more sluggish start than initially had predicted, which is concerning (losing 4 and drawing 1, scoring just two goals in the process and one being a penalty), but who better than Chris Wilder to turn our fortunes around?
We do, however, have three of the toughest games the Premier League has to offer coming up. Liverpool, Manchester City and Chelsea. Anything more than zero points is a bonus, if we're being honest.

Having a strong Goalkeeper is essential for a promoted club. And Dean Henderson was certainly in the top echelon of Premier League keepers last campaign. Now that he has gone back to his parent club, how has Aaron Ramsdale filled his big shoes so far?

A great question, and a much talked about topic amongst the Sheffield United fanbase. First things first, Aaron Ramsdale is Aaron Ramsdale. He isn't Dean Henderson. Aaron has said this himself having been asked about it plenty of times by the press.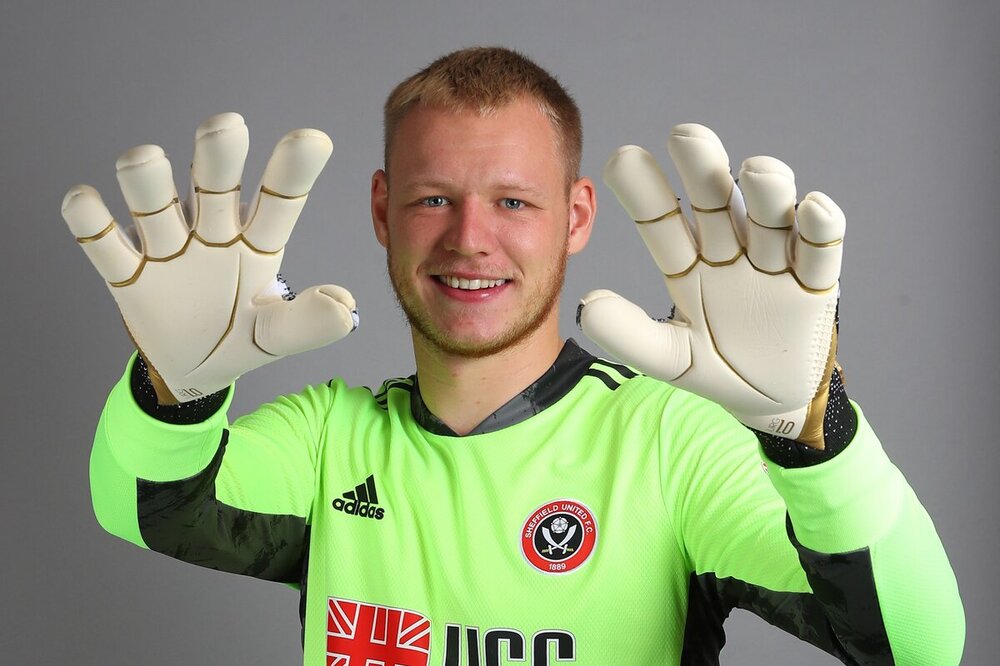 Dean was an unbelievable keeper for us who continued to develop and evolve into a top class keeper under the tutelage of Chris Wilder. Ramsdale is a product of our youth academy, and whilst buying him back from Bournemouth for a reported fee of £18.5m a few years after we sold him for £1m might not seem like great business on the face of it, the fee we received when in League One allowed us to build and secure funds for the fees and wages of what would be pivotal signings in the likes of Jack O'Connell and John Fleck.
Rammers, at the moment, might not be as polished as Dean Henderson, but time is on his side and hopefully he will turn out to be a brilliant shot stopper for us. The England U21 international is a long-term buy and will hopefully progress with us.
 
Two other players to ask you about. Sander Berge (who was linked with the Reds in late 2019) and someone we know very well in Rhian Brewster. Two exciting young prospects that your club have invested a lot of money in. What do you believe are the expectations on them in the season(s) ahead?

Two of our most exciting young prospects, you have to say. Sander is adapting to life in the Premier League more and more as the weeks pass. By his own admission he had a stuttering start to his Blades career when he signed last January. Far from disastrous, but he conceded that the pace of the Premier League was something he had to get used to and mould his game around.
Since lockdown, he's arguably been our best player. It can't have been easy for the Norwegian international to have been in a new country for just a few weeks without any family to support him as the country came to a standstill, but he worked tirelessly on his fitness during this time and it is now paying dividends.
Initially brought in to play a CDM role, he has flourished on the right of a midfield three, making marauding runs and leaving people in their wake with his physicality and close ball control. When Sander drives forward with the ball he can seem unstoppable at times. Despite our difficult start, Berge has been a shining light and is a fan favourite. 

As for Rhian, think it would be fair to say that you guys probably know more about his game than we do at the moment, but all Blades fans are excited to see him start in a red and white shirt and hopefully can be the man to bang us in some much needed goals. Not wanting to apply too much pressure to the young man, that wouldn't be fair because his fellow strikers need to take a fair share of the burden also (which they are not doing at the moment), but it is another long-term investment for the club and a big layout fee-wise for us, him becoming our club record signing.
We're incredibly pleased the lad chose us having had a few options on the table, and his attitude in wanting to leave Liverpool in search of first team football is one that will fit in well with the fans and management team here at Bramall Lane. Liverpool have been shrewd in the sell on clause and buy back option they have included in the deal, but if it gets to the stage where the Reds want to buy him back he must have done unbelievably well for us!

Is there one reason that can pinpoint why points (and goals) have been hard to come by so far in this campaign?

It was an issue last season also, scoring just 39 goals in 38 games. Our incredible defensive record overshadowed this massively and was the main reason to our success and a top half finish. Our leading marksmen both finished on 6 goals, which isn't fantastic, and Chris Wilder knew this needed addressing in the summer.
He identified a number of targets including Ollie Watkins (who joined Aston Villa) and Brewster, and will be pleased he managed to get one over the line, even if it did take longer than had initially hoped. We're creating some decent openings, but just not taking them.
Our strikeforce isn't our strongest weapon and is still in need of further boosting, probably in January, if we are to remain in the Premier League. Other areas of the team also need to chip in more regularly, which just isn't happening at the moment. It wouldn't be truthful if we said we weren't concerned about our lack of goals.

Clubs from the Yorkshire region have played a significant role in British Football over the years but for a large part of this century have been absent from the top division. So how important/ significant is it to have yourselves and Leeds flying the White Rose flag in the Premier League flag while still maintaining your bitter rivalry?

Yorkshire in general has underachieved hugely since the turn of the millennium. It is a hotbed of English football, with some huge and historic clubs, and yes it is good to see two of us in England's top division once again.
I do have to say, I did quite enjoy being the only Yorkshire Premier League out fit last season, but having said that, Leeds will be a good addition to the league. Just a shame we lost to them the other week, but more regrettably of all, the fact that two "fanless" Yorkshire Premier League derbies seem like a distinct reality. That is saddening.

Sheffield United showed when they played against the Reds last season that they respect, but are not in awe of them. Do you expect Wilder to employ the same kind of tactics especially with two key pillars of the Liverpool defence missing?

Let's be right here, they were two contrasting games against Liverpool last season. The game at Bramall Lane was an incredibly tight affair that I genuinely believe could have gone either way. Despite the loss and the unfortunate circumstances in which it came about, all of Bramall Lane was proud of the lads that day as we ran the then-European champions so close. That was the day where it really felt like we were back in the big time. 

The game at Anfield at the turn of the new year was pretty different. Probably the most convincing two-nil you are ever likely to see. United barely had a touch of the ball and Liverpool dominated from start to finish. I remember leaving Anfield that night remarking that Liverpool are one of the best sides I've seen live, and I still maintain that.

Chris Wilder might take a different approach to this one on Saturday evening, given our indifferent start. We're not playing with the same confidence as we were for large parts of last season. Not saying it's damage limitation for us at Anfield but a point would be a great success for us given the circumstances.

It's clear Wilder and Klopp have respect for each other, both commenting on numerous occasions on the admiration they have for one and another, and that's great to see. My favourite two managers in the league, for sure!

 
With the amount of unique results across Europe at the start of this season due to the lack of fans, home ground advantage is not as big a factor as it has been. Therefore are you confident of getting a good result or is the general performance the main thing you are looking to see?

The Premier League has been crazy so far this season. That's an understatement! But if you take a look at our results, they've been pretty mundane in comparison to plenty of the whacky results we've seen throughout the division. Home advantage has definitely gone out of the window, particularly if you take ourselves as an example.
Bramall Lane is never an easy place for teams to come with the atmosphere, energy (that the players evidently feed off) and hostility generated, which is obviously non-existent with a soulless ground which reflects the scene of a training exercise. 

Am I confident in getting a result Saturday evening? In all honesty, no. A positive performance would be encouraging, but we are after points. Had you asked me last season and I'd have thought we would have every chance, but things are not the same at the moment and something's not quite right. Hopefully that has to turn around at some point, and what better place than under the lights at Anfield!