---

On Good Friday Liverpool faced United in a fixture that was unremarkable for Liverpool, halfway up Division 1, vital for United threatened with the humiliation of relegation to the Second Division. United had to win to survive. Enter the villain of the piece – Jackie Sheldon of Liverpool – a former United player.  
Sheldon who joined Liverpool in1913 from United had been understudy to the great Billy Meredith and this had limited his opportunities of first team experience there.  He was by all contemporary accounts a tricky, lightweight kind of performer who tended to play to the gallery (some things don't change!) but who, nevertheless, had given Liverpool good service.  It was Sheldon who set up a meeting in a Manchester pub a week before the match, attended by some of the participants in the scheme.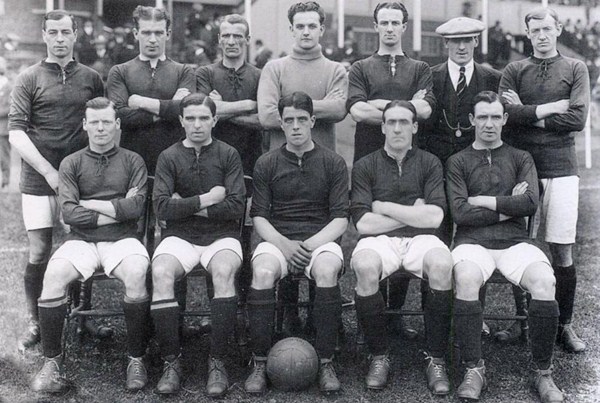 Accounts of who precisely was there have varied but there seems little doubt that Sheldon, Miller, Fairfoul (an oddly prophetic name!) and Pursell attended from Liverpool and the United players allegedly involved were,Turnbull, Whalley and West.  'Allegedly' because West maintained his innocence for the rest of his life.  It was agreed to fix the result at 2 – 0 to United and bets were laid with bookies around the country to ensure a quick killing.  
Fifty years later Jimmy Gauld played a similar role to Sheldon, organising match fixing involving the Sheffield Wednesday players Layne, Swan and, famously, Tony Kay who later joined Everton and became a regular England player.  When that story broke the Kop chanted gleefully 'Ee ay addio Tony took a bribe!'  Nearer to home in the 90's Bruce Grobbelaar was accused of taking part in the match fixing of a game against Newcastle.  Some critics – doubtless unkind – remarked on the difficulty of spotting the difference between a deliberate mistake and the goalkeeper's usual conduct.  
Nothing, of course, was proved but in 1915 United duly won 2 – 0.  At first there was no suggestion of anything untoward in the game – both sides were poor but Liverpool were very lackadaisical and missed a penalty which was taken, significantly as it turned out, by Jackie Sheldon….
A few weeks later, however, handbills circulated by bookmakers in the Manchester area alleged that the match had been fixed and offered a £50 reward for information regarding the matter.  By the end of April the press had alerted the soccer world to the possibility of a scandal.  
Betting on football was not unusual but betting on a scoreline was and 'The Football Kings', the bookmakers involved, alleged that a large number of bets had been laid at 7 –1 on a winning score of 2-0 for United.  A Football League investigation followed immediately and in December the findings were published. Clear evidence of a conspiracy had been unearthed and the United and Liverpool players and a player from Chester were suspended for life.  Doubt still remains about how much other players knew of the conspiracy.  
George Anderson (United) refused to have anything to do with it according to some reports and the suspicion lingers that Meredith himself may have guessed some thing was up when the game was under way.  Fred Pagnam (Liverpool) also refused to have anything to do with it and gave evidence against his team mates at the investigation.  It is interesting that Pagnam, a prolific goalscorer, was transferred to Arsenal after only 8 games of the 1919-1920 season.  
The investigation concluded that the players had conspired for monetary gain only and there was no evidence of involvement by club officials.  Apart from the fate of the players, other issues remained to be settled.
At the end of the 1915 season United finished 18th and had gained two points through match fixing. Chelsea was 19th and expecting relegation but only because of the two points United had gained in the fixed match.  Spurs were bottom and expected relegation.  Derby County and Preston had finished first and second in Division 2 and were looking forward to promotion.  The League was suspended at the end of the season for the duration of the war so it wasn't until 1919 when the war was over that the League Management Committee were able to meet to resolve the potential injustice of Chelsea's relegation.  
A further complication then arose.  The game was increasingly popular and it was obvious and generally agreed that the First Division should be expanded by two clubs.  As there existed no real precedent for expansion procedure it was all to play for at the League's meeting.  Enter Sir Henry Norris.
Norris was the chairman of Arsenal and a powerful and dominating personality.  He had done the League's bidding in moving Arsenal to Highbury even though it was close to Totttenham's ground at White Hart Lane after the expulsion of Woolwich Arsenal from the London F.A.  He felt he had reason for feeling he was owed some form of recompense for his agreement to the move.  
In the final pre-war season (1915) Arsenal had finished fifth in the Second Division and, therefore, had no logical case for promotion over the heads of Derby, Preston, Barnsley and Wolves, the first four in the Division.  However, by the time of the League AGM in 1919 Norris had one agenda – Arsenal in the First Division.  In June 1919 at the AGM Norris showed that he was a master tactician.  
In the absence of a procedure for expansion his path was clear.  Knowing that Arsenal could only be promoted as the final club in the mix, he set about supporting others in their claims for Division 1 status.  First he argued Chelsea's case – a fixed match had cost them their place.  That was demonstrably wrong and Chelsea would go to law to enforce their case. Chelsea stayed in Division 1.  Next he supported Derby and Preston who had won the prize of promotion fairly and squarely.  Both clubs were promoted.
One place was left and Spurs could claim that they should survive relegation as Chelsea had and even Barnsley who had finished third in Division 2 could enter the running.  Norris then took a backseat and let the Liverpool delegation suggest that the final member should be – Arsenal!  This took the delegates by surprise but the powerful and influential Norris could have called upon the clubs to have Liverpool and United thrown out of the League.
Liverpool's argument for Arsenal was waffle but Norris had prepared his ground, priming Chelsea, Derby and Preston that he would speak in their favour.  Norris also had the support of United who had been primed in advance of Norris's tactics. London politics helped him over the final hurdle.  Arsenal had obeyed the League's bidding to move to Tottenham's doorstep rather than go elsewhere.  
Tottenham were an unpopular club partly because of a previous association with the despised Southern League and partly because of the anti –semitic view that they had links with the Jewish community.  Norris won the day; Liverpool and United were safe and Arsenal was home and dry. Arsenal has never been relegated since the League was expanded by two clubs. Liverpool remained a First Division club until their relegation in 1954 but United and Spurs bounced between Divisions 1 and 2 in the inter – war years.
The players were lucky.   At the end of the war the authorities lifted their ban on all players except Enoch West of United who had maintained his innocence from the start and had even brought an unsuccessful libel case to clear his name.  Of  the Liverpool players, Sheldon went on to play in the 1920 –1 Championship winning side before retiring in1922 because of injury.  
Tommy Miller also played briefly in that side before being transferred – irony of ironies – to Manchester United.  Pursell made only two more appearances for the club in 1919 and Fairfoul's last games were in the 1914 -15 season. All four were luckier than the Sheffield Wednesday conspirators fifty years later who received prison sentences and life bans.  
Liverpool's reputation survived what was seen as a greed – inspired plot by the players and the years from 1919 – 22 were a period of great success for the club.  Ironically it was Liverpool, who might easily have been punished by relegation, who became the first club to win consecutive championship titles in the expanded First Division in 1920/1 and 1921/22 but that's another story…
Geoff Marmion
Postscript: Sir Henry Norris, Arsenal chairman and villain, was dismissed in 1929 for financial irregularities including under counter payments to players to persuade them to sign for Arsenal and also fiddling expenses from club as well as pocketing proceeds of sale of team bus! Lest we get too pious about it, as it is also alleged that he bribed John McKenna, chairman of Liverpool, at the infamous AGM in 1919 to vote for Arsenal's promotion.
I rather doubt this. I think Liverpool voted out of fear that Norris would use his influence to get others to vote for the relegation of both United and Liverpool. Still it does cast doubt on the reputation of John McKenna who was known as 'Honest John'!