Balotelli getting off the mark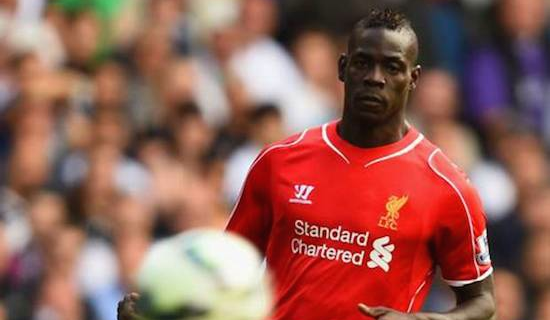 With Daniel Sturridge having been "Hodged" for a fourth time the onus is even more on Mario Magnifico this weekend. All eyes were on him at White Hart Lane as he made his debut and he responded with a good performance and he will be the focus of most people's attention this Saturday evening too. All he was lacking at Spurs was a goal, but it wasn't for the lack of chances; he could easily have had a hat-trick had he been a little sharper in front goal.
Now it's his home debut and he's had a couple of weeks training at Melwood as well as a behind closed friendly to get him fully up to speed. The fans took to him straight away and everything is in place for him to become a massive hero at Liverpool. It's all up to him; if he wants it enough he can be a real hit at Anfield. I'm expecting him to get at least two and with no Sturridge in the line up could we even see a home debut hat-trick from Mario? William Hill football betting is offering 17/2 for the Italian to bag a treble.
Adam Lallana to finally make an appearance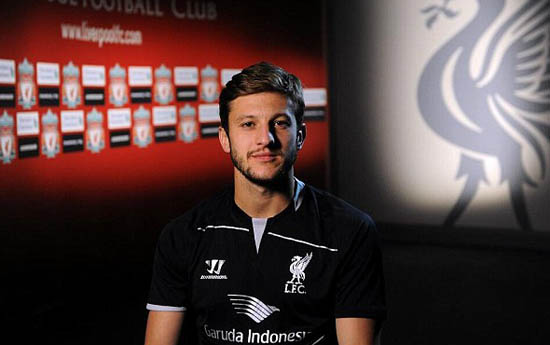 Whether he starts or not remains to be seen, but as I wrote before Spurs I just can't wait to see Lallana in this team. He just looks a natural fit for a number of positions and it's going to be interesting to see where Rodgers uses him. The absence of Sturridge has given him a chance of starting this one, perhaps wide in a front three or maybe even at the tip of the diamond (with Sterling up front with Balotelli).
I suspect he might be on the bench against Villa and then be given his first start against Ludogorets, but we'll see. His debut can't come soon enough for me though, I'm expecting him to emerge as a big star this year. Also, I'm curious to hear what song the Kop come up with for him. The banana splits is an obvious one, but I can't lie, I'm hoping for a reworking of Kylie's pop classic "Can't get you out of my head". La la la, la la Lallana la la la, la la Lallana…. aaaanyway, moving on...
Rickie Lambert to open his account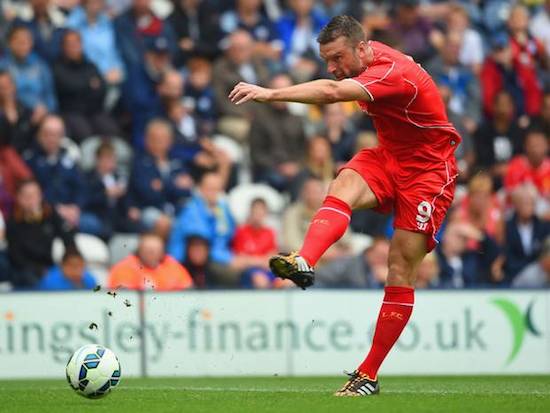 It's no big deal yet but Lambert is still waiting for his first goal and the sooner that particular monkey is off his back the better. He missed a penalty in pre-season, which was inevitable really given he never missed one in his entire spell at Southampton. He was always going to miss his first one for us, I even called that one on the day he signed for us.
Still, it wasn't a good omen and was not what he needed when trying to make a positive early impression following his dream move. He's had a few headers that he'd normally have buried, including the one that led to our goal at Man City. Initially it looked like Rickie had put the rebound in and even though the game had gone at that point, some consolation could have been drawn from Lambert breaking his duck.
It wasn't his goal though, Zabaleta got the final touch which has left Lambert still to get off the mark. We all remember how long it took the last striker we bought from Southampton to break his cherry, and while it's too early to be comparing Lambert with Peter Crouch it will only take three or four more games without a goal before people start drawing those comparisons.
Lambert's only hope of starting the game is if Rodgers persists with the midfield diamond and two up front, but whether it's from the start or from the bench, here's hoping this is the day Rickie bags his first Liverpool goal. And if it's not too much to ask, any chance it could be at the Kop end?
Continued good full back play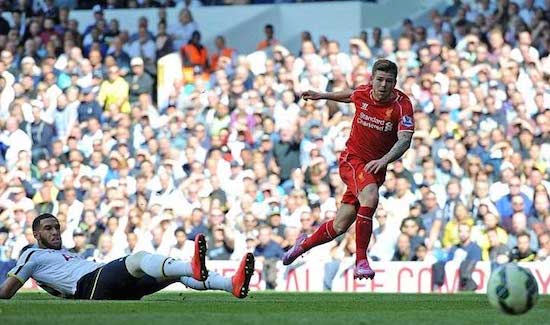 I don't expect Alberto Moreno to do what he did against Spurs every week, but I do hope he can continue with a similar level of performance as that was pretty special. Clearly he's going to be brilliant going forward, but he defended very well in that game too and put his Manchester City disappointment behind him.
On the other side Javier Manquillo was almost "Arbeloa-like" in his quiet efficiency. Both are young and will get better, but what I like is that they don't just stand off and let people put crosses in. It makes a refreshing change from seeing Glen Johnson half arse his way over before turning his back as the winger puts the ball into the danger area.
It's early days, and I'd probably still put Jon Flanagan back in as soon as he's fit (not Johnson though), but so far so good with these two and hopefully they can continue it against Villa.
A win!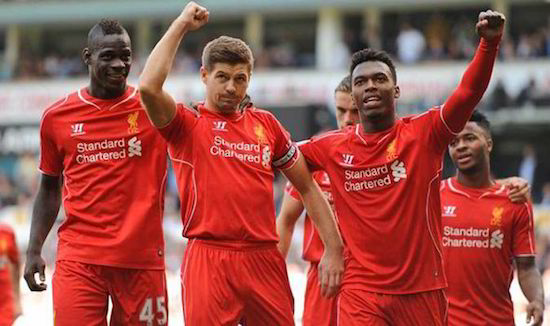 It seems an obvious thing to say as we want to see a win in every game, that goes without saying. Every game is important and this one doesn't stand out as being any more important than others, it's just that Villa have thrown a spanner in the works in both of the last two seasons so the record needs setting straight.
They've played way above their usual level in both of those games and tactically did a bit of a number on us. That needs to change. Brendan has to get his tactics right for this one and learn from those two disappointing results. We definitely owe these one. C'mon Redmen!
Dave Usher
@theliverpoolway