The evolution of the Liverpool defence has undoubtedly been one of the most pleasing elements of the season to date. 

For so long seen as the main thing stopping Liverpool from progressing to the next level, it has now become the bedrock of the Reds success this campaign.

It has been a meticulously planned process by Jurgen Klopp, a manager who saw the faults, but took his time to assess and rectify it in his own way.

Part one of the plan was to throw plenty of challenges the way of young full-backs Andy Robertson and Trent-Alexander-Arnold in their first full season at the club.

In the main they passed them with flying colours, however Klopp knew he was missing a key element, a defensive leader if you like.

The signing of Virgil Van Dijk was certainly a drawn out affair, but Klopp wanted his man knowing full well what kind of role he could play, not just on the park but as a mentor to the likes of Robertson and Alexander-Arnold.

It is a role that the Dutchman is loving and the results are there for all to see.

However, in typical mentoring fashion, he is convinced his pupils can go to another level.

The Official site reported Van Dijk in saying:

" They are having outstanding seasons and I am always a bit hard on them because I want them to do very well.

" But I am enjoying every bit of it, seeing them perform like this.

" They are fantastic players, full of confidence and they should be full of confidence because they're performing at such a high level.

" I said to Robbo the other day that he needs to get some goals as well to be even better, but that's just me wanting to push him to improve even more!

" That's something I like, to push him – and Trent the same"

The trio have a fantastic relationship which is vitally important when you are playing in such a pivotal area of the pitch.

"We have a great understanding and that's how we all work together, especially at the back. 

"In the end, we do it all together"

Liverpool are currently on the back of five clean sheets in all competitions with the last goal conceded coming on the fourth of February against West Ham.

Again, Van Dijk hails the importance of everyone playing a vital role.

" 100 per cent [it's a collective effort].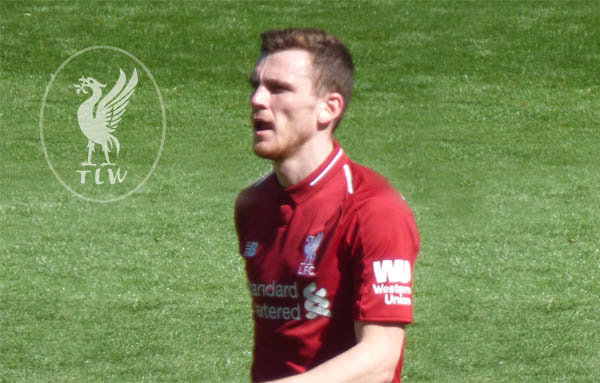 "Robbo is having a fantastic season, Trent has been amazing and Joel has come in for the last few games and been playing very well.

"It's very important that everyone is getting to their best level, especially for the last nine games.

"It's obviously very important, especially with the games we have left and the situation we're in, it's good to have something to build on.

With the likes of Joe Gomez and Dejan Lovren edging closer to full fitness, Klopp may have some selection headaches on his hands in the near future.

But you sense with how well the current quartet are playing, he would be wary of changing too many things.

As Van Dijk says, stability is key with so much on the line.

" We have to keep doing it.

"We've had five clean sheets on the bounce with the Bayern game as well and we hope to keep it going. 

"That's the way forward. 

Other than that, we have to keep working and hopefully keep winning games as well."

Let's hope they can make it six clean sheets on the bounce along with a vital three points against Burnley.