James Milner is someone who does not hand out praise lightly, so when he does give a endorsement, you have to sit up and take note.

The evergreen utility who is in the frame to replace the injured Trent Alexander-Arnold at right-back for the next few weeks, believes that goalkeeper Alisson has been the most consistent player for the Reds this season.

While in the past it may have been a easy choice to pinpoint a specific individual, this season has seen a number of players worthy of high praise.

Mo Salah, Virgil Van Dijk, Gini Wijnaldum and prior to his injury Joe Gomez all make compelling cases, but Milner has a valid reason for choosing the Brazilian.

Metro reports Milner as saying:

"It's hard to pick out one player because everyone in the squad has done so well, not just the 11 who are starting.

" I think maybe one you could select is Alisson. 

"Coming to a new league is never easy.
'It's a new lifestyle and you are also getting used to the weather and things like that, but he's been unbelievable: from how he is around the place, to how good he is on the pitch with his feet and with the saves he makes."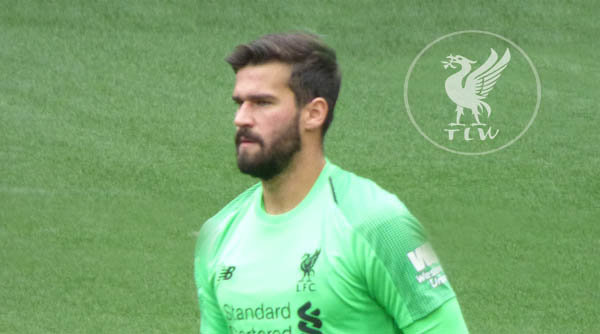 Goalkeeping is arguably the most scrutinised position on the pitch.

A midfielder may consistently turn over possession with loose passes, or a striker may miss a hatful of chances, but one mistake from the man between the sticks and you can bet it will a main point of discussion the next day.

Knowing the expectation would be placed on him would be high due to the transfer fee paid to Roma in the summer, the 26 year-old has not let him be affected by it in the slightest.

Even when he has made a error such as against Leicester or Man United, Alisson has completely eradicated it from his mind and moved onto the next passage of play.

13 clean sheets from 22 league appearances is a superb record, and is also a indication of the overall improvement of the defensive unit as a whole.

 Comparing that with the previous two seasons, the Reds kept just 29 clean sheets during that span (17 in 2017/18 and 12 in 2016/7).

Milner continued his effusive praise of Alisson.

"He's been unbelievable for us this season so far and I believe that he'll be a massive, massive player for us going forward."

This topic leads on to a further question. Who do the fans think has been the best player during this campaign.

Do you agree with James Milner, or is there another player who has caught your eye?