We continue to observe the progress of Liverpool's next generation with our View To the Future series looking at Herbie Kane.

The 20 year-old academy graduate joined Doncaster Rovers at the start of the 2018/9 campaign for a season long loan in what was his first taste of senior football.

Herbie was undoubtedly one of the best players in League One during the first half of the season, producing a number of Man of the match performances with many observers greatly impressed with his vision and technical quality.

With the season approaching a crucial period, and Doncaster right amongst the playoff hopefuls, it was the right time to check on the progress of the midfielder.

Long time Rovers fans George Kelafi and Mark Railton supply the answers to the questions.
 
December and January is widely acknowledged as the most hectic time of the Football calendar in England. With Herbie being in his first full season of senior football, how did he cope with the busy schedule?

MR- I personally think his form dipped a little. He had been superb up until Xmas but in January he looked a little leggy in games. He was still one of our best performers on a weekly basis and I wouldn't say he looked like he struggled, he just wasn't taking a grip of games as much as before.

The FA Cup has proved to be a great nurturing ground for younger players over the years, in your view how has Herbie performed throughout the competition?

MR- He's been a quality asset although again I feel he lost his way in the Palace game. I don't know if this was from trying too hard to showcase himself or just the step up in quality of opposition.
 
The Cup clash against Crystal Palace was one of your biggest fixtures in recent memory. What sort of lessons do you think Herbie would have taken away from playing against a Premier League team for the first time?

GK- I think Herbie will have taken many lessons from that game from their playing style and forward play especially. He will have learnt how to effectively move up the field with the ball as they did and he will have understood their structure and style of play better. This is the first time he will have experienced class on that level and I think he will have taken a lot from that as the level of class will be far superior to the Premier League 2 he had previously had been involved with Liverpool.

Have you noticed any differences in Herbie's play during the past few months (more confident in his surroundings / building partnerships/bonds with teammates) and has he spoken about his overall feelings about Rovers?

MR- He loves it at Rovers as he had opportunities to play at a higher level in the January transfer window but said he wanted to stay and finish the job he started. He has linked up well with James Coppinger and Ben Whiteman and the three of them look great when they are on their game, destroying the opposition.

GK- I've noticed that he's been more chilled out on the ball, but continuing to play with class and precision. I think throughout the season he has become more comfortable with League One football and he is consistently showing his abilities as a central midfielder. During the January transfer window he stated that he would be happy to remain at the club until the end of the season and I still believe he is happy overall about his regular first team football.

Adapting to League One can be quite the challenge for your average footballer, let alone someone just making their way in the game. As Herbie has become a key player for Doncaster, how do you think he has dealt with the extra physicality?

GK- I believe Herbie has a mindset where he's determined to give his all, no matter the situation. After the countless torrents of 'abuse' he's received from the opposition throughout the season, he'd simply get back up and play on drawing fouls wherever he may be. For a smaller player, he has definitely adapted to the physicality of the lower leagues and he is managing well even if he has been the target of the majority of fouls within our line-up.

MR- He's a battler and doesn't get intimidated easily. Always wants the ball even when he is being kicked all over. 
 
Where do you see Herbie this time next year. Do you think he is well equipped for a loan spell in the Championship?

GK- I believe he won't be needing a loan spell at another championship club when we'll be going up, I can see him playing regular first team football with our club.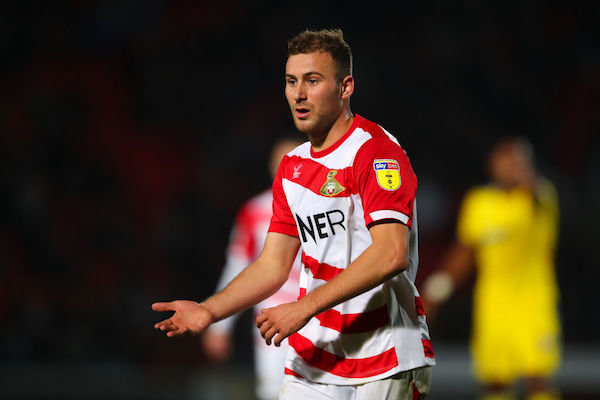 In terms of the team, are the fanbase optimistic of making the playoffs?

GK: To begin with we expected another dull season in the lower ranks of the table but (manager Grant) McCann has certainly lifted spirits with various loan signings and an alternate formation to the former manager. We're very optimistic to make the playoffs and I personally think we'll finish top 4.

MR: Rovers fans are a fickle lot but on the whole we are all quietly confident that we certainly have the squad to achieve the playoffs.