Liverpool midfielder Gini Wijnaldum says that the team should not lose any heart despite tasting defeat at the hands of their main title rivals Manchester City on Thursday evening.

A goal by Leroy Sane was the key moment in a closely contested affair as Man City narrowed the gap to the league leaders to just four points after defeating the Reds 2-1 at the Etihad Stadium.

Sergio Aguero had opened the scoring before half time producing a piece of trademark class in a big moment once again, before Roberto Firmino made it 1-1 scoring his fourth goal in two games after some fine work from Andy Robertson.

It was a game of small margins with Liverpool twice going close to taking the lead in the same passage of play when Sadio Mane hit the post after a perfect through-ball from Mo Salah.

Then when the Man City defence tried to clear their lines, a deflection from goalkeeper Edison nearly went into his own net.

Only the quick reflexes of John Stones stopped the visitors from taking the lead.

There were also a view that City captain Vincent Kompany should have seen red for a high challenge on Mo Salah.

Overall, while naturally disappointed, Wijnaldum was not overly downhearted and urged his teammates to put this first league defeat behind them and get back to winning ways.

The Dutchman told the Official site:

"We were quite unlucky with the chances but we also could lose it – like we have now. We just have to keep the confidence and try to win the next game.

They cleared well and we hit the post. They also had two or three chances so it could have gone either way; we could have won, drawn or lost. 

"At the end, we were unlucky and they won the game."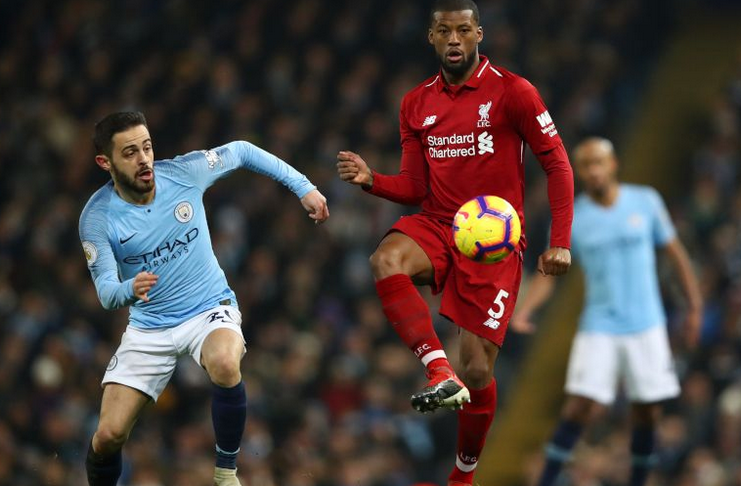 Wijnaldum graciously admitted that Liverpool have been on the other side of the coin when it comes to 'lucky breaks' but the experienced midfielder is well aware it is the nature of Football.

"A few games this season we were lucky we have scored goals, and tonight we were quite unlucky with the chances that we had. That's football.

"Sometimes you have games where you score a lot and score with every chance that you get – and sometimes you don't. What we have to do now is to keep our confidence and win the next game."

While the topic of the title race was the main talking point heading into this contest, Wijnaldum became the latest Reds player to say that it is far from being in the front of their mind.

"We are only concentrating on our own thing; try to win our games, try to give everything and then we will look at the end of the season where we stand.

"We weren't busy looking at the table before and we are not going to do it this time."

For all the 'would haves' and 'could have been' moments, it is fair to say that we were second best on the night and Man City deserved their victory.

That is no slight on us whatsoever, more than a credit that it took arguably City's best all-round performance of the season to claim the three points.

Liverpool are next in action on Monday night in the 3rd round of the FA Cup against Wolves at Molineux.

After a month in December which was a emotional rollercoaster both in the league and in Europe, this clash gives Jurgen Klopp a chance to rest some tired bodies, with plenty of challenges ahead in the upcoming months.