Jürgen Klopp has hailed the performance of Liverpool in their emphatic 4-0 victory over Crystal Palace on Wednesday evening at Anfield.

In a performance which was a total contrast to the dour affair in the Derby, the Reds looked vibrant from the kick-off and got their due rewards with Trent Alexander-Arnold, Mo Salah, Fabinho and Sadio Mané getting on the scoresheet.

Each goal had a true sense of quality about it and with the unique circumstances that the players find themselves at this present time, Klopp was just thrilled that they could deliver such a mature performance with the absent fans never far from his mind.

The Official site reported the manager as saying:

"I want to see actually the best behind-closed-doors football ever.

"I'm not sure if it was the best football but it was, for sure, the best counter-pressing behind closed doors ever. 

"The attitude we showed tonight, the passion we showed was exceptional and we played some outstanding football. 

"The goals we scored were exceptional. In my job you usually have to calm things down and say, 'No, no that was not that good and we can improve.

"And we can improve, I know that, but that's not important tonight. Tonight is only important that we gave this sign and that we showed our supporters the respect they deserve, that we can play like they are here, even when they are not here."
 
What pleased the manager even more was the complete nature of the performance.

Crystal Palace came into this fixture in fine form and an outside hope of qualifying for Europe after winning four consecutive games and not conceding a goal in those victories.

However, they suffered a big blow to their chances when their key attacking outlet Wilfred Zaha only lasting 15 minutes before coming off with a injury.

His loss was profound as the visitors did not have a single touch inside the Liverpool box.

Klopp said that shows the hunger which every player has to achieve the ultimate goal.
"You shouldn't underestimate how much this team wants it.
"You should not. This team really wants it; they want to fulfil the wishes of the people at home. 

"We all have a common dream, but we have to work for it and we have to work our way for it. We cannot play like other teams, but we can play pretty good stuff – and that's what the boys did tonight."

Klopp is well known as someone to not get distracted by events he cannot control.
 
This applies to the fact that the Reds can be crowned champions as soon as this evening if Man City fail to defeat Chelsea at Stamford Bridge.

But the German will certainly not get too emotionally involved by the result.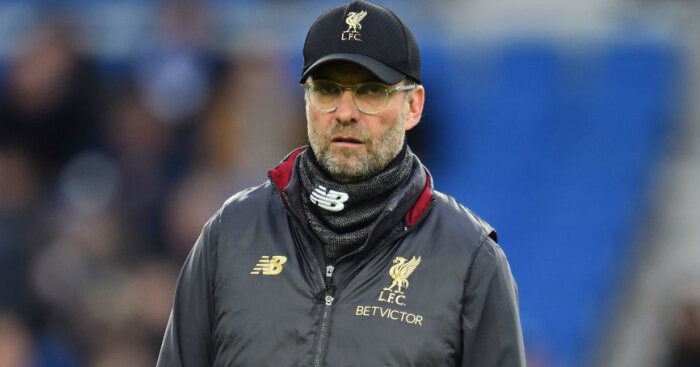 "I am not involved in things like this. I have nothing to do with these things, I will watch the game to know what Manchester City is doing and to know what Chelsea is doing as we play them so I have kind of an idea, at least.
"That is why I watch it.

"But whatever happens we have no influence on it, so I am not too interested to be honest. 

"But I am pretty sure the game against Man City next week is a must-watch for each football fan on the planet."




"